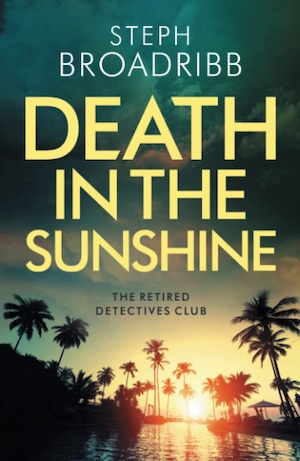 Silver sleuths are staking their claim in the world of crime fiction these days. We've had Elly Griffiths' take in The Postscript Murders, then Richard Osman came out with all guns blazing to introduce The Thursday Murder Club. Now Steph Broadribb, best known for her series featuring American bounty hunter Lori Anderson, has joined the fray.
Meet The Retired Detectives Club. It has just four members, who all live in the Florida sunshine in an exclusive retirement village called The Homestead. Moira Flynn (ex undercover DI, Met Police) and married couple Lizzie (former scene of crimes officer) and Philip Sweetman (former DCI, Thames Valley Police) are British retirees, while Rick Denver is American and ex DEA.
Moira is newly retired and has only recently moved to The Homestead, and as the book opens she's heading for an early morning swim at the on-site Manatee Recreation Park. From the off, it is clear that this is a woman who likes to keep herself to herself, someone who has a past she's trying to forget about – but that is about to change when she arrives at the pool. There's the body of a young woman floating in it, surrounded by her blood and lots and lots of dollar bills…
Moira immediately calls the cops and then waits. Their arrival is followed by that of an older man, bristling efficiency and self-worth. It's the first proper meeting between Philip and Moira and it doesn't go well – not least because she is beginning to feel a little faint. The pair had met briefly in the supermarket, when Philip was with his wife, Lizzie – someone Moira knew through a mutual yoga class. But once Moira learned they were former law enforcement she quietly backed off. She doesn't want anyone to know about her past.
Now she plays the clueless civilian as Philip offers to drive her to his house, where she can rest a while and gather her wits. He is extremely patronising and Moira bristles quietly. She has as much past experience as Philip, but is determined to keep it all under wraps.
Moira's reluctance to come clean is just one of the undercurrents at play here. It soon becomes clear that Philip has his demons too, with a career that ended under something of a cloud. Outside the retirement complex, investigating officer Detective Golding seems surprisingly keen to close the case quickly. And why is there no coverage of the murder on any of the local news channels or online? Add in a mysterious stalker and a number of burglaries in The Homestead – trumpeted as a crime free, perfect place to retire – and there's plenty to keep the pot boiling.
Death in the Sunshine teeters on the very edge of cosy without feeling twee and is a mighty entertaining read as long as you don't take it too seriously or consider things too deeply. For example, how can Moira keep getting injured but still chase suspects? Would testing equipment that has lain unused in an attic for a number of years still be capable of providing accurate readings? Why don't a band of former law enforcement agents, still in possession of all their marbles, make better use of the internet?
These quibbles aside, it is a nicely rendered introduction to the series and certainly brought some warmth to this reviewer's weekend in the midst of yet another winter storm battering the window pane. The settings are well drawn (although we don't see much of Florida outside of the confines of The Homestead) and the characters have room to grow and develop in future stories.
They might be getting on, but there's plenty of life in The Retired Detective Club members – maybe there could be a collaboration with Mr Osman and The Thursday Murder Clubbers could pay them a visit? I think they'd feel right at home!
Read our interview with the author here. Jeffery Deaver's The Never Game is also set in Florida.
Thomas & Mercer
Print/Kindle/iBook
£2.99
CFL Rating: 3 Stars