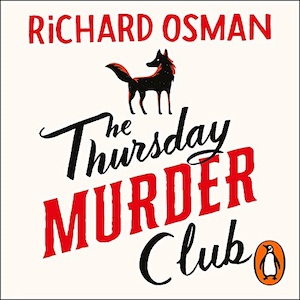 Narrated by Leslie Manville — The audio version of Richard Osman's cosy crime novel, The Thursday Murder Club, is loads of fun. Osman is a well known quiz show presenter in the UK and this is his debut crime novel. It has enjoyed phenomenal success in terms of sales and award nominations and next book, The Man Who Died Twice, will have many of the same characters and is already available for pre-order. Finally, we have got around to reviewing the first…
Four septuagenarians living in the Coopers Chase Retirement Village, located in the Kentish Weald, meet every Thursday to discuss cold murder cases. A combination of still being sharp as a tack and varied life experience means these discussions are lively and insightful. Elizabeth, the group's leader, is the veteran of some sort of possibly clandestine career that took her to countries around the world, Joyce was a nurse, Ibrahim a psychiatrist, and Red Ron a notorious union organiser and gadfly.
Their differences in temperament add to the enjoyment. While Ibrahim would like to analyse every factor down to its nub, Ron's instinct is to just barge in and clobber somebody. Elizabeth keeps various thoughts to herself, but Joyce writes a diary, and lucky thing too, because she tells us what the group is thinking and, possibly, why. Osman uses this as a clever way to introduce backstory without tedious authorial intrusions. Nicely handled.
In an early scene, local DC Donna De Freitas visits the group to discuss Practical Tips for Home Security, a spiel she's given many times. She's barely started before Elizabeth cuts her off. "Dear, I think we're all hoping this won't be a talk about window locks." Ibrahim adds, "And no ID cards, please; we know about ID cards. Are you really from the gas board, or are you a burglar? We've got it, I promise. And no need to tell us we mustn't give our PIN to Nigerians over the phone."
De Freitas regroups and asks what they do want to talk about, and an enjoyable hour-long free-for-all starts. They recognise that the young De Freitas, for all her agreeableness, is rather underutilised in the local police department. What she'd like to be working on is a nice juicy murder. The set-up is reminiscent of the hugely entertaining Game for Five by Marco Malvaldi, with a police woman rather than a barman being egged on by a small troop of seniors.
Fate conspires to accommodate her. Tony Curran is a man with a gangster past and has teamed up with greedy developer Ian Ventham to cook up a scheme to build a second phase of Coopers Chase, on more of the land Ventham purchased from the Church. A convent stood on the property for more than a hundred years, and the convent building and chapel are used by the current residents. Up the hill is the Garden of Eternal Rest.
At a community meeting, Ventham lays out his plans to dig up the cemetery, to the consternation of residents. Afterward, Club members notice an argument between Ian and Tony, which they are trying to keep on the down-low. So when Tony is stabbed to death in his kitchen, they want in on the action. Their new friend Donna De Freitas may be the key, and the foursome manages to engage her in a most clever way.
Meanwhile, Ian is moving ahead with plans to dig up the cemetery and dispatches his helper Bogdan, a Pole with remarkable good sense, to take care of it. Bogdan has hardly started digging when he discovers a set of human bones, not in a coffin, but placed on top of one. This is too problematic, so he buries them again. Now the Club has two mysteries: who killed Tony, and who is the extra body?
Club members are resourceful in their queries, and though the local police barely tolerate this amateur assistance, in truth, the oldsters pretty much run rings around them. Joyce especially has a way of sounding like a batty old lady, chatting about cakes and tea, while maneuvering the police into spilling some useful tidbit. If you've spent time visiting grandma in a retirement home, you'll recognise the behaviour. Although the mood is rather lighthearted, there are moments of sadness, as loss is ever-present in a place like Coopers Chase, but that doesn't stop these four memorable characters for living their lives to the fullest.
It's summertime. You may be in the mood for something light that will delight. If you choose the audio version, Leslie Manville's narration is tops.
Also try Murder on the Island by Daisy White or The Corpse with an Iron Will by Cathy Ace.
Penguin
Audiobook/Print/Kindle/iBook
£17.49
CFL Rating: 5 Stars