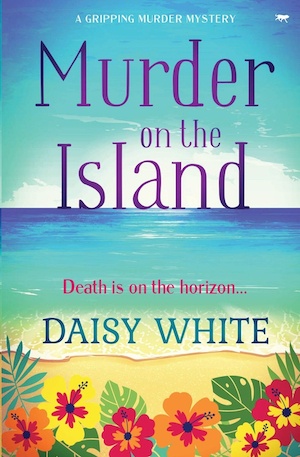 If you like to be in at the very beginning of a new cosy mystery series, then Murder on the Island can go on your list – it's the first book in the Chloe Canton series. The story begins with some life-changing events for Chloe, which could lead to her discovering another side to her personality. First, at her 50th birthday dinner, her husband announces that he's leaving her. Impeccable timing. Soon thereafter, her grandmother dies, leaving Chloe a house and stables in Bermuda. The timing of that is pretty spot-on, too, because Chloe definitely needed a fresh start. She boards an airplane taking her to her new life.
Bermuda is still somewhat familiar to Chloe from 30-plus years earlier, when she spent time there with her grandmother. But still, the beautiful island holds surprises. Not all of them pleasant. She encounters her first big surprise on an early-morning trail ride – a dead body on her property. The victim turns out to be an up-and-coming artist who is showing at a gallery in town. Chloe is a bit of a busybody – well, more than a bit – and, as the investigation seems to get bogged down, she starts asking questions herself. Always a bad idea.
Soon she's left wondering whether her curiosity is the reason for the escalating troubles that beset her. For a start, there's a break-in at her home, rampant rumours that her business is going under, and the horse-napping of a palomino scheduled for a high-profile photo shoot that would boost her business. Maybe the other stable owners on the island are concerned she'll be too successful and draw customers away from them? Or, does someone want her to leave Bermuda altogether? Author Daisy White has an easy writing style that keeps the story pinballing among these possibilities with alacrity.
Helping Chloe sort out her situation, and keeping her safe, are her jovial neighbour, who has a troubled grandson; her conscientious stable manager; and a detective from the local police who just happens to be her age, handsome, and widowed. Romance is definitely on the turquoise horizon. The owners of the gallery where the murdered artist's work was shown keep reappearing at odd moments, another of their artists is attacked, and a photographer of condemned and derelict buildings, who works clandestinely, appears to be up to something… but what?
Chloe takes oddly unnecessary risks, as heroines in the cosy genre do, and you may be puzzled as to why she's thinking whatever she's thinking at a particular moment. And, while you may not be surprised at the whodunnit solution, it's definitely a pleasant ride along the way. One of the strongest features of the book, in addition to the interesting characters and delightful animals – horses, dog, chickens – is author White's depiction of Bermuda. She became acquainted with the island in real life while working as a flight attendant, and her descriptions are so lush and vivid, this book is like a vacation between covers.
Also see The Corpse with the Crystal Skull by Cathy Ace, set in Jamaica.
Bloodhound Books
Print/Kindle
£1.99
CFL Rating: 3 Stars