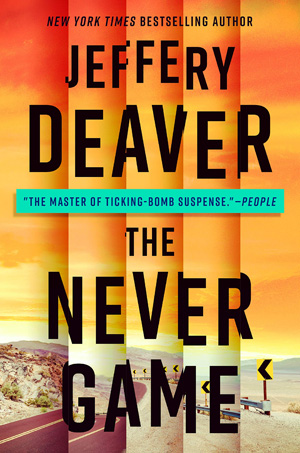 Written by Jeffery Deaver — He's taken on new technology before in the likes of The Blue Nowhere, Roadside Crosses and The Steel Kiss, now Jeffery Deaver turns his attention to the cut-throat world of computer gaming – to explosive effect.
The Never Game introduces Colter Shaw, a man with few ties, a home in Florida, a Winnebago, an off-road motorcycle and an interesting past. Shaw is something of a loner, but he's no Jack Reacher. He's a restless soul – in sharp contrast to Deaver's most famous creation, the quadriplegic Lincoln Rhyme – although the pair share a deep sense of justice and a hefty dose of good ol' fashioned intuition to help them along.
A young woman goes missing in California's Silicon Valley and Shaw is soon on her trail. He and his brother and sister were brought up by survivalist parents in an out of the way compound in the wilds of California, and they were home tutored in both lessons and in life. As a result, he's an expert tracker and now he uses his skills to find people up and down the country, collecting the rewards offered as he does so.
His latest target is 19-year-old Sophie Mulliner. She vanished after a row with her father, Frank, and he's worried about her. The police don't seem too interested in the runaway, but Shaw agrees to try to find her in the hope of claiming a $10,000 reward. He's soon several steps ahead of the local officers and ruffling feathers in the process.
Shaw is convinced that Sophie's story is not that of a simple family spat, and on this basis begins his investigation and soon produces results. Then, when a second person disappears Shaw becomes convinced there is a strange connection to a popular online game called Whispering Man. It has a format that gives more than a passing nod to the popular Fortnite format, as the player must fight for survival after being abandoned in an inhospitable setting – which changes as each level is passed – with only five random objects to help them in their quest. Shaw's theory that someone is bringing the game to life is dismissed at first but soon he and local cop LaDonna Standish are playing cat and mouse with a shadowy killer.
Right from the off, you're itching to get better acquainted with Colter Shaw and bit by bit we learn tantalising snippets about him, his background and what drives him to do the work he does. In true Jeffery Deaver style, there's more to this guy than meets the eye and there are surprises in store when you least expect them, so best be prepared.
Setting the book in Silicon Valley is also a masterstroke, as we explore the contrasts between the haves and the have-nots in an area that is synonymous with mega bucks and the never ending search for the Next Big Thing.
Shaw is a solid, intriguing character who will be the perfect centrepiece for a new series. Around him there is a shifting cast of supporting characters, with the aforementioned Standish a standout. Another scene stealer is Maddie Poole, a professional online gamer who goes by the handle of GrindrGirl8, and whose expertise sets Shaw on a new avenue of investigation. Like him, she's an itinerant, and hopefully she might pop up again somewhere along the way in future books.
For a few pages, I wasn't sure whether I was going to get on with Colter Shaw. Then Deaver worked his magic and I was hooked, the pages flying by as I got more and more caught up in the driving narrative. This is an author who wrote the rule book on suspenseful prose and there are some neat twists and clever misdirection along the way, before a tantalisingly ambiguous ending which sets us up nicely for a second bite of the cherry.
We crime fiction lovers are an inclusive lot and there's always room for another quirky protagonist. Welcome to the crime fiction gang, Colter!
For more tech-related crime try Chris Carter's The Caller, or Friend Request by Laura Marshall.
Harper Collins
Print/Kindle/iBook
£12.16
CFL Rating: 4 Stars