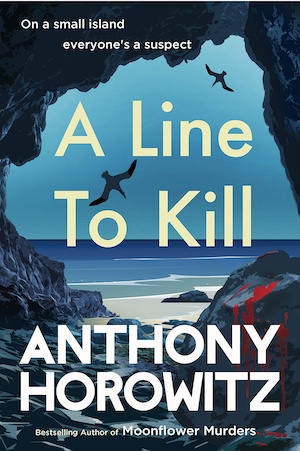 Anthony Horowitz is best known for his young adult and television writing, but we find his adult crime fiction much more appealing. Standing out from his peers, he currently has four series underway, all of which are either fiercely original, thoroughly entertaining, or both: his Sherlock Holmes pastiche, his James Bond continuation, the Susan Ryeland series (Magpie Murders and Moonflower Murders), and the Detective Hawthorne series (which I prefer to call 'Hawthorne & Horowitz'). A Line to Kill is the third Hawthorne & Horowitz mystery and marks the first of the four series to reach its third instalment.
The literary conceit that drives Hawthorne & Horowitz is that they are true crime rather than crime fiction, with Horowitz playing something of a Watson to Daniel Hawthorne's Sherlock Holmes equivalent. Hawthorne is a disgraced former police inspector turned consulting detective, taciturn to the point of rudeness but with an unerring eye for detail and an infallible capacity for logical deduction. He is a rich and complex character, sharing many of the vices and virtues typical of his calling, while completely devoted to the fine art of detection. As with Conan Doyle's stories, what elevates this series above many if not all of its competitors is Horowitz's self-deprecating representation of himself in his narration (Watson was a fictionalisation of Doyle) and the relationship between him and Hawthorne, which (in contrast to Watson's reverence for Holmes) is fraught with friction.
A Line to Kill is set just before the publication of The Word is Murder (the first in the series) and opens with Hawthorne and Horowitz being invited to speak at a literary festival on the tiny Channel Island of Alderney. Alderney is only three square miles in size, home to about 2,000 people, and has never had a murder… until the detective duo arrives. The novel is very much an homage to Agatha Christie, particularly the later Poirot novels, and she is mentioned both explicitly and implicitly, for example in a chapter title. Following Christie, Horowitz spends nearly a third of the narrative setting the scene for the murder: a small literary festival on a tiny island establishes a limited pool of suspects in a convincing manner; tensions concerning the construction of a Normandy-Alderney-Britain power line disturb the peace of an otherwise idyllic community; and a suitably obnoxious murder victim is presented in the form of Charles le Mesurier.
As his regular readers will know, however, Horowitz has none of Christie's flaws as an author and there are no cardboard cut-out characters, wildly improbable murder methods, or cosy camouflaging of harsh realities of crime and harm here. Alderney does not have a standing police service and although officers from neighbouring Guernsey are flown in, they have little experience with violent crime themselves and it is only natural that they take advantage of Hawthorne's extensive expertise by recruiting him as an unpaid consultant.
One of the fascinating features of the series is the insight it gives into Horowitz's own life as a critically and commercially successful author (though one would never guess it from the way he is treated at the literary festival). In a similar manner, this novel provides a glimpse of life on Alderney and Horowitz does not shy away from its horrific history. Like all the Channel Islands, Alderney was occupied by the Germans during World War II and was home to several labour camps. Given its size, Alderney had a shockingly high number of slave labourers – 6,000 – many of whom were worked to death. Amongst other things, these labourers built the fortifications that are still present on the island and contribute to both the atmosphere and the plot of the novel.
When I recognised the Christie-style set-up, I immediately wondered if this was a step too far for Horowitz. The Susan Ryeland series is already an ingenious and compelling homage to the world's most successful author of fiction and I wondered if A Line to Kill would blur the boundaries between the two series. It does not and each in is, in its own unique way, providing contemporary crime fiction with a much-needed revitalisation.
Anthony Horowitz recently joined us to talk about six of his favourite crime classics.
Century
Print/Kindle/iBook
£15.45
CFL Rating: 5 Stars