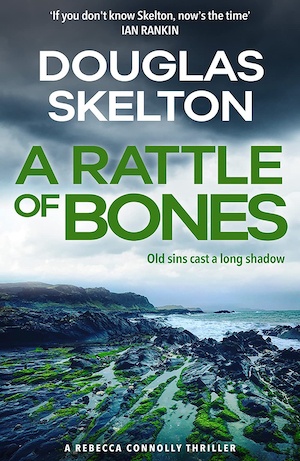 There's a neat juxtaposition of ancient history and more recent goings-on as A Rattle of Bones begins. The title harks back to old misdoings – the execution in 1752 of clan leader James Stewart, known as James of the Glen, for crimes he almost certainly didn't commit. As a warning to his followers, his body was left hanging to rot and decay, until only his skeleton remained, bones rattling in the breeze.
Jump to the fictional present and another James Stewart is about to hit the headlines, and not for the first time either. A decade ago, the latter day James Stewart was imprisoned for the murder of his gay lover, Murdo Maxwell, a man well known for his work as a lawyer and as an environmental activist. Stewart was caught literally red handed, naked and covered in his lover's blood, but his mother has always protested his innocence – and now banners proclaiming the same message have been draped from historic monuments around the Highlands, including the chapel containing the remains of James of the Glen. Time for news agency reporter Rebecca Connolly to open a new notebook, sharpen her pencil and begin her pursuit of the story.
The repercussions from The Blood is Still (reviewed here) are still being felt. Rebecca is sleeping badly, haunted by the memories of what occured then. She is also being stalked by Martin Bailey, a man upset by what the reporter wrote about his son, who is making no bones about the fact that he wants to do her harm. Meanwhile, in the background lurks the quietly menacing presence of crime matriarch Mo Burke – a woman who hates Rebecca with a vengeance for what the reporter did to her two sons. She has evil plans for Rebecca too, but is content to bide her time and strike when the moment is right. Revenge is a dish best served cold, as the saying goes.
So plenty to ratchet up the tension before we really get to the meat of this tale. The more Rebecca digs into the background of Maxwell's death, the more she is convinced that James Stewart was set up. But who could have done such a thing, and why? There are some clever plot strands woven through A Rattle of Bones, some of which have more relevance than you may initially give them credit for. Fans of the series will be delighted to see a whole raft of characters returning once more – including Rebecca's boss Elspeth, DCI Val Roach and of course the dishy gay photographer Chaz.
Douglas Skelton is a dab hand at characterisation, and outstanding new creations this time include smart but deadly hoodlum Malky Reid, and Mona Maxwell, sister of the dead Murdo, who could easily have been treated as a mere aside but instead is complex and engaging. Skelton's consummate skill at creating sweeping, wildly realistic landscapes is also on show once more.
With its backdrop of Scottish independence and environmental issues, A Rattle of Bones is very much set in the present – but history, both ancient and fairly recent, has a big part to play here. There's a maelstrom of revenge, recrimination and salvation. At its heart as always is Rebecca Connolly, trying desperately to keep on the straight and narrow as she relentlessly pursues the truth. I love Rebecca; a reporter with integrity is a rare bird in our beloved crime fiction genre but she's a straight and true, if somewhat haunted, journalist for whom the truth is paramount.
Once again Douglas Skelton has created a cracking good read. I suggest you grab a copy as soon as you can.
Love Scottish crime fiction? Read TF Muir's take on tartan noir.
Polygon
Print/Kindle/iBook
£3.79
CFL Rating: 5 Stars