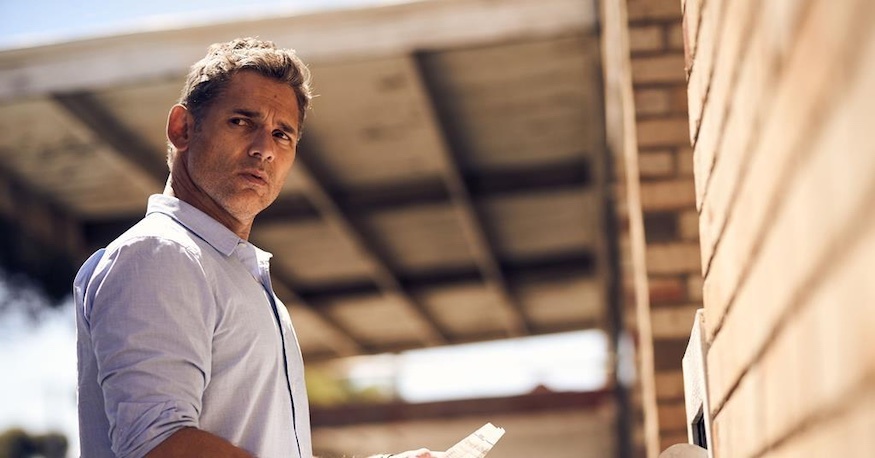 Here at Crime Fiction Lover we love it when a book we've championed finds a wider audience via a film adaptation. Back in 2017, we placed The Dry – a debut novel by Jane Harper – on our Recommended list. Four years later, you can watch this excellent example of moody rural noir on Sky and Now TV.
Eric Bana is cast in the role of Aaron Falk, a Melbourne cop famous for busting open a fraud and corruption case. He returns to the town of Kiewarra to attend the funeral of his boyhood friend, Luke Hadler. In the disturbing opening scenes, we hear an infant in a cot wailing as the camera pans over the bloodied body of a woman in the doorway, and another bloody corpse in the bedroom. Luke's body was found in a nearby lakebed. Everyone thinks it was a murder suicide. Farming in southern Australia has been hit hard by years of drought, and Kiewarra is an isolated town full of pent up frustration – perhaps Luke had been driven to the brink.
Luke's parents Barb (Julia Blake) and Gerry Hadler (Bruce Spence) don't believe it was suicide. They think Luke borrowed money from loan sharks to keep the farm going and was killed because he couldn't pay it back. This is the last thing Aaron wants to do. He's hated in Kiewarra because he was connected to the death of teenager Ellie Deacon (BeBe Bettencourt) more than two decades prior. Aaron and his father were driven out of town, even though there was no evidence against him. When Aaron hooks up with the local policeman Greg Raco (Keir O'Donnell) they start to see inconsistencies in the suicide theory, such as the fact that Luke didn't use the kind of ammunition found at the scene.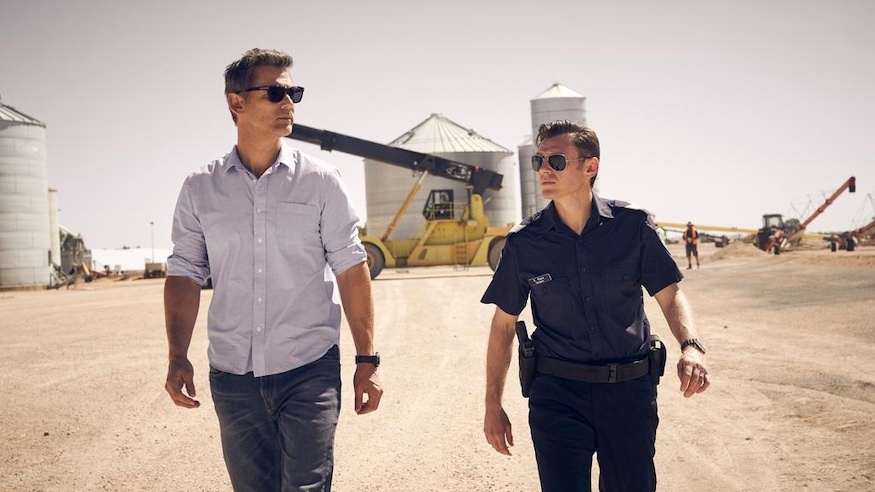 So Aaron decides to stick around and work with Raco to try and solve the triple murder. He still carries with him lots of questions and lots of guilt over what happened to Ellie. He was in love with her and was meant to meet her at the river the day she died, but she didn't show up. She was a troubled young woman and her death was thought to be a suicide as well. Aaron is reacquainted with Gretchen (Genevieve O'Rielly), another friend from his teenage years who's now a single mother running a farm and she sympathises with him and his quest, becoming a possible love interest. He's also reacquainted with Mal Deacon (William Zappa) and Grant Dow (Matt Nable) , Ellie's father and cousin, who want him dead and try to run him out of town a second time. But he's a cop now, and he's not letting this one go.
From close-ups of the cracked earth to expansive panoramic shots of flat fields with dust devils swirling above them, the camera work really drives home the harsh beauty of this baked landscape. The look and feel of the film is dry, dry, dry. Everyone's garden is dead and Barb uses shower water to keep her roses going. A desiccated forest of gum trees sits on the edge of town like a tinderbox ready to ignite.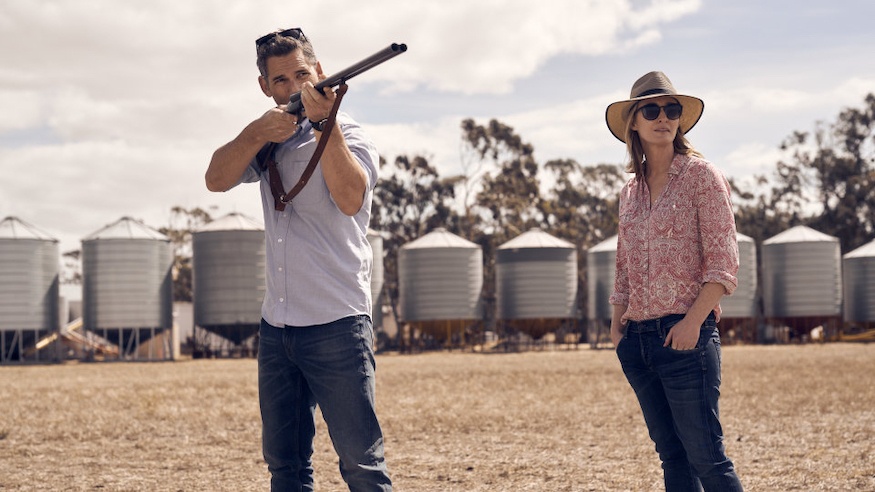 The script continues the feeling of dry, pent up emotion. Bana's Aaron Falk is stiff backed and his lines are clipped, but there's a quiet strength about him. Perhaps the stillness and restraint are taken a little too far, though. Once the set-up is established, the mystery is interesting but it never quite feels like there's a killer out there and Aaron looks capable of dealing with drunken rowdy locals. In places the personal and the procedural combine quite nicely. In one sequence, Aaron offers to return library books borrowed by the dead woman ask Luke's mother finds it too painful. Between the pages of one of them he finds a clue written on the bookmark. The sound effects and music are eerie and distorted to augment the heat, darkness and mystery but overall the picture needs more menace.
Old timers might recognise Bruce Spence, playing Luke's father, as the whirlybird pilot from the Mad Max films.
But let's not forget that in its book form The Dry was the novel that kicked off a huge wave of interest in Australian crime fiction in the UK and US. It's great to see it turned into a feature-length film and if you loved the Mystery Road series then The Dry is essential viewing.