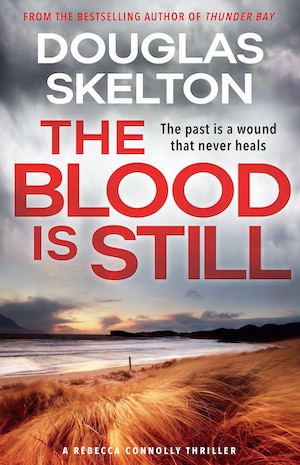 Can it be a whole year since we first met reporter Rebecca Connolly in Thunder Bay in the wilds of Scotland? It certainly is, and we're well overdue a catch up!
After her adventures on the island of Stoirm, we find Rebecca back at her desk at the Highland Chronicle, based in Inverness. Actually, that's stretching it a bit, because Rebecca is much happier out in the world, chasing up her next story on the hoof, grabbing face to face interviews and ending up in the thick of all manner of bother.
In a world filled with keyboard warriors, she's a bit of a luddite, still clinging to her trusty notebook and nose for an exclusive. And that isn't sitting well with Rebecca's bosses. The Chronicle is going the way of all small regionals, laying off staff and putting pressure on those who remain to come up with a quota of clickbait-able stories every day.
Which isn't Rebecca's style at all, so in her first appearance in The Blood is Still we find her on the sidelines at a demonstration aimed at stopping the rehousing of a known paedophile in a run down housing estate on the edge of the city. Taking the head and shouting the odds is Mo Burke, matriarch of a prominent local crime dynasty and she has the crowd eating out of her hand until well-known right wing politician Finbar Dalgleish turns up and steals her thunder.
Just as things are getting interesting, Rebecca's freelance photographer pal Chaz gets a call about a breaking story – a body has been found on Culloden Moor, site of an historic battle. He's dressed in full Highland regalia and has a claymore – a Scottish sword – stuck in his chest. The demo was a good story, but THIS is much more up Rebecca's street and soon she and Chaz are there at the scene of the crime. Although trying to get any information out of the police is like getting blood from a stone.
Skelton soon has his trademark sense of place firing on all cylinders. The area is steeped in history and it is immediately clear that the past is about to play a huge part in this story. Rebecca and Chaz are still struggling to cope with the aftermath of what happened on Stoirm, while one member of the Burke family has his eyes firmly set on a future away from the criminal dealings with which his family is so closely associated. The past is also about to come back to haunt DCI Valerie Roach, CIO on the murder up at Culloden. She is running on empty as the death toll doubles, leaving the investigative team floundering to find a motive for the crimes.
So there's plenty going on in a crime novel with more strands than piece of unravelling knitting, but in the hands of an experienced storyteller like Skelton it is pretty easy to keep up. Standing front and centre in all the chaos is Rebecca, who seems determined to act like a good old fashioned hack even with her job on the line. She and DCI Roach have plenty in common and I enjoyed the interplay between them. There's even a hint of romance chucked into the mix!
It would be so easy to romp through The Blood is Still – the plot is compelling and the characters are so darn realistic, but I advise you to hold fire and take time to savour some of the gorgeously lyrical prose that's sitting there in among all of the drama. Douglas Skelton is a fine creator of Scottish crime fiction, and this is an excellent example of his work.
Also see our roundup of 10 of the best crime novels about journalists, and if you like your crime with a soupçon of black humour, try Douglas Skelton's Tag You're Dead.
Polygon
Print/Kindle/iBook
£2.62
This book is free to read if you have Kindle Unlimited.
CFL Rating: 5 Stars