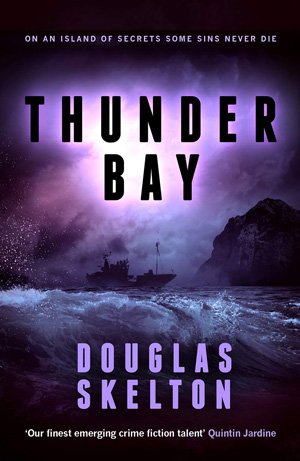 Written by Douglas Skelton — Scotland and its myriad islands have become rich hunting grounds for crime fiction authors, with Ann Cleeves focusing on Shetland and Peter May targeting Lewis. Welcome to Stoirm. It may be fictional, but thanks to the skilful writing of Douglas Skelton you're about to inhabit it, all the same.
Located off the west coast of Scotland, Stoirm is a place that likes to keep off the radar. However, 15 years ago it was in the headlines when young island girl Mhairi Drummond was brutally murdered, but back then the man the police had down for the killing was acquitted on a not proven verdict. He subsequently disappeared and hasn't been heard of since.
Now Roddie Drummond is back to attend his mother's funeral and his return is stirring up all manner of emotions in the islanders. Which is where Rebecca Connolly comes in. She's a young reporter on the weekly Highland Chronicle, based in Inverness, and Roddie's return could be the source of the biggest story of her career so far. She's determined to chase up the scoop, but when her editor puts the blocks on, Rebecca decides to take the matter into her own hands and heads off to Stoirm without his blessing.
Rebecca and Stoirm have history. Although she's never set foot on the place before, her police officer father was born and brought up on the island but he left when he was 18, never to return. No matter how often she asked, he would never reveal the reasons for his departure, taking the secret to his grave. Enough to pique the interest of any reporter worth her salt, and while pursuing her exclusive scoop, Rebecca is also set on solving the mystery of why her father so abruptly turned his back on his heritage.
She's met on Stoirm by young freelance photographer Chaz Wymark, son of one of the island's doctors, and together the pair begin piecing together what happened all those years ago. Mhairi Drummond's dying words were 'Thunder Bay' so they set off to the out of the way inlet. But someone is watching, and it soon becomes clear that Rebecca's presence on Stoirm is beginning to ruffle feathers…
Douglas Skelton's Dominic Queste books Tag You're Dead and The Dead Don't Boogie have both been reviewed on this site. They're crime fiction with a hefty slice of humour and highlight just how good this writer is at creating believable characters. Although Thunder Bay is a more traditional crime offering, that talent for characterisation also shows here, with the added bonus of a setting that's so finely detailed it could be a work of art, framed and hanging in a top gallery. Stoirm is insular in every sense, and there's an overweening feeling of claustrophobia that creeps in ever so gradually as you turn the pages.
And turn the pages you must, because this is a novel that is full of surprises. Prepare to be carried along like a piece of flotsam on the tide as the narrative takes hold and doesn't let go. Happily, there are hints that there could be a series featuring Rebecca Connolly – because here we have a fresh and unique new character to enjoy. Yes, Rebecca is a reporter, but she's miles away from the jaundiced old hacks that so often inhabit the pages of crime fiction. She's young and ambitious and has a nose for a good story and a habit of attracting trouble – a winning combination. She also has an interesting back story, and an ex-boyfriend who's bordering on being a stalker. Plenty to be going at for future books so please, Mr Skelton, can we have some more?
Take a look at the Scotland volume of our Gazetteer of British Crime. Another fictional island features in the haunting The Visitors by Simon Sylvester.
Polygon
Print/Kindle/iBook
£1.89
CFL Rating: 4 Stars