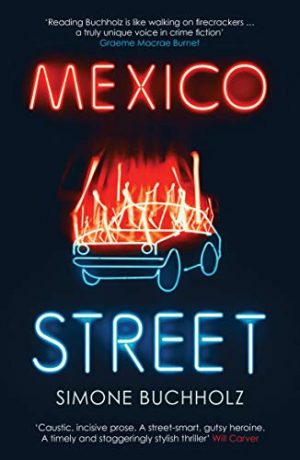 Translated by Rachel Ward — German crime author Simone Buchholz has won numerous awards for her noir thrillers. Her most recent book, an energetic police procedural, is newly translated into English and won the German Crime Fiction Prize in 2019.
Like Buchholz's previous two novels, Mexico Street features public prosecutor Chastity Riley and a cast of well characterised lovers, former lovers and police colleagues. She works hand-in-glove with the Hamburg police department and, in fact, with a couple of the detectives, that relationship is even closer. One of these is Chief Inspector Stepanovic, and they're brought together to investigate the latest in a rash of car fires. But this one's different. Inside the smoke-filled car is a man. A man who – asleep? drunk? – made no effort to escape. The smoky fire reeks of foul play. Although it's quickly put out and he's rescued, alas, he soon dies. Documents in the glove box reveal the dead man as Nouri Saroukhan, an identification that leads Riley, Stepanovic and crew to some very dark places, well off the beaten path of the typical urban crime thriller.
Reading Buchholz's book is like viewing a series of intriguing snapshots. Each short chapter paints a vivid scene, and it takes a while to assemble the whole picture. Meanwhile, Riley and the police are struggling valiantly to do the same.
They recognise at once that their victim is from a notorious gang family based in Bremen. The Saroukhans and their rival clans are a law unto themselves, notorious gangsters who engage in drug dealing, thievery, auto theft, setting cars on fire and murder. Some of these killings are internecine murders that escape official attention. Nouri's murder is the first sign these gangsters may be expanding their territory into Hamburg.
Riley and Stepanovic leave the murder squad in charge of the local investigation and trek to Bremen, where they're given a crash course on the insular world of the Saroukhans and the other Mhallami clans. Originally from southeast Turkey, on the border with Syria and close to numerous Mideast flashpoints, they were mercenaries– 'ancient tribal structures, who were paid, over centuries, to perceive everything outside their structure as the enemy,' the Bremen police explain. Today, their enemies are the authorities. Buchholz's picture of the Mhallami culture describes a world and family life that operate under different rules than the rest of society, and the Bremen police have had to adapt their style of working to it.
While Riley and Stepanovic are worried about the clan's possible expansion plans and hope to learn more from the family directly, they must approach them carefully. And they have good reason to: they need to inform them of Nouri's death. One of the Bremen detectives accompanies them on this mission and takes the conversational lead. The Saroukhan family's position is clear. Their son was already dead to them; in fact, he never existed. Nothing more to be said. Leave now. Was Nouri rejected because he'd left Bremen? Because he'd gotten a job in the 'straight' world, working for an insurance company? Was the job a cover for something more sinister?
Though most of the story comes first-hand from Riley, whose commentary on situations, on her colleagues, and on their behaviour is both surgically precise and wryly insightful, some chapters take a look back at the late childhood of Nouri and Aliza, the girl who became his best friend. These chapters follow them up until the time of his death. Unlike her older sisters, Aliza refuses to be forced into marriage with one of the gangsterish clan members and, as a teenager, fled Bremen for good. It took time, but Nouri finally found her. Now, she knows he's dead and thinks she knows who did it.
Riley is a refreshingly modern, street-smart character – someone who knows what she thinks and tells it straight. And while Buchholz's writing is powerful, it isn't without humour. The multi-level conversations between Riley and Stepanovic are especially entertaining.
Rachel Ward's translation is lively, though it took me a chapter or two to mentally fix the characters in Hamburg because of her free use of UK slang.
Read a CrimeFictionLover profile of this talented German author and check out her book Beton Rouge here.
Orenda Books
Print/Kindle/iBook
£3.99
CFL Rating: 5 Stars