Just like the German football team, the country's crime authors seem to be masters of surprises and exciting twists. Although we have reviewed several of them on our website, we're sure there are plenty more to come. German crime fiction one of the great untapped resources for crime in translation  and with top crime shows like Babylon Berlin emanating from the country, we expect to see lots more German crime books in the coming months and years. Let's take a look at six boundary-pushing German authors you can get your hands on in the English language already…
6 – Alexander Hartung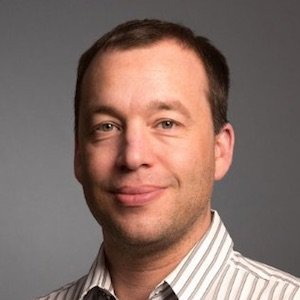 Alexander Hartung has been published non-stop, at least one book a year, since his debut in 2014, but so far only two of them have been translated into English, both from the detective Jan Tommen series set in Berlin. We reviewed the first of them, Until the Debt is Paid, as part New Talent November in 2014 and were very impressed with the fine characterisation, seamless plotting and the depiction of Berlin in all its multicultural, eccentric and somewhat shabby glory. You may balk a little at thegraphic descriptions of death, but there is much to enjoy in the humorous and very relatable interactions between Tommen and his three mismatched friends – a hacker, a Rwandan bouncer and a spiky medical examiner who gives as good as she gets.
5 – Sebastian Fitzek
If you enjoy psychological mindbenders, you'll be fascinated by the work of Sebastian Fitzek. Described as the German Stephen King, the author delves into the deepest recesses of the human mind and finds the most disturbing patterns there. Disappearing children and mental health issues have featured in his work every since his debut novel Therapy. He has also made a name for himself by creating situations that seem to defy all logical explanations, such as a child serial killer who seems to have struck long before he was even born in The Child. Most recently, we reviewed the audiobook of Passenger 23, the only way you can enjoy this book in English. The format of the audiobook itself is innovative: it is serialised and sounds more like a radio play, part of the Audible Original series.
4 – Zoran Drvenkar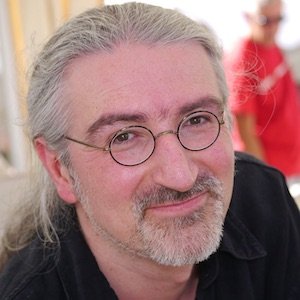 Born in Croatia, but having spent most of his life in Germany, Zoran Drvenkar also writes YA novels but his crime fiction for adults is very bleak and graphic indeed. His first novel to be translated, Sorry, was a tour de force with multiple points of view and slippery characters. Yes, there is violence, but it also cleverly explores the theme of guilt. His second novel to be translated into English, You, has received further accolades for its original concept, innovative technique and confident voice. The author is equally adept at presenting young girls' narrative voices and those of more mature, even elderly protagonists. There is no safe harbour and little comfort in a novel by Drvenkar, just an unflinching look at the darkest depths of human fears and desires.
3 – Simone Buchholz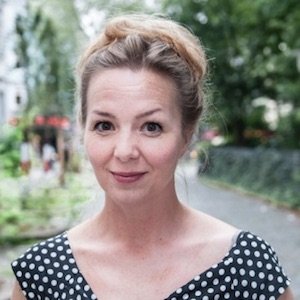 Simone Buchholz has been quietly producing high quality crime novels set in Hamburg for several years now, and Blue Night is the first to be translated into English. So for English-speaking readers she is a hot new talent that we can't wait to see more of. Chastity Riley is the name of the protagonist of the series, not perhaps a name we might associate with a German state prosecutor. But then nothing is quite what you might expect in this very modern, punk rock novel that has all the leather-clad motorbike chic, seedy lifestyles and skullhead vibe associated with the St Pauli district of Hamburg. Chastity herself is the worldly wise, slightly weary and hard-as-nails heroine that is seldom present in detective fiction – a direct descendant of VI Warshawski. And then there is the book's unusual improv style – the jumps, odd riffs, abrupt changes and cuts – anything but the highly organised and linear storytelling you might expect from the country that also produced the Tatort TV series.
2 – Volker Kutscher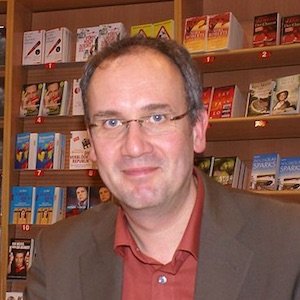 We first discovered Volker Kutscher in Katharina Hall's excellent feature on historical crime fiction in Germany. This was well ahead of the curve, because last year marked Kutscher's international breakout thanks to the lavish television adaptation Babylon Berlin, based on his novel Der nasse Fisch. There is also an equally fanciable graphic novel with artwork by Arne Jysch, so you cannot help but be carried away into the murky world of Berlin in 1929. Police detective Gereon Rath is a newcomer to Berlin and he gets to see both the best and the worst the city had to offer in that decadent and dangerous period of German history. The author excels at showing the political confusion of the period, with the Russians and Communists considered a far more potent threat than the National Socialists. He also delivers fascinating characters and a decent, dark mystery. If you enjoyed Christopher Isherwood's Berlin novels and the film Cabaret, you will simply lap this up.
1 – Jakob Arjouni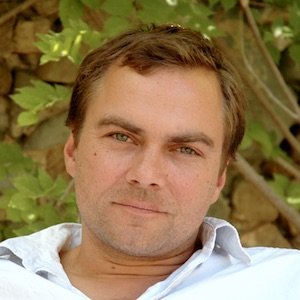 Sadly, Jakob Arjouni passed away far too soon in 2013, but he was doubtlessly the writer who almost single-handedly transformed the fortunes of the detective novel in Germany. He was only 20 when he published his first Kemal Kayankaya novel Happy Birthday, Turk, featuring an indomitable PI of Turkish descent equally capable of navigating the rougher areas of Frankfurt and the more xenophobic traits of the German character. Arjouni introduced both Chandler's smart ass quips and black humour, as well as Simenon's minimalist style and depth of characterisation to German literature. Yet he created a style all his own, with wonderful close observation of social and political weaknesses. You can't go wrong with any of the Kayankaya novels and we reviewed Brother Kemal here.
As with novels set in France, many book set in Germany have been written by British authors like Philip Kerr, David Young and James Craig, which might just have limited the number of German writers appearing in translation over the years. If you want to discover more German crime from a German perspective, you can also try the police procedurals of Nele Neuhaus and Oliver Bottini, or the complex legal and moral issues in Ferdinand von Schirach's novels. Watch for more, though. They're coming…
Click here to read about five of the best French crime authors.