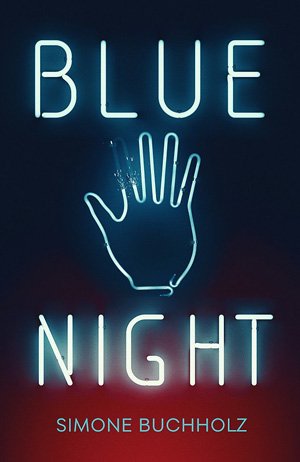 Written by Simone Buchholz, translated by Rachel Ward — Chastity Riley, once a hotshot state prosecutor, has suffered a demotion after bringing down one of her superiors on corruption charges. As Blue Night opens, Chastity is trying to make sense of her new life working in a dull witness protection program with an existential dread hanging over her head like the steel grey skies of the German winter.
Luckily, it seems, Riley is soon assigned a new job. In a hospital bed in St Georg on the outskirts of Hamburg, a nameless man lies under police guard. She is given the task of finding out who he is. At first, this man won't do anything other than ask to be left alone, but she puts all her prosecutor skill to play to gain his trust. She soon finds that the mystery man's bruises, wounds, and missing index finger are part of something much bigger than she imagined, even if she can't get him to tell her his real name. A case emerges involving an Armenian mafia kingpin, synthetic drugs, and a plot to disperse these drugs to half of Europe.
Blue Night is author Simone Buchholz's 10th novel and the first to be translated into English thanks to Orenda Books. A second book by the author, Beton Rouge, is also on the way.
As the investigation into the man in the bed progresses, Riley and those close to her are drawn in. Though well written and well translated, the novel and the case itself are slow to take flight. Buchholz uses small, paragraph-long monologues from all the characters, in every other chapter, to fill us in on their backgrounds. The style takes close attention and some getting used. The technique eventually pays off and proves to be a clever and authentic way to deliver backstory and build tension.
The book has a strong sense of place and the milieu saturates straight through. The brick-lined streets of Hamburg feel as tired as the characters who inhabit them. The city is mean, unforgiving, and claustrophobic. The title, Blue Night, refers to a bar that all the characters frequent and it is the weary heavy watering hole you expect hidden down the street of a German city, a place to drink away your problems and to find some new ones. The European setting is most reminiscent of John le Carré's but with an added ferocity.
Buchholz's novel has the feel of classic noir, one missing from much of today's crime fiction. The atmospheric prose and snappy first-person dialogue have been likened to Raymond Chandler. And though this comparison is overused and often off the mark when talking about contemporary crime fiction, here it is a perfect fit. Even more so, Buchholz's Blue Night brings the wit of Philip Marlowe, the heart of Lew Archer, and the sensibility of Bernie Gunther to her creation Chastity Riley. She is the tough and likable female protagonist we need today. Riley's wise and weary view is apt for processing the world she lives in and helping us process our own.
Blue Night is the start of what should be a can't miss series and though German crime fiction isn't usually a big presence in the English-speaking world, but with Buchholz's new works and a back catalog to boot that might very well change. Along with Babylon Berlin, we are seeing a lot of great work from this area of the world which is really exciting. Be sure to check out our recent feature on five of the best German crime shows here.
Orenda Books
Print/Kindle/iBook
£4.31
CFL Rating: 4 Stars