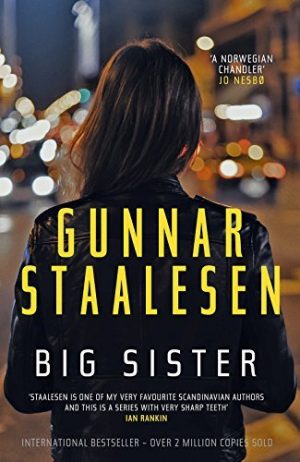 Written by Gunnar Staalesen, translated by Don Bartlett — Varg Veum, a private eye operating out of the Norwegian town of Bergen, can't seem to catch a break. He compulsively accepts cases that pay little or nothing but which he solves nevertheless, often at great personal sacrifice. Body and soul.
When a stranger strolls into his improvised office embedded in a hotel, she is no exception to this pattern. She has even less to offer Veum, except for one startling fact – his new client turns out to be his long lost half-sister Norma. Her appeal to Veum, to help her find her god-daughter Emma, a young woman who has vanished, opens up a whole new world to him. Suddenly, there is a new branch to his family, and his own history is revealed to him in ways that will change his life forever.
When he starts digging, the detective soon discovers that before she disappeared Emma had hunted down her biological father, Robert Høie Hansen, who adamantly refused to receive her into his new home and family. Veum finds out Robert left his first wife and two-year-old Emma 28 years earlier after being accused of the rape of a girl named Veslemøy Valaker. He was never charged. Is there a connection between Emma's disappearance and her villainous father who was kicked out of his old life and has now kicked Emma out of his new one? Or is there something about Robert's new wife Liv and son Andreas, who have their own take on the day Emma came knocking?
The father is in no mood to talk, so Veum interviews Emma's best friend Åsa Lavik by telephone as she is studying in Germany. Åsa is a kindred spirit who is also fatherless and damaged. But the most suspicious interviewees may be Emma's roommates, Helga and Karin, as well as their creepy landlord. All seem to know more than they're saying.
Veum investigates the old rape case too but finds it impossible to interview the victim Veslemøy Valaker, and is left angry at the damage done to the poor soul. Veslemøy was so ravaged by the attack that she remains borderline catatonic and wary of any man who approaches. Veum's queries lead him to the biker gang that Robert Høie Hansen currently belongs to and a deadly show-down. Fans of Varg Veum will be used to seeing the stoic PI outnumbered and just barely able survive armed only with his signature deadpan humour. Whether the old case and new one are linked or not, our undeterred survivor is compelled to solve the rape case too and bring some justice to poor Veslemøy.
Finally, midway through the novel, a break comes in the case pointing to an online suicide cult. Did Emma simply commit suicide after her father's rejection, or is it an elaborate set-up for a homicide? And who is Amos, the online mentor who coordinates the deaths? The conjunction of the two investigations comes to a violent head and it will take two more homicides before you learn who is guilty. All your assumptions will be flipped when the truth emerges.
Staalesen's Chandler-esque first-person voice works well to create a dramatic interplay between Varg's investigative musings and his own fate, emphasised by Norway's soul-reflecting emotive scenery, firmly in the tradition of Nordic noir. But the narrative tension Staalesen creates is achieved by not disclosing Veum's true suspicions until the moment he confronts the guilty with his theory.
A missing girl. A tragic rape. Unknown fathers. Big sisters. A biker gang. An Internet cult. In the practiced hands of master storyteller Staalesen, these complex plot threads are woven together with astonishing finesse. You will be just as enthralled by the unbearably tragic case of Veslemøy as the search for the missing Emma, not to mention Veum's origins in the vivid 1950s Bergen jazz scene.
Fans of Varg Veum, who have been following the series of books featuring the somber Norwegian PI will not be disappointed. Readers of Nordic noir who enjoy the darker travails of Scandinavian cops Erlendur, Harry Hole, or Konrad Sejer, will find much to enjoy in Varg Veum. The godfather of Nordic noir is in top form with an action-packed and dramatic story whose culmination blends the tragedy of two funerals tinged with tenacious hope of a family reunion that will leave you choked up and wanting more.
Orenda Books
Print/Kindle/iBook
£0.99
CFL Rating: 5 Stars