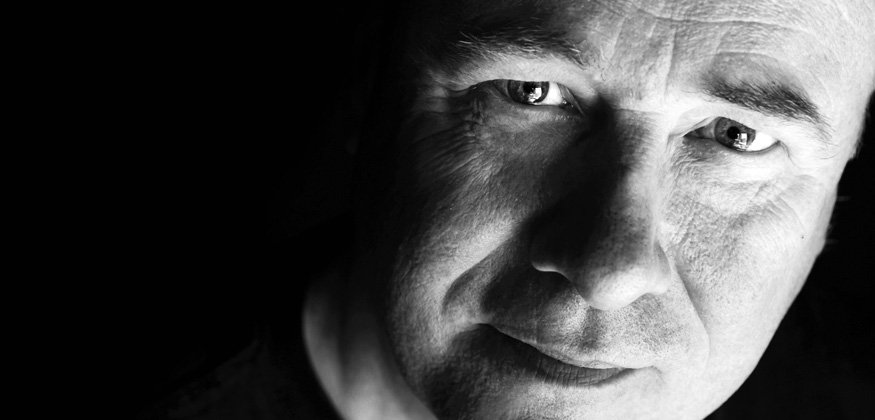 Inspector Erlendur Sveinsson is a brilliant cop, but also a gloomy and thoroughly anti-social figure who guards his privacy jealously. When he's not doggedly pursuing a case, he is hunkered down at home brooding over its details. He passes his solitary time reading his strange library of papers about people lost in the wilds of Iceland. Why? Because the ghosts of his past give him no quarter.
Created by Icelandic author Arnaldur Indridason (pictured above), Detective Erlendur is as enigmatic as they come. His exploits have captivated fans through 11 novels, of which nine have been translated into English. Although Strange Shores wrapped up the original series, a prequel series featuring a younger Erlendur tells us of his earlier cases going back to the 1970s. We thought it would be a good idea to write a guide to the detective, and hopefully it'll clear up any questions you have about the series and which ones are available in English.
One man and his past
The childhood loss of his little brother during a snowstorm, for which he blames himself, is still a permanent presence in Erlendur's life. He goes on an annual pilgrimage to his birthplace to continue the search for the boy's body in the rugged hills. He also feels guilty over his own indifference towards his children after his marriage failed so many years ago. As the series progresses, Eva Lind and Sindri, who are now adults with their own problems, gradually become part of his life. And, he reluctantly comes to terms with his past, at his own speed, with his trademark stubbornness.
Erlendur is equal parts frustrating and endearing. And we are no less concerned for his partners Elinborg and Sigurdur Oli, about whom we learn a great deal in the later books. When Erlendur disappears on an extended sabbatical in the wilderness of his childhood, they each take a central role in one book a piece.
Cold and unforgiving
Set in Reykjavik, and across Iceland's stony, unforgiving landscape, the books create a strong impression, reflecting the silent, glacial progress of Erendur's battle with his own inner storms. His investigations provide rich insight into Icelandic culture, old and new. We hear a lot about certain issues – the criminal justice system, nationalism, racism, immigration, corporate greed, the welfare state. One book even touches on genetic disease. The small gene pool is a concern in this small, isolated country. These are thematic elements shared across the Nordic noir sub-genre.
Read our interview with the author here.
The original Erlendur series
Sons of Dust (Synir duftsins – 1997)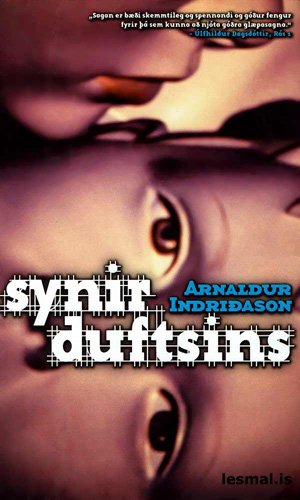 Not yet translated. The back-to-back deaths of a retired teacher in his home and the suicide of one his students immediately raise red flags for the local police force that the cases are somehow related. Erlendur and his team are introduced, and the book reveals his failed marriage and his troubled relationship with daughter, Eva Lind. She has drug problems. Hopefully Vintage will translate it soon!
Silent Kill (Dauðarósir – 1998)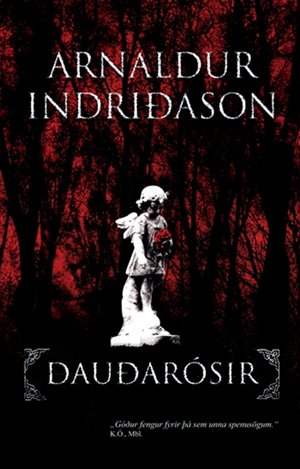 Not yet translated. The naked corpse of a murdered young woman is found at the grave of Jon Sigurdsson, Iceland's historical hero of independence. It is then discovered that the victim was a drug addict. But who killed the woman and why did they lay her naked corpse at the flower-strewn grave of one of the founding fathers of modern Iceland?
Jar City (Mýrin – 2000)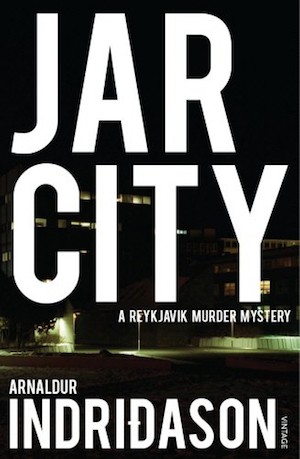 When it was released in English in 2004, Jar City introduced us to Inspector Erlendur's universe, including his boss Marion Breem and two sidekicks Elinborg and Sigurdur Oli. What's interesting throughout the series is that Marion's sex is never clearly defined and even the author doesn't know. An old loner is found murdered in his decrepit flat, and the killer has left a note and a photograph of a child's grave. Erlendur and his team explore the old man's past and reveal disturbing secrets. They later learn the child in the picture died of a rare genetic disease and that her mother committed suicide. Was it a revenge killing? The forensic evidence they gather eventually leads to a high tech lab, the eponymous jar city filled with specimens, and a tense showdown with the killer. The book won the Glass Key Award for Scandinavian crime fiction in 2002, and was later made into a film by director Baltasar Kormakur, starring Ingvar E Sigurdsson. You can watch the trailer below.
Buy now on Amazon
Silence of the Grave (Grafarþögn – 2001)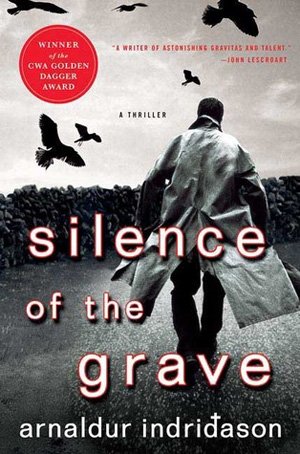 In 2005, Silence of the Grave became the second Erlendur novel to appear in English. As the detective struggles to save his drug addict daughter Eva Lind from herself, a body is found in a shallow grave in an old Reykjavik town that is being dug up to make way for suburbs. The body is found to be quite old, but the hills that once formed the area have many stories to tell – of love, domestic violence, and murder. Indridason masterfully weaves past and present and more than a few surprises all the way to the end, as we discover the identity of the body, killer and witness. This one is a favourite with many Indridason fans. It won the Glass Key in 2003 and the CWA International Dagger in 2005.
Buy now on Amazon
Voices (Röddin – 2003)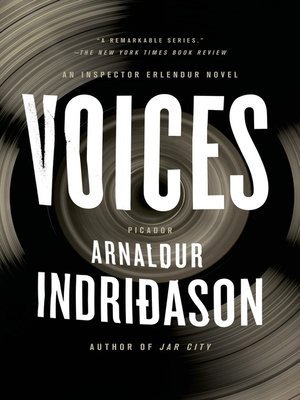 It's Christmas time, and the doorman of a busy hotel is found murdered in the basement. He is dressed as Santa Claus, and his trousers are down around his ankles as though he was dispatched in the middle of a sexual act, possibly with a prostitute. Once the chuckles subside and Erlendur is brought in to investigate, we learn more about the victim. In his youth, he was a promising soprano with the voice of an angel whose fate turned on a dime and resulted in tragedy. Erlendur seeks answers among the hotel staff, the victim's own troubled past, and an avid record collector of choirboy recordings. This case is one of the most poignant stories found in Scandinavian crime fiction.
Buy now on Amazon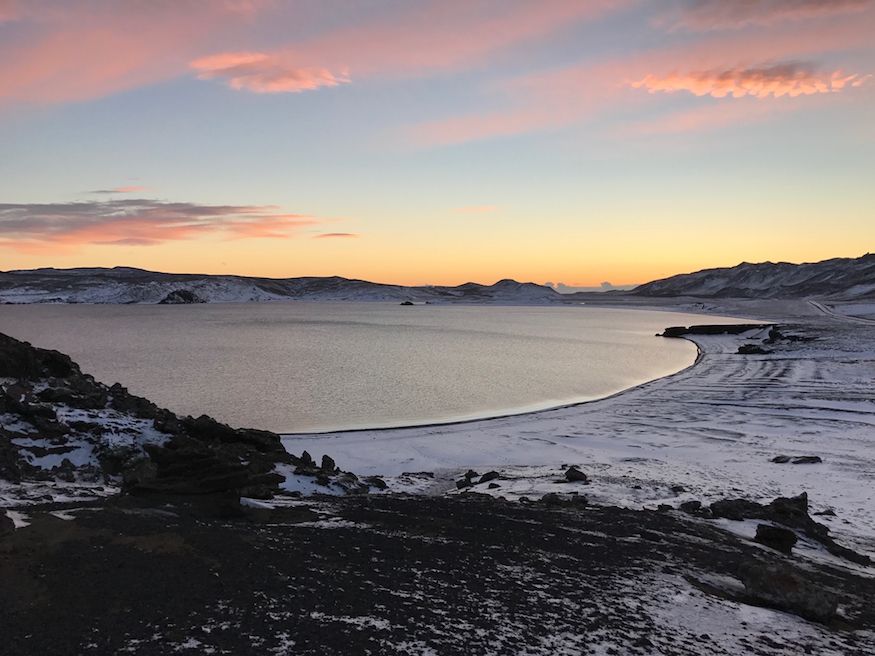 The Draining Lake (Kleifarvatn – 2004)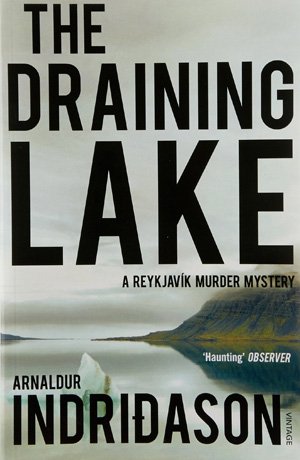 A skeleton is found in a lake which is slowly draining after tectonic movements beneath the island. A hole in the skull points to murder, and what is most interesting is that the body was weighted down by a Cold War-era spy device. As Erlendur and his team struggle to identify the victim, their investigation runs parallel to the perpetrator's back story of love and betrayal in communist East Germany. Erlendur further develops his new love interest, a biotechnician named Valgerdur, and his old boss also weighs in on the case. The story arc of Erlendur's family matters also develops when his son Sindri appears out of the blue. It's set on an lake in Iceland, shown above, which really did shrink due to volcanic activity.
Buy now on Amazon
Arctic Chill (Vetrarborgin – 2005)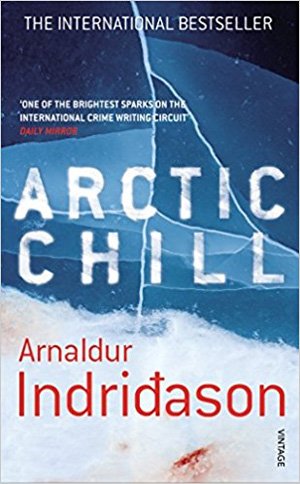 When a young boy of Thai descent is found murdered, racism is suspected. Erlendur recruits the victim's own mother to help as he looks for information at the boy's school. Getting few answers from a local paedophile, he encounters resistance from the child's family, his classmates and the local thugs, which include similar ethnic outcasts. Here we learn more about Erlendur's children, who themselves want answers about their father's strange ways. They are curious about the circumstances behind his brother's death, which has haunted him all these years. We also learn more about the personal life of Erlendur's police colleague, the moralistic, unyielding Sigurdur Oli.
Buy now on Amazon
Hypothermia (Harðskafi – 2007)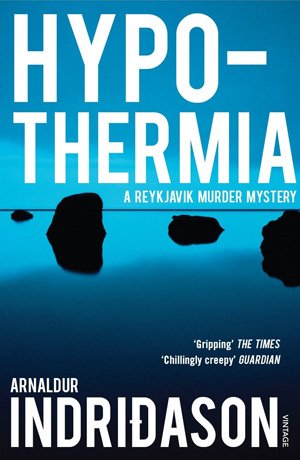 A woman is found hanged in her own summer cottage. Although apparently a suicide, Erlendur isn't buying it. He conducts an informal investigation based on his own hunches, convinced the answers lie somehow with the woman's husband and a local psychic she consulted. Erlendur slowly renews ties with his children by finally confronting head-on the story of his brother's death. His disastrous attempt to reconcile with his ex-wife, the intrusions of his children, and the death of his old boss Marion overwhelm Erlendur. And yet, as so often happens in crime fiction, these distractions fuel his impetus to solve two old missing persons cases that seem related.
Buy now on Amazon
Outrage (Myrká – 2008)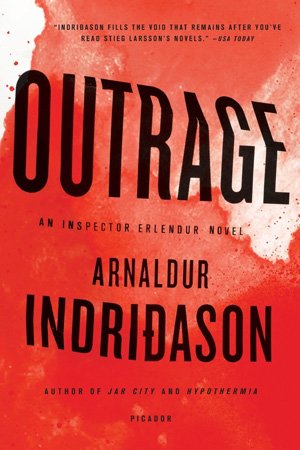 With Erlendur away on mysterious personal business, his female colleague Detective Elinborg plays the central role in Outrage. She's out to find the killer of a date rape predator who was apparently caught red handed and murdered. The storytelling style is markedly different, focussing on Elinborg and her thought processes, and we discover just what an excellent a detective she is. Her passion for cooking, her home life and relationship with her husband and children are also explored, to the point where they play a role in how the case is solved. For instance, the smell of tandoori food and another unknown odor at the crime scene are clues in the investigation. We see how she feels towards Erlendur and Sigurdur Oli – it's like an insider report on their crime unit.
Buy now on Amazon
Black Skies (Svörtuloft – 2009)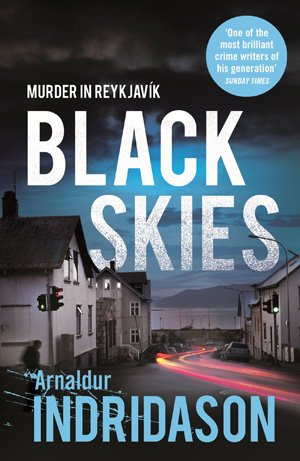 It's Sigurdur Oli's turn to take the spotlight but from the start he receives attention he doesn't need. Off duty, he goes to warn off a blackmailer for a friend of a friend but walks in on a violent scene. The blackmailer lies battered on the floor, and Oli himself gets a smack on the head. When the woman dies in hospital Oli has to duck the queries of his colleagues as to why he was there at all. Solving this case and staying out of hot water is his aim, while on the side a Reykjavik vagrant is trying to leave messages for him about an old paedophilia case. Corporate greed and Iceland's role in the financial crisis come into play in the murder enquiry, while Oli is frustrated by his failed marriage, ex-wife and overbearing mother. Read our review here.
Buy now on Amazon
Strange Shores (Furðustrandir – 2010)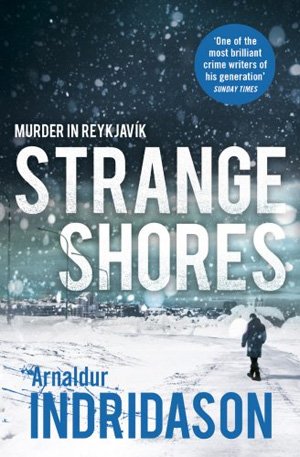 The most recent Erlendur novel sees the policeman sleeping in the crumbling remains of his family's old home in rural Iceland. He showers at the local swimming pool and meditates on his memories and emotions. Talking to a fox hunter, he becomes intrigued by the case of a woman who, like Erlendur's little brother, disappeared during a snowstorm. In between wandering the hills and fjords in the hope of finding the bones of his brother, and recalling the sadness that pervaded his family when he was a boy, Erlendur also unravels Matthildur's touching story – because there was more to her death than bad weather. Contemplative and almost dreamlike in parts, Strange Shores is different in tone and narrative to the previous novels in the series. Released in English in 2013, it is the most powerful book in the series. Read our review here.
Buy now on Amazon
The young Erlendur cases
The Great Match (Einvígið – 2011)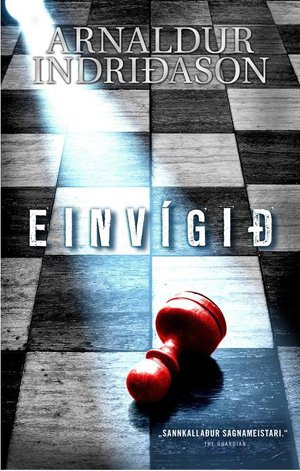 Due for translation by Harvill Secker. While Strange Shores wraps up the original Erlendur series, Indridason enjoyed the character so much he went back and wrote three further novels that delve into the detective's early, formative years. The Match was the first to be penned in Icelandic and here you will learn more about Erlendur's mentor, Marion Briem, who takes centre stage. Set during the 1970s before Erlendur joins the fledgling force, all eyes in Iceland are on the momentous chess duel between Bobby Fisher and Boris Spassky. However, a murder occurs in a cinema just after the match begins. We discover who Marion is, about the character's childhood struggle with tuberculosis and determination to solve the murder.
Reykjavik Nights (Reykjavíkurnætur – 2012)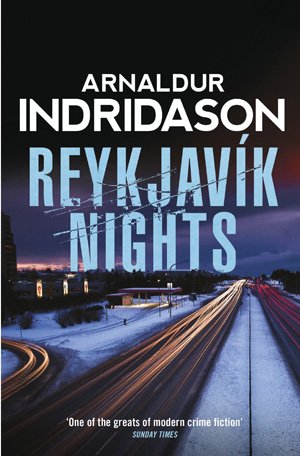 The first 'Young Erlendur' novel to appear in English came out in 2015 and has him just settling into the police force. While working traffic detail, Erlendur becomes obsessed with the drowning of a homeless alcoholic called Hannibal. At the same time, he searches for a young woman called Oddny who has disappeared without trace. Nobody really cares about either victim. Hannibal, for instance, was a loner whose life and death seem inconsequential. But not to Erlendur, who seeks to trace the man's story before he becomes another cold case. In doing so he discovers that there might have been a link between what happened to Hannibal and Oddny's disappearance. The book introduces girlfriend Halldora, his future ex-wife, and we see both his reticent and stand-offish side as well as his natural curiosity and investigative spirit germinating. Read our full review here.
Buy now on Amazon
Oblivion (Kamp Knox – 2014)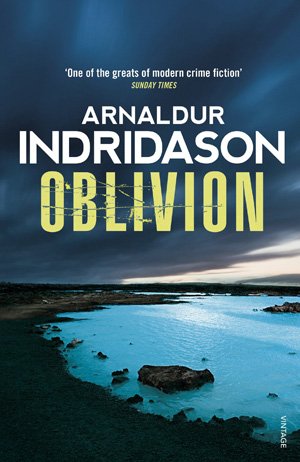 The second Young Erlendur novel to appear in English takes place in 1979. Well, Kramer vs Kramer and Alien are showing at the movie theatre so we figure that is the date. Erlendur and Marion respond to the discovery of a corpse in a mineral pool found by a bather. Forensics determines that the man didn't drown but died from a fall from a great height. Identifying the man as an aircraft mechanic called Kristvin, they are led to his workplace – the massive US military base near Keflavik. But the Americans won't cooperate with the Icelandic police, though wider speculation suggests ties to nuclear arms smuggling and the involvement of a CIA operative. Erlendur also becomes involved with the cold case of a young Reykjavík schoolgirl who disappeared over 25 years ago. The US printing of this book came out in 2016 with the title The Crooked House. Read our full review here.
Buy now on Amazon
We have also written guides to the Harry Hole series, and Karin Fossum's Inspector Sejer series. Since putting Erlendur on ice, so to speak, Arnaldur has been writing crime novels set during World War II beginning with The Shadow District.