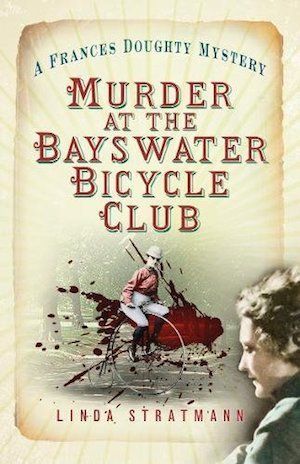 Written by Linda Stratmann — Summer, 1882, and Frances Doughty is tasked to go undercover at the annual meeting of the Bayswater Bicycle Club at the Goldsmith's Cricket Ground in East Acton, London. There is more than an element of mystery about the private detective's mission as a government agent. She's not told who or what she is watching for… just to observe and take note. She is also told to watch out for a gentleman, Gideon, as an ally and friend.
Frances is soon combing through her back issues of the Bayswater Chronicle and finds that the previous year the Bayswater Bicycle Club secretary Morton Vance was murdered by a pig farmer who had taken a grudge against bicyclists. Not everyone is enamoured of the new Victorian craze for bicycles in all their various forms. The farmer, Sam Linnett, protested his innocence but went to the gallows.
Frances has some knowledge of bicycles from reading a penny publication Miss Dauntless Rides to Victory by W Grove. The heroine of the tale is a lady detective and Frances has some history with Grove when, dressed in a black cloak and Venetian mask, he saved her life. The similarities between his fictional detective Miss Dauntless and Frances are there for all to see.
In preparation for the meeting Frances disguises herself as a man – Frank – and Cedric Garton takes her out to teach her how to ride a bike. They pedal past the scene of Morton Vance's death and Frances quickly realises there is more to it and that some of Linnett's evidence was clearly true.
Most of the action in the book takes place over the course of the summer meeting and the narrative is compressed into those eventful few hours. A prisoner, Coote, has escaped from nearby Wormwood Scrubs in the days running up to the event and when Sir Hugo fails to appear at the cycle meet the events of the day quickly immerse Frances and her friends.
The event itself is beautifully realised and Stratmann offers it up as the epitome of a Victorian social gathering. Her evocation makes it easy for us to imagine a dry sunny day on an English green field with the whitewashed pavilion and club flags fluttering in the breeze. Her descriptions of a bicycle track marked out with rope and spectators arrayed alongside are rich and enjoyable.
All the favourite characters are here: Sarah Smith and Professor Pounder, proprietor of a sporting academy and tutor in pugilism; Inspector Sharrock of Paddington Green bobs up; and the Filleter, captured in 1881, who had been severely injured but survived to run a criminal gang also features. Tom Smith and Ratty appear but, thankfully, their appearances are brief as Stratmann lays it on thick with the phonetic London vernacular. It's one of the few bum notes in a historical crime fiction series of the finest quality
The level of research is admirable and even non-cyclophiles will enjoy the stories of early bicycles. From velocipedes to sociables to high wheelers, it is clear that Linda Stratmann has done her homework for Murder at the Bayswater Bicycle Club. More than that, she puts the vehicles in their social context and paints her story on a vivid social canvas. The historical research doesn't feel gratuitous and doesn't subsume the story.
This is the eighth book in the Frances Doughty series and we last reviewed Death in Bayswater. Devotees of the series will relish this final book as Stratmann pulls together a lot of strands and finishes off the series with a flourish.
For more historical crime fiction set in Victorian times you should try Chris Nickson's books that are based in Leeds. Other authors tackling the seamier side of Victorian London include ES Thomson and Vaughn Entwistle.
The History Press
Print/Kindle/iBook
£3.79
CFL Rating: 4 Stars