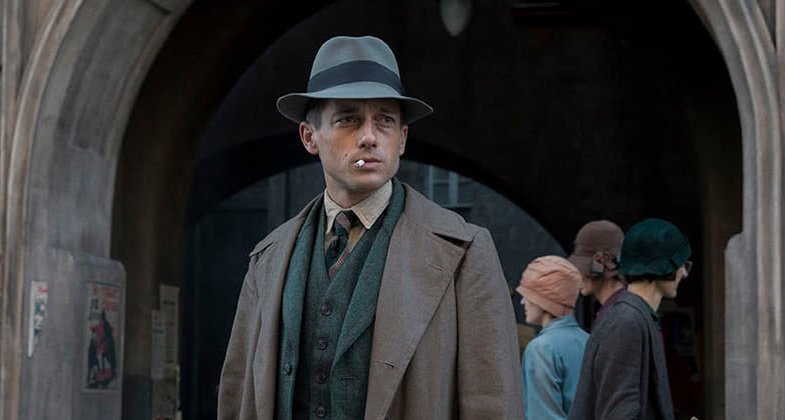 Crime Fiction Lovers in the United States: get ready for achtung. On 30 January, Netflix will start streaming the hit German TV series Babylon Berlin – an onscreen kaleidoscope of music, decadence, sex, corruption, political intrigue and, yes, plenty of crime.
Set in 1929, during the period of the Weimar Republic, the programme begins with the arrival of Kommissar Gereon Rath (Volker Bruch) in the capital. He's a World War I veteran still suffering from PTSD and every so often has to break open a vial and swallow a drug to ease his panic attacks. But despite this Rath is a cool-handed detective on a mission to break up a pornography ring. Secretly, he is also out to seize a film that has captures his superior back in Cologne in a compromising position. Looking over his shoulder is his older Berlin partner Oberkommissar Bruno Wolter (Peter Kurth), who is prone to violence and graft.
So we can tick off troubled detective and corrupt cop on our list of noir staples, and next there is the beautiful moll, Charlotte Ritter (Liv Lisa Fries). Living with her extended family in a tenement block, she queues at the police station each morning hoping for admin work and lands a job cataloguing photographs of murder scenes. After crossing paths with Rath, she is drawn into helping him with his detective work while also moonlighting as a dancer and prostitute in the Moka Efti club. Lotte and Rath make for excellent characters throughout.
Long live Trotsky
All of this goes on as the city heads into political turmoil with May Day protests planned by communist agitators and armed police will take to the streets. A Trotskyite faction of Russian emigres is planning to smuggle a railway carriage and its secret cargo into Germany, the Soviet embassy sends its Stalinist thugs out to kill them, and Swetlana Sorokina (Severija Janušauskaitė), the cross-dressing avant garde singer from the Moka Efti, also has her eye on the contraband rail car. Femme fatale – check.
And we haven't even mentioned the gangsters, yet. They're tied in with the film that Rath is desperate to track down, as well as some kind of bootlegging operation.
This complex plot is derived from the original novels Der nasse Fisch and Der stumma Tod by Volker Kutscher. These were adapted for television in two series of eight one-hour episodes by director Tom Tykwer, which have been combined into a single 16-part for Netflix.
1920s audio visual treat
As though the story itself weren't grabbing enough, the production values are outstanding. With a budget reputed to be $45 million, it's one of the most expensive non-English language TV shows ever made. The locations around Berlin and the period accuracy in the costumes and the sets – from the lavish nightclubs to the impoverished backstreets – give it a true-to-life feel that is only added to by the director's pacy style. Tykwer shows you what you need to see and moves on, giving you brief glimpses into the lives of the characters and their feelings before dropping you straight into a new point in the plot with a splash, like a body landing in the Spree.
Dancing, riots, sordid sex scenes and brutal murders on the one hand; whispered plotting, hopeful glances, shared cigarettes and kitchen table politics on the other. Juxtaposed throughout we see the decadence of the wealthy, and the destitution of the masses as a dark sense of desperation lingers in the atmosphere.
UK viewers have already been able to watch seasons one and two on Sky Atlantic. The books have been translated as Babylon Berlin and The Silent Death, and soon a graphic novel of the story will also be released by Hard Case Crime and Titan Comics.