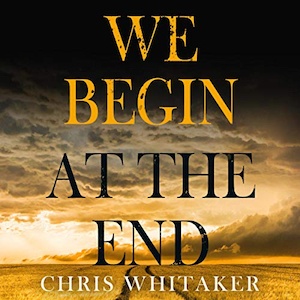 It's the season when all the crime, mystery, and thriller awards are just about in. The lists always reveal one or two gems missed in the past year, like Chris Whitaker's We Begin at the End. The book was named the Theakston's Old Peculier Crime Novel of the Year for 2021 at Harrogate; won the CWA Gold Dagger for Best Crime Novel of the Year; and was selected as a best thriller of the year by the Guardian, the Express, and i, among others. This audio version is narrated by George Newbern with absolute fidelity to the different characters and where their heads are in the moment.
One of the protagonists is Chief Walker, whom everyone calls Walk, the long-time police chief of Cape Haven, a small town on the California coast. Walk, in his mid-40s, tries hard to keep his community from changing. In fact, he'd prefer to go back in time about 30 years to before the hit-and-run in which his best friend Vincent King killed seven-year-old Sissy Radley.
Vincent received a 10-year sentence at an adult prison, with 20 more tacked on when he killed another inmate in a fight. The novel starts just before Vincent is released from prison and Walk is bringing him home to what will likely be a chilly welcome.
Before he can reclaim his friend, Walk is approached by two children – Duchess Radley, 13, and her brother Robin, five. Their mother has overdosed again, and Walk helps them get her to the hospital. Star Radley, the older sister of the child Sissy, has been going off the deep end with increasing frequency. When they were all teenagers, Star and Vincent were a couple, part of a foursome that included Walk and Martha May, and Walk remains deeply loyal to both Star and Vincent.
During Vincent's long absence, Star's attractiveness hasn't gone unnoticed. The town butcher lives across the street and is constantly doing unasked-for favours; the next-door neighbour has asked her out many times, always unsuccessfully; and the local wheeler-dealer real estate developer is chasing her too. If she won't date him, maybe she'll at least convince the returning Vincent to sell the developer his family home, located in a prime coastal location.
The other main character is Star's daughter, Duchess, who styles herself an outlaw and goes about proving it. Foul-mouthed and take-no-guff, Duchess has an uncritical eye only for her brother. He has a lioness defending him.
Tragedy strikes, and Vincent King is once more accused of murder. He won't say a word in his defense, despite Walk's pleading, except that he wants Walk's former girlfriend, Martha May, to defend him. She's a family lawyer in a town some distance away, estranged from Walk after a difficult breakup many years before. Approaching her about Vincent's case is a difficult journey into the past for them both. Criminal law isn't her specialty, but Vincent won't consider anyone else.
Duchess and Robin are sent to live in Montana with Star's father, the grandfather they've never met, and Duchess is determined not to like him or the ranch or Montana or her new school or anything else. You ache to see her fighting the relationships that would be good for her. You've probably known teenagers like this; perhaps you were one yourself.
The story includes many strong secondary characters, as well – the grandfather, an older woman named Dolly, Duchess's one friend, Thomas Noble, their social worker. Many of them are actually quite admirable. Even most of the characters who do bad things are fully developed and drawn with compassion. Having been police chief of the same small town for so many years, Walk has seen Cape Haven's residents in good times and on their worst days, which has fostered a nuanced view of human nature.
Not a roller-coaster of a thriller, this book is more like a slow train through the dark woods. The journey includes plenty of twists and turns and hazards, both physical and emotional, as it steadily, inexorably, moves forward. If you take that train ride, you'll find it's both moving and memorable. There's a small, but telling reveal near the end that stopped me, even though it had been in front of me all the time.
Also see All the Wicked Girls by the same author.
Zaffre
Audiobook/Print/Kindle/iBook
£28.87
CFL Rating: 5 Stars