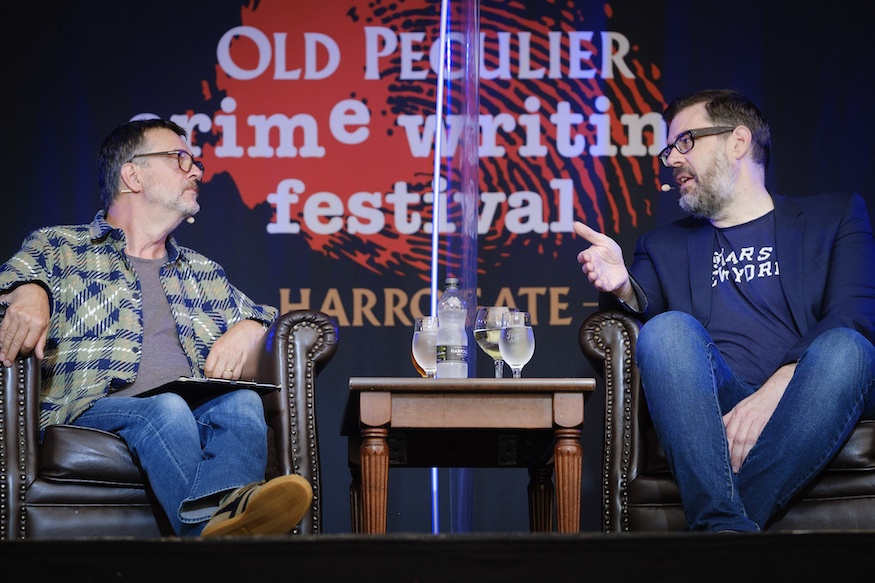 "It's been a stressful two years since I became programming chair for the 2020 festival that never happened, apart from a few online panels, but now I am so happy that we are all back together like the big family that we are. It appears there is an appetite for this," Ian Rankin tells me on the lawn of the Old Swan Hotel in what is a huge understatement. "We didn't know exactly what we could or couldn't do until the last minute, it's been a massive challenge. But now we are here and the ambience is great."
Theakston Old Peculier Crime Writing Festival in Harrogate is the party of the year for authors unleashed from their desks. After an extra year of solitary confinement Harrogate 2021 was bound to be a reunion of unfettered joy for writers and readers alike, when finally Zoom was swapped for live panels in an airy tent in the car park of the hotel from 22-25 July.
Amid the backdrop of changing Covid regulations, right up to the last minute the festival faced huge hurdles but pulled off an amazing event, albeit to half the usual audience, and at extra cost. Smaller crowds were great for festival-goers, but obviously are not sustainable for the event in the long term.
Outstanding contribution to crime fiction 2020 and 2021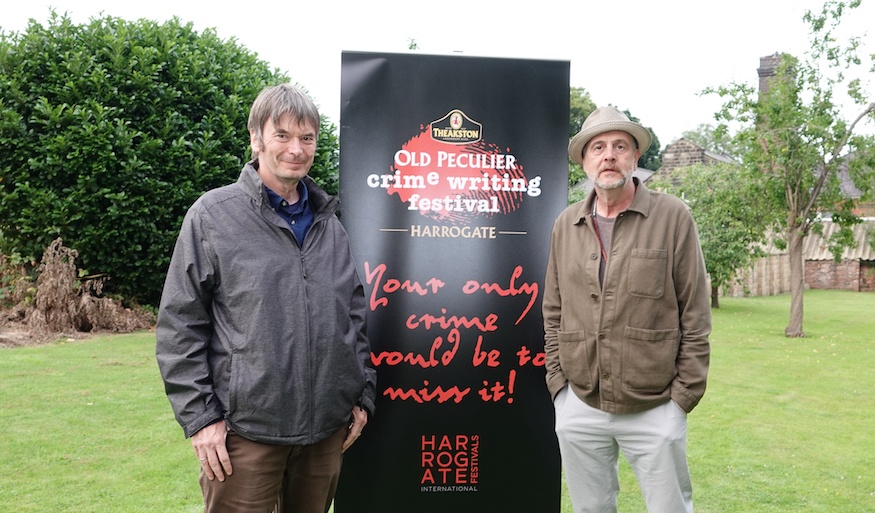 After receiving the Theakston Old Peculier Outstanding Contribution to Crime Fiction Award 2021, on the festival's opening night, Rankin said: "It's such a privilege and an honour to receive this award, and especially to be in Harrogate to receive it in person. I've been a published writer for over 30 years but this past year has been uniquely challenging – for writers, readers and booksellers.
"It's heartening to see the Theakston Festival rise like a phoenix. Books continue to provide us with that wonderful mix of food for thought and escapism. I couldn't be prouder to be a crime writer."
Receiving the award retrospectively for 2020 was Mark Billingham, who thanked readers, saying without them there is no point to any of it.
Crime novel of the year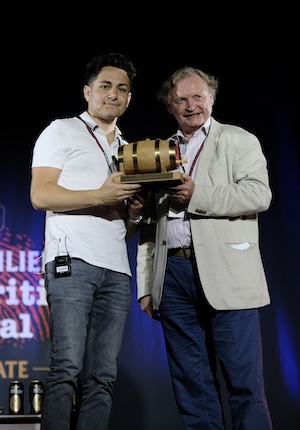 All eyes were on the prize of the Theakston Old Peculier Crime Novel of the Year 2021 – won by Chris Whitaker for his third novel, and coming of age story We Begin at the End. "I began writing this book as a form of therapy after being mugged and stabbed. Without doubt this story saved my life, so to win this award feels like the most wonderful, dreamlike end to a journey that has been twenty years in the making," said the former city trader.
Northern Irish author Brian McGilloway's political thriller The Last Crossing was Highly Commended.
This year's special guests were all home grown talent, as non-British authors had no travel guarantees – namely Mark Billingham, Ann Cleeves, Elly Griffiths, Mick Herron, Val McDermid, Clare Mackintosh and Richard Osman.
A traditional and eagerly anticipated reveal is Val McDermid's New Blood line-up. Her ability to spot future stars among the debuts means this year's dead certs are: Greg Buchanan's unnerving Sixteen Horses; Laura Thompson's classic noir One Night, New York; Patricia Marques's genre-busting The Colours of Death and Anna Bailey's claustrophobic Tall Bones.
The politics of crime
One of the most compelling panels saw former MP, Home Secretary and memoirist Alan Johnson explore the Politics of Crime. His debut political thriller, Last Train to Gipsy Hill, is out in September. Panellist George Alagiah, the BBC News at Six presenter has seen politics at its worst at first hand in civil wars and genocide. His thriller The Burning Land is set in South Africa, where valuable land is being sold off to the highest bidder and murder ensues. "The people are being robbed of the land they have fought over for 300 years. Rich countries are complicit. I can say things I can't say as a journalist through fiction," he says. "The problem is global, not just state of the nation." When asked who his political hero is, he named Nelson Mandela, whom he met three times, an exceptional leader who by sheer dint of personality made problems go away, but when he withdrew, the cracks reappeared. Alagiah predicts that the political heroes of the future won't come from Westminster, but from the individual nations and regions of the UK. Fellow panellists, Doug Johnstone, Marnie Riches and Kate Rhodes agreed that even when you don't set out to write a political thriller, crime fiction reveals political themes, such as gender, sexuality, race, class and poverty.
Denise Mina, Chris Brookmyre, Matt Wesolowski and Louise Candlish grappled with the issues of technology and surveillance in Watching Me, Watching You, chaired by Mark Lawson. Mina extolled her love of podcasts as an emerging form of storytelling.
Fans of short stories, like myself, lament the dearth of new anthologies and magazines carrying short crime fiction. There wasn't much hope that this will be addressed, after the panel chaired by Ian Rankin, who said he had written shorts before novels to practice fiction-writing and still enjoys writing them between novels, but in spite of digital platforms, meaningful opportunities seem to have diminished.
Thursday Murder Club
Light-hearted banter closed the festival when Mark Billingham interviewed Pointless host Richard Osman about his debut The Thursday Murder Club, which has been in the top ten list for almost a year and is still at number three in The Times this weekend. The book features octogenarian amateur sleuths with skills. "My skill in a retirement village would be getting things off high shelves," said Osman. The pair will be taking to the road next year for a venue tour.
As the festival drew to a close, Harrogate International Festivals chief executive, Sharon Canavar said she felt a mix of exhaustion and emotion. "We've had an ever-changing environment and have been worried about what we could do for months. We planned for a safe festival using Stage 3 guidance with the light and airy tent and restricted numbers to about half of the usual audience. It's been amazing to celebrate the homegrown talent and see people relaxed and enjoying themselves. It's been a huge team effort. I hope that next year we will be almost back to normal." Some of 2021's events will be released on HIF Player, the festivals' streaming service, throughout the year.
Theakston Crime has been a barometer perhaps of what to expect at other festivals. Bloody Scotland is planned for 17-19 September but the programme and how it will be staged are yet to be announced. Bouchercon in New Orleans is tentatively planned for 25-29 August.
You can read about previous festivals at Harrogate here.