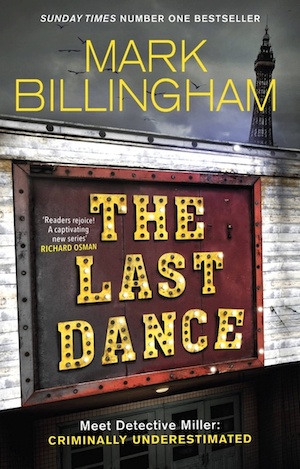 Author Mark Billingham has been involved in many creative endeavors over the years. In his early days, he worked as an actor and as a stand-up comedian. These days he is known primarily for his successful DI Tom Thorne series along with standalones like Rabbit Hole. In his spare time, Billingham is a member of the Fun Lovin' Crime Writers, a band composed of several crime authors performing classics like 'I Fought the Law' by The Clash. These varied activities appear to have influenced The Last Dance, first in his proposed new series about Detective Sergeant Declan Miller.
The story is set in Blackpool, a town in Northwest England identified by its seafront, bright lights and the Blackpool Tower Ballroom. These days the Ballroom is often associated with the TV dance competition, Strictly Come Dancing. While the public enjoy the lights, the Blackpool police are focused on what goes on in the shadows but Declan has a foot both sides of the line. He is as passionate about competitive dancing as he is about breaking a case. He and his late wife Alex started dancing as a fun source of entertainment. Over time, as their dancing improved, they became interested in dance competitions.
The book opens with a murder at one of the hotels on the promenade. It is Declan's first day back on the job after six weeks on leave. He has been mourning the loss of Alex who was also on the force. Letting go has been a challenge. He still converses with Alex on a daily basis. When the grief becomes too much, he dials her cell phone so that he can hear her voice one more time as it asks for a message. His grief is palpable as Billingham describes it in a touching and sometimes humorous way. He accurately portrays how happy moments can suddenly shift to tears and vice versa while a person is grieving.
In addition to the stress of returning to work after a leave of absence, Declan has a new partner whom he has never met. On the surface, they appear very different. DS Sara Xiu is smart and disciplined in her work style. She is also into heavy metal and casual hook-ups. In spite of their different personalities and work styles, they have been assigned to work together. The character dynamic between Declan and Sara is enjoyable.
Most of Declan's jokes fall flat with Sara, but humour is important to him. He uses it to mock those in in positions of authority or to deflect personal questions. He jokes with people to bond with them and also to push them away. It's interesting to see the eccentric Declan in a variety of situations with different people to see how they respond to his humour. Not all of his jokes are seen as amusing or appropriate for the time and place.
Although Declan may come across like a constant joker, there is substance to the man. He is a clever investigator. His investigation reveals that the case is actually a double murder and he sees a potential connection with his wife's death – also a murder. As he is frustrated by the lack of police progress in resolving Alex's murder, he begins to secretly conduct his own investigation. Declan ignores orders from his superiors along with standard police protocol and continues to dig deeper into Alex's murder case.
Declan gathers information from some unexpected sources like Finn, a homeless addict; and Chesshead, a criminal with a passion for the game. Declan debriefs his discoveries with the members of his dance team. His approach may not be conventional but it works for him. It is the relationships between these characters that will draw you into the book.
In spite of the flippant jokes there are genuine moments that will pique your curiosity about the cast surrounding Declan and you will want to know more about them. As The Last Dance beings a new series, we're pleased there will be opportunities to delve deeper into some of these characters. It's obvious at the end of the book that Billingham is setting the stage for the next book.
Sphere
Print/Kindle/iBook
£9.99
CFL Rating: 4 Stars