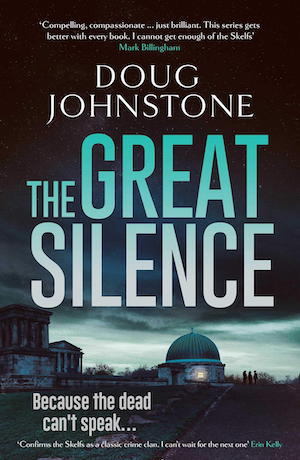 Ah, Edinburgh, a classically beautiful city which combines a love of the arts with some fine architecture. It's also home to the Skelfs, possibly crime fiction's only funeral directors-cum-private detectives. And also, it seems, Edinburgh is harbouring a wild beast… Welcome to Doug Johnstone's decidedly different take on the world of crime writing.
The Great Silence is the third book to feature the Skelf family – matriarch Dorothy, her daughter Jenny and granddaughter Hannah. As it opens, the three women are still coming to terms with what happened in The Big Chill, which came out last summer. At the end of that book, Jenny's ex-husband Craig, who is Hannah's father, was on the run after escaping from prison. He's long gone… isn't he? Anyone who has read the previous two books will have guessed the answer to that one.
So the family are living on tenterhooks, trying to get on with the business of running their two disparate businesses and generally getting along well – albeit with a side order of siege mentality thrown into the mix. Then Dorothy takes their dog Einstein for a walk and he returns from his explorations of the undergrowth with a human foot in his mouth. It has been gnawed and badly embalmed, and those two factors lead to a couple of storylines that will keep you entertained and confounded in equal measure.
In typical Johnstone fashion there are other narrative threads deftly woven together too. While Dorothy takes the foot on board and has a close encounter with the aforementioned wild beast, Jenny is investigating whether a dishy Italian home companion is slowly killing the elderly woman in his care, and Hannah is checking out strange messages purportedly from the universe — is the truth out there? There are no simple open and shut cases on the Skelf whiteboard, it seems. Then a child goes missing and Craig's disappearance comes into sharp focus once again.
There's everything but the kitchen sink thrown into The Great Silence, and it is to the author's credit that we readers don't get lost in the labyrinth. Johnstone interweaves it all like a skilled craftsman and the result is a rich tapestry of memorable moments and three-dimensional characters. Add in a liberal dash of humour and you're left with a book that will have you chuckling and gasping in equal measure.
Followers of this series will be content to see each of their favourite characters developing nicely – although the Skelfs deal with the dead, they have plenty of living to do too. Dorothy is taking the first steps into a new relationship, Jenny is hankering after a lost love and Hannah and Indy look ready to take some big steps in their romance. The day-to-day life of a successful funeral director also has its place, and it is fascinating to get fleeting behind the scenes glimpses of it.
If there's any criticism of The Great Silence, it is that perhaps there's too much going on, creating a sense of confusion which is best solved by sitting back, putting the book down and sifting through what you've just read. This particularly applies to Hannah's case, which touches on the Fermi Paradox – the 'Great Silence' of the title – that posits if there are aliens out there in the firmament, why haven't we heard from them? Some of the technical stuff that accompanies her investigation is ripe for skipping over but it doesn't detract or distract too much from the overall story.
I'm a big fan of this series and if you're looking for crime fiction that's just that little bit different, I recommend starting at the beginning with the excellent A Dark Matter. If you're already familiar with the Skelfs, then The Great Silence is about to keep you happy for hours!
If you've a hankering for more Scottish crime fiction, take a look at our pick of Tartan Noir classics.
Orenda
Print/Kindle/iBook
£3.79
CFL Rating: 4 Stars