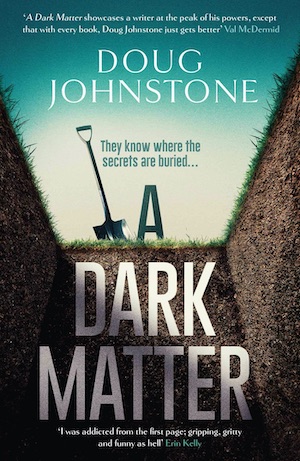 Written by Doug Johnstone — There's death lurking in pretty much every crime novel, but it is the heart and soul of this quirky new book by Doug Johnstone. You see, A Dark Matter features the Skelf family, who have latterly turned their hands to a spot of private investigating. But the real bread and butter work of this family business is… undertaking.
As the book opens, it is the latter skill that's taking centre stage with the women in the family watching over a funeral pyre. It's illegal, happening in their back garden, and contains the remains of the family patriarch Jim Skelf. He was a formidable undertaker, by all accounts, and was adamant in his last request that he didn't want all the pomp and ceremony of a 'normal' funeral. Which is why his widow Dorothy, daughter Jenny, granddaughter Hannah and Hannah's partner Indy are flouting the law and looking on as his body is consumed by the flames.
This is certainly one of the most unusual openers I've read in recent years, and it sets the scene for a book that's anything but run of the mill. The Skelf undertaking business is long-established and well known in Edinburgh, and Jim was a respected man and a much loved husband, father and grandfather, but as Dorothy, Jenny and Hannah take over the reins of the two decidedly different Skelf businesses it soon becomes clear that things were not quite as straightforward as they thought.
Firstly, a grieving Dorothy goes on high alert when she uncovers mysterious monthly payments to a woman she's never heard of. Was her image of Jim just a sham, after all? As she digs deeper, things begin to unravel in a most unexpected way.
Meanwhile, Hannah is distraught when her best friend disappears from university. Mel was a steady, uncomplicated girl who could always be relied upon – or was she? The police aren't interested, so Hannah decides to take on the investigation of Mel's disappearance herself and suddenly realises she really didn't know her best friend at all.
Jenny is a journalist who has been clinging onto her job by a thread, and when that breaks she is drawn into the family business against her better judgment. She reluctantly helps out at a funeral wake and ends up with a private investigation gig. It looks like a simple case of adultery, but as with everything in this cleverly crafted book, all is not quite as it seems…
It's probably best to just go with the flow here because I defy you to come up with some of the plot twists we're treated to as this story unfolds. Johnstone's work has won praise from the likes of Irvine Welsh, Val McDermid and Ian Rankin and on this showing it's easy to see why. He has a sharp, sardonic style which tackles the darkest of details but can still prompt a smile – your facial muscles certainly get a thorough workout, grimacing in disgust one moment, stifling a shout of laughter the next.
The cast of characters is both offbeat and oddly believable, with the three Skelf women taking centre stage, supported by the likes of Hannah's partner Indy, Archie the assistant undertaker who has a condition which makes him believe he is already dead, Thomas, Dorothy's ever-so-useful policeman friend and even Schrodinger the cat.
Who knew that a book about undertakers could be such a joy? I can't recommend this one highly enough. Take my advice and make the acquaintance of writer Doug Johnstone and the Skelfs as soon as you can – and the good news is, it's the first of a series.
Want more Edinburgh-based crime? Try The Way of All Flesh by Ambrose Parry. For further afield, peruse our Gazetteer of Scottish crime.
Orenda Books
Print/Kindle/iBook
£3.79
CFL Rating: 5 Stars