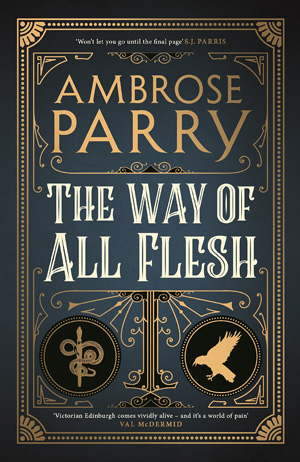 Written by Ambrose Parry — Will Raven is a lowly medical clerk living in Edinburgh's poor Old Town but if he can just get through the rest of the day he will have significantly better prospects.
The year is 1847, and Will is due to start his new job as an apprentice to James Wilson, a professor of midwifery in Edinburgh's prosperous New Town. However, two things stand in his way. Firstly, he has visited Evie, a young prostitute he has tentatively been courting, only to find her dead, contorted body lying there in her room. Will is afraid to stay long enough to discern the cause of her death, but can only imagine it was murder. If he's found with her corpse, he'll be fitted for the noose. Secondly, Evie had begged him for money some weeks ago and though Will was in the dark as to what the money was for he couldn't refuse her. While he was better off than Evie, Will had no savings and the amount represented a month's wages. So he went to Flint, a money lender with a bad reputation, and now that debut is due. If he can avoid Flint's men for the night, he can escape to the New Town in the morning where he will lodge in Wilson's extended household.
Sarah Fisher is Wilson's maid in a household that also includes Wilson's wife and her sister Mina, Jarvis the butler, Drs Keith and Duncan, and the professor's thriving medical practice. Sarah is a bright and ambitious young woman who loves to read and yearns to better herself, but is frustrated by the Victorian view of what is appropriate for a woman. Wilson has recognised her talent, and given her administrative work in his surgery alongside her other duties.
One of the themes of the novel is how women's roles were restricted at that time, and Ambrose Parry contrasts how Mina, who is also sympathetically portrayed, and Sarah react to this. Mina is beautiful but single, and approaching an age where she may soon be considered a spinster. She, too, is resourceful, but is accepting of how society is even as she complains about it. She sublimates her other desires into making herself more attractive to a potential husband.
But it is Will and Sarah who are the principal characters and they get off to a bad start when they first meet. Sarah is jealous of his privilege, while Will is resentful of her antagonism. They become closer when they find common ground. Will is witness to the mysterious deaths of other young women that bear a resemblance to Evie's. Out of a sense of duty, Will takes it upon himself to investigate, while Sarah joins him through her own sense of outrage. One clue is that these women were all pregnant. Could Evie have been pregnant too, and if so was Will the father?
Ambrose Parry is actually a pseudonym for the Scottish writer Christopher Brookmyre and his wife Dr Marisa Haetzman, an anaesthetist. The couple have said that they mostly split writing duties on a gender basis, Chris writing Will and Marisa writing Sarah. The process has worked magnificently and transparently. It's impossible to tell that two different authors wrote the book's various chapters and it stands as a cohesive whole.
There is plenty of historical detail, including about how medical practice was conducted at the time, and especially about the introduction of ether and chloroform as anaesthetic agents. Will and Sarah are likeable protagonists, and the supporting cast are interesting. They help to propel forward a mystery, which is perhaps a little too easy to solve, but is very enjoyable nonetheless.
The Way of All Flesh is a strong start to a new series which has bags of potential, and with its historical setting and fascinating characters, is one which is easy to imagine being adapted for television.
For more husband-and-wife writing duos try Nicci French or the excellent stalwarts of Nordic noir, Maj Sjowall and Per Wahloo.
Canongate Books
Print/Kindle/iBook
£6.17
CFL Rating: 4 Stars