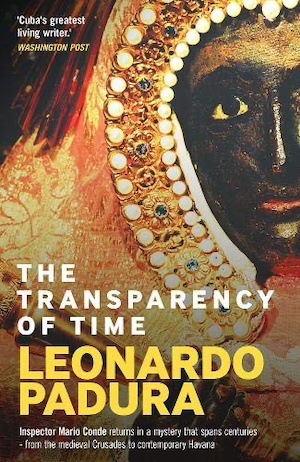 Translated by Anna Kushner — Leonardo Padura is widely recognised as Cuba's finest living writer and The Transparency of Time is a literary crime novel that demands your full attention. You will be richly rewarded for your efforts. Padura is a master of the slow burn and an intriguing scenario soon morphs into a thoroughly gripping drama, for his most accessible story to date. The ninth in the Mario Conde mystery series, The Transparency of Time involves a hunt for a stolen statuette which soon points towards a murder. Like all Conde stories, this one is steeped in the island's unique culture and few writers match Padura's ability to convey such an authentic landscape. This is a tale pitted with black humour. It's noir as the gods intended – fatalist, cynical and perceptive of human nature.
No longer a policeman, Conde makes a living dealing in second hand books. When an opportunity to make some illicit money comes his way it's hard to resist. Roberto 'Bobby' Roque Rosell, an old school friend, has tracked Conde down and needs his help. Conde remembers that they all wanted to save Bobby from his homosexuality back then, but times have changed. Bobby's boyfriend Raydel has stolen his Black Madonna statuette. Known as the Lady of Regla, it has great significance in both Catholicism and the local Santeria religion. Bobby says this one, 15 inches tall with a hand broken off, is an insignificant family heirloom, only of sentimental value because it's been handed down through the generations. Bobby is lying. This Madonna is valuable and, as Conde will find out, it has a chequered history stretching back to a 19th century rebellion in Andalusia and to a young man sneaking passage on a ship to Havana to escape execution. The crusades and the Spanish Civil War are also woven into the plot.
In the present, the statue was stolen from Bobby's home while he was away on business in Miami. The ardent communist youth is now a late middle aged capitalist. Bobby claims to still love Raydel so he won't report him to the police. He wants Conde to handle the recovery of the Madonna discreetly. The homage to The Maltese Falcon won't have escaped you and it's a pleasingly familiar aspect of the novel. The story unfolds across two timelines – the hunt for the Madonna now, and its curious history on the island since 1889. Padura is a natural storyteller so he knows how to enthral us with a sophisticated adventure in which nothing is as simple as it first appears.
The Transparency of Time reflects the wounded national soul of Cuba; the religion and superstition, the attitudes to sex, politics and innate machismo. This Havana has a dark soul driven by a turbulent history. Padura's portrait of the city is stark yet endearing in its honesty. Padura's Havana can be brutal, it's certainly unromantic, all the nastiness and deprivation life offers is here but so are beauty, vibrancy and passion for life.
Mario Conde undergoes a journey in this detective series as profound as prolonged psychoanalysis. The Transparency of Time opens with him rapidly approaching his 60th birthday, musing on his age, which is something he hasn't given much thought until now. The ages of man, youth and maturity and the changing perception of both over time is a theme in the novel. Conde, a would be writer, gives new meaning to the term 'existential angst'. What we continue to learn about him in this novel is fascinating. He is contemplative, not so driven by his sexual desire or the temptation to resist being a grown up. For all his faults Conde has an insight into his own condition, he drinks too much, loves too much and is not totally in control but he has a sense of humour that gets him through the day. Although he manages to rub other people up the wrong way a lot.
Cuba is a Caribbean idyll and an island used as a political football during the Cold War, striving to find its place in the modern world. Its leaders are corrupt, cynical, nepotistic and devoid of morality, yet life goes on and Cubans are stoic. Conde has his friends, his books, his bottles and his writing, he is a keen observer but more than anything he feels and experiences life's bittersweet journey.
We reviewed Grab a Snake by the Tail in 2019, and Leonardo Padura is a recommended Latin American crime author in this feature.
Bitter Lemon Press
Print/Kindle/iBook
£6.64
CFL Rating: 5 Stars