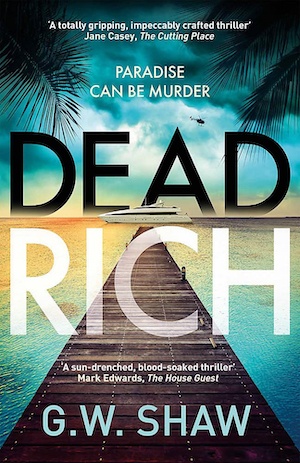 William Shaw, author of the top notch Alexandra Cupidi and the Breen and Tozer novels, has a new pen persona. And it makes a lot of sense because Dead Rich and his previous procedurals are chalk and cheese, appealing to different audiences. By design or accident, GW Shaw's maritime adventure is full of the zeitgeist. Billionaires and confiscated super yachts are in the news right now, so we can all imagine what the Zinaida, the Caribbean-based leviathan at the heart of this story, might look like. Roman Abramovich has a couple just like it.
The story begins in Paris, though. Mihaela is from Romania and has a job as a house cleaner. Unexpectedly, she gets a call from one of her rich clients, David Bullimore. He's cancelling today's cleaning because he's returning from a business trip a couple of days early. He wants to rest – no noise or distractions – and will be back at his penthouse apartment shortly. This is a huge problem for Mihaela.
The apartment is a total mess. Mihaela's friend talked her into having a birthday party there last night without Bullimore's permission. She races across the city to get to the apartment first. Fate is on her side. Bullimore is held up in the street outside his building by the suicide of a man who appears to have fallen from his neighbour, Stepan Pirumov's, apartment.
Taking her chance, Mihaela sneaks in through the rear entrance, sets about cleaning up, and makes it just in time. Eventually the police take away the cordon and Bullimore is none the wiser about the party. Only Mihaela doesn't turn up the next week… She's disappeared.
Meanwhile, in London, Kai is a washed up popstar, drifting through life. His got-it-together brother has found him a job. This could be Kai's last chance. All he has to do is make the appointment and impress a man who's a fan of his work anyway. Only Kai has a new girlfriend, and Zina invites him to the Caribbean for a holiday with her family on their yacht. Kai has no idea the art student Zinaida is the daughter of one of the richest men in the world, oligarch Stepan Pirumov. Spurning the job interview, Kai heads off for sun, sea and sand.
In the Caribbean, the regular staff are integrating the new recruits, the yacht is being stocked and the guests begin to arrive. Kai and Zina's mother get to know each other, Stepan will be late as usual. Kai is overwhelmed by the opulence of the yacht – you could get lost in its corridors. His cabin is a couple of decks below Zina's and the boat has everything from a brig to a safe room, known as the citadel.
Everyone seems a little suspicious of Kai because Zina invited him on impulse and they haven't been going out that long. Things get more tense when Stepan Pirumov arrives with his personal bodyguard, Dimitri, and both are clearly edgy. It's obvious something is bothering the oligarch. He wants to get away to sea quickly. It's not until dinner that he tells them that his friend and colleague Martin committed suicide in Paris. He claims it's nothing to worry about and he has no idea why Martin did it.
Pirumov and Dimitri are ultra suspicious of the boat's crew. There's an imposter on board and the family is in danger. They have one of the security men arrested and thrown in the brig but they're underestimating the problem and a whole chain of events is about to kick off. The family and crew are in danger but it isn't easy to know who to trust.
The atmosphere is unnerving for Kai and he really wishes he'd taken that London job now. He soon finds out that the citadel is a necessity but who's in and who's out when the door locks? Have Pirumov's dodgy business dealings finally come back to bite him? Is this piracy on the high seas, Moscow's revenge for falling out of favour, or even a personal grudge? Kai soon realises that when the rich are threatened it's every man for himself – a matter of survival.
Dead Rich is a gentle poke at oligarchs, people who think they are a law unto themselves. The Pirumovs are what a really dysfunctional family looks like, and the novel is a light satire on wealth, greed and jealousy but mostly it's an action thriller that is fun to read. Perhaps it is not as tense as we might have hoped, not full-on gripping fayre. It's not as layered as the author's previous work either, but it is nevertheless well written. Easy reading for the summer – just don't accept an invitation to tea on a yacht from a passing billionaire.
Riverrun
Print/Kindle/iBook
£7.99
CFL Rating: 4 Stars