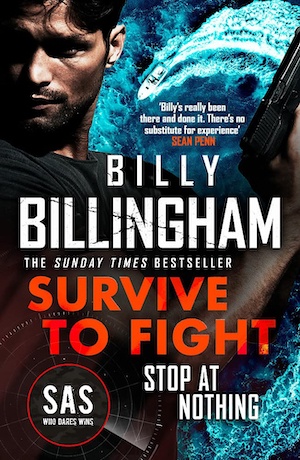 Survive to Fight: Stop at Nothing is the follow up to Billy Billingham's successful action debut Call to Kill, which introduced Matt Mason and was set in war-torn Yemen. For his second outing the action moves to Africa. Billingham knows his stuff. He amassed 27 years in the services before working as a bodyguard for A-listers and then became a TV celebrity. Several of those years were in the Paras and SAS and Billingham distinguishing himself in Iraq, receiving an MBE, also completing tours in Afghanistan, South America and Africa. That experience infuses his novels, which are co-written with respected Irish author/scriptwriter Conor Woodman.
The action opens in Mozambique although not in the way you might think. Mason, now out of the army, rescues an elephant that has become stuck in the mud. It's rewarding work. He got the job from his mate Gordie and it saved his life. Mason was adrift in the civilian world and struggling with family life. So now he's training the Niassa Game Reserve rangers on the Tanzanian border where poachers are slaughtering the elephant population.
Mason has changed, this job has given him a new perspective on life but he's soon drawn back into the dark violent world he hoped to escape. Returning to base Mason and his men are attacked by poachers. It's the worst mistake of the poachers' now drastically shortened lives. One of them survives long enough to give up information on who is behind their operation and Mason is going to follow this all the way to the top.
Wang Li Lan runs Wang Trading in Pemba Port, north Mozambique. The business is bolstered by the lucrative smuggling of ivory and other illegal cargo. Islamist terrorist insurgents with Al Shabaab are sweeping the area, waging a vicious war against the government which the local population are caught up in. They are on the verge of taking Pemba and Li Lan thinks she can use this to her advantage. While others flee she plots. She will bribe the terrorist leader and make herself useful to Al Shabaab. What she doesn't know is that Wang Trading is in Mason's sights and he won't stop just because he's going to have to enter hostile territory to catch his prey.
Meanwhile, in the Red Sea, Hong Kong businessman Wei Lun Chow is cruising on his luxury yacht with his young girlfriend. The Golden Falcon is state of the art for a sailing boat but these waters are pirate infested and dangerous. Chow has two ex-Spetsnaz bodyguards and the crew is armed. Nonetheless they are vulnerable. On board is Mason's daughter Joanna, crewing before taking up a commission in the Royal Navy. When the boat goes missing Mason is alerted and now he has another mission.
As the strands of the story begin to coalesce, Mason is drawn further back into his old life and the skills, experience and contacts he has built up over the years come in very handy. This is not just about saving his own life but in finding and rescuing Joanna.
There's more subtlety to this tale than we were anticipating but it is in essence an action adventure thriller. The theme of animal conservation in Africa, particularly the illegal trade in ivory, is of the moment and clearly a concern for Billingham. Piracy, people trafficking and the war in Mozambique aren't much in the headlines much these days and yet they are ongoing. Credit to Billingham for focusing on them. There's little depth to that though, it is purely background. Mason's personal war is the story.
Billingham's story smack of authenticity and Mason's search for a new meaning in life getting derailed as he is drawn back into the maelstrom of violence really works. This is in the tradition of Chris Ryan and other SAS men who have written novels. The tone is a little understated, never brash or gung-ho. Perhaps by trying to avoid clichés, it's a little too tranquil at times, even. There's still a strong sense of jeopardy and the action does not lack fizz. If you want a quick easy read that entertains throughout, Survive to Fight fits the bill.
Hodder & Stoughton
Print/Kindle/iBook
£6.99
CFL Rating: 4 Stars