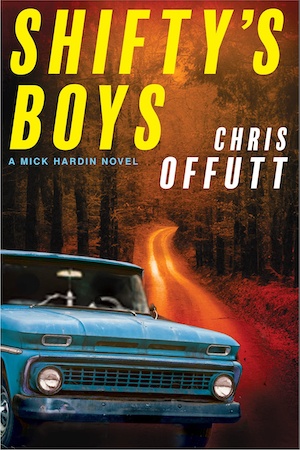 Chris Offutt first introduced us to his taciturn, reluctant private detective Mick Hardin in last year's The Killing Hills. Hardin is an army CID officer who went on leave to fix his marriage. His wife, perhaps sick of his absences abroad, was pregnant with another man's child.
Instead, he became involved in a murder investigation helping his sister, Linda, who's the sheriff in Eldridge County, Kentucky. His investigative skills, natural ability to get people talking and Appalachian heritage were enough to get the tight-knit rural community to open up and the case was solved.
Now, a year later, Mick is back. His leg, damaged by an IED, needs rehabbing and he's staying at Linda's. They'd both rather be at his father's cabin, out in the middle of nowhere, but it's just not practical with his leg right now. Mick is at a loose end while Linda is up for re-election and spends her down time campaigning. Mick is putting off signing the divorce papers Peggy has asked for. His attention turns elsewhere when he agrees to investigate the murder of a local heroin dealer.
Fuckin' Barney Kissick is found one night by a local taxi driver looking for fares. Shot in the chest, his body has been dumped in the town centre car park with a number of heroin baggies branded with a yellow crown strewn around.
Mason, Barney's brother, takes Mick to visit the dead man's mother, Shifty. She's a tough customer, country through and through, and the matriarch of a crime family. She's not satisfied with the Metro cops' opinion that Barney was the victim of a turf war with other heroin dealers. There has been trouble in the past, but it's all been ironed out. Each family deals in their own part of the county and nobody steps on anyone else's toes.
Shifty is adamant that the heroin wasn't Barney's and wants Mick Hardin to take a look. He agrees, not because he's desperate to see justice done, or even criminals punished, but to prevent more deaths.
When a second Kissick is killed, Mick is forced to take matters into his own hands. Teaming up with the black sheep of the Kissick family, US Marine Raymond, Mick is forced to put his peaceful nature to one side and embrace what comes naturally to a trained special forces man.
Just like The Killing Hills, Shifty's Boys is a knockout. Its impact on me might not have been quite as great as its predecessor but that's not because of any drop off in quality. If anything, by writing a lengthy action scene for the finale, the author demonstrates his range. It is because the colourful and authentic rural Appalachian setting is no longer quite so disorientating having visited it before. And the setting is central to the books, almost a character by itself, and so vividly brought to life by the writing, the slang, the cadence of the speech, the descriptions of the countryside.
Just like The Killing Hills did last year, Shifty's Boys is going to find itself at the top of many people's best-of lists at the end of the year.
For more atmospheric rural noir try Tom Bouman's The Bramble and the Rose.
Grove Press
Print/Kindle
£3.79
CFL Rating: 5 Stars