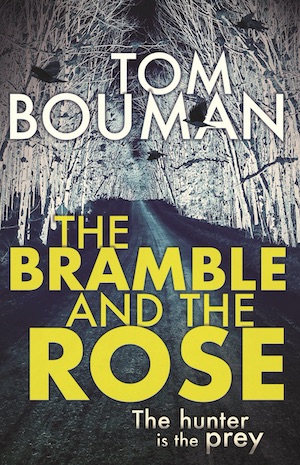 The third book in Tom Bouman's Henry Farrell series has arrived, and it takes us back to Wild Thyme, Pennsylvania. The place has a fitting name. Sitting deep in the woods, nature is on everyone's doorstep. Sometimes, it's at their necks. Which is exactly how The Bramble and the Rose begins, as Farrell is called out to look at a grisly find – a headless, half-rotten, eviscerated corpse lying at the bottom of a ridge.
Farrell's first suspect is a bear he calls Crabapple that he's spotted a few times during his nature walks in the area. Like the bear, Farrell is a loner. He's the only cop in Wild Thyme, answering to the sheriff's office in a nearby town. Most of the time he's sorting out disputes between neighbours or convenience store hold-ups. With all the hunting trails in the area, there are lots of guns in the community and this too causes problems for Farrell. This time, though, along with some folks from the state's wildlife department, he's on the trail of a bear that has tasted man flesh.
However, closer inspection of the corpse reveals that although the bear dined on it, the animal wasn't the cause of death. It looks like the man might have been hit by a car, and his head was removed with a blunt object rather than torn off by an animal. Seeing as racoons have made off with the head and somewhat devoured it, identifying the body might prove difficult. Even tougher will be finding out who killed him, and why.
From the sometimes clipped language to his descriptions of the dense woodlands, author Tom Bouman really draws you into this wilderness noir setting. Farrell's work feels isolated and creepy and, while he hunts Crabapple down it seems there's always the chance that the man's killer will pop out from behind a tree and shoot him. The state police are getting involved, but Farrell wants to solve this mystery himself. He's like that, you see. Intense, individual, a lone wolf war vet now in a lone wolf law enforcement role.
There's a lighter side to him too. Farrell has recently married for the second time. His first wife died a decade ago and is part of the reason he's so turned in on himself. New wife Julie is making him happy once again, and while he works on the case he recalls his recent wedding and the announcement that Julie is already with child.
Whether Farrell will actually get to see that child is another matter. As it turns out, the murder in the woods is a lot closer to Farrell's past than he expected. As the crime story develops, the wild, outdoor atmosphere developed early on begins to dissipate. An old flame appears in town, someone Farrell had an affair with. She has information on the murder but never gets to share it with him. Now Farrell himself is being hunted by the state police and his new life is turned upside down.
To add insult to injury, his nephew has been kidnapped.
What else is there to do but to revert to his back-woods instincts, hide out and ask for help from old friends? It's tooth and nail stuff as Farrell evades the law he used to serve, and tries to hunt down whoever's been setting him up. Man versus nature, man versus man, man versus his own nature. Bouman nails the visceral, elemental conflicts that make wilderness noir so compelling to near perfection. Which will prevail, the bramble or the rose?
The other thing that feels so right is Farrell's character. He likes being alone, yet he's lonely. He needs comfort and attention, but is wary of it. He knows he can't always achieve what he wants to through communication, so sometimes avoids talking and prefers to take action. He suffers the consequences. A lot of men will be able to relate.
Also see Hold the Dark by William Giraldi, or CJ Box's novels set in Wyoming. The Farrell series begins with Dry Bones in the Valley.
CFL Rating: 4 Stars