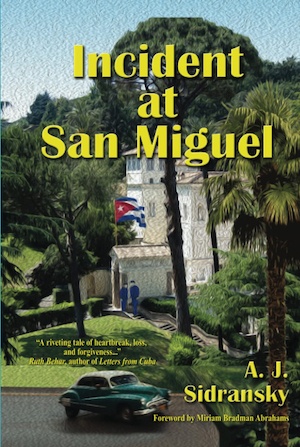 In the 1930s, with war clouds massing, many European Jews immigrated to Cuba, which welcomed them, gave them safe haven, and encouraged their businesses to thrive. Many did very well, reaching the upper middle class. In 1959, Fidel Castro's communist revolution came and the US-backed dictator, Fulgencio Batista, fled. The Jews' situation, like that of all wealthy Cubans, started to deteriorate.
Incident at San Miguel by AJ Sidransky is a beautifully written novel, which is mostly about that difficult and disruptive period. Lies, corruption and murder are at the centre of this riveting piece of historical fiction. The 'incident' the title refers to involves the murder of policemen guarding a revolutionary icon, and the murder of one of their own by a Revolutionary insider – crimes that haunt the witnesses for decades.
The main characters are two brothers – Aarón and Moises Cohan – who find themselves on opposite sides of the new political divide. Aarón is a lawyer who is about to be married. Moises is his younger brother, in love with Ana Teresa, a political firebrand and a leader of the Havana-based rebels. They grew up in a loving, financially comfortable family, thanks to their father's successful shoe manufacturing business. Though his parents keep up their Jewish traditions, Aarón is more casual about it, and Moises, whose friends tend to be atheists, has turned his back on religion. Despite their differences, they share one core value: an abhorrence for corruption. Corruption may not be a crime in the league with murder and rape but it is, in a way, legitimised robbery. Stealing from the people.
Sidransky does a remarkable job describing the island, the Old Havana, the colourful streets, the foods, the music drifting from every radio, rum and cigars – all the minutiae of daily life. What I particularly admire is how he conveys the substance of the brothers' lives. Often you read about characters and gain no understanding of how they spend their days. Aarón trying to figure out who on his staff he can still trust, Moises travelling on the broken highways to remote dress manufacturers, both of them trying to relate to friends of old friends, whom they always considered family, in a way that will put neither themselves or the old friends at risk. And there are risks.
Once the Revolution arrives there are listening ears everywhere. This, of course, produces an oppressive and dangerous atmosphere not just for Aarón, but for Moises too. You can be on the inside one day and on the outside the next. Jail or worse awaits people deemed traitors to the Revolution. State-sanctioned intimidation, torture, and death are not crimes an average person can fight against.
Sidransky portrays the left-wing brother, Moises, with sympathy. Despite his hardline views and occasional bursts of feverish political orthodoxy, he never becomes a two-dimensional character. He believes absolutely in his work of finding and weeding out any corruption in the new regime. His biggest blind spot is Ana Teresa.
Their livelihoods and even their lives threatened, many fled the Revolution. As you can imagine, this was a dangerous undertaking that took much planning and absolute secrecy. In the novel, although Aarón continues to work for the National Bank of Cuba, his role there becomes increasingly dangerous. When Che Guevara asks him, through intermediaries, to figure out how the new government can nationalise various industries including the shoe industry that supports his parents, Aarón's scholarly review of the provisions of the Constitution show it can't be done. From the moment he tells Che 'no,' his days at the bank, and living in Cuba, are numbered. Sidransky gives us a picture of Che that is a little different to the one presented in pop culture.
Although Aarón and Moises follow completely separate paths, they find occasionally find they desperately need one another and now is one of those times. When asked, each continues to provide the asked-for assistance. While this book is strongly a family story, it plays out in an atmosphere of violent change and upheaval.
Many years later, the brothers reunite. As men in their 60s, their political differences are more moderate, mostly because Moises's radicalism has been tempered by reality. Aarón has left the law. Their reunion after so many years of infrequent communication, gives an opportunity to learn about and reflect on their lives' key events, how they coped, how they avoided the treachery of those around them.
You'll want to read the introductory material that explains how the novel is based on a true story and where it diverges from that history to become exemplary historical fiction.
Also see The Transparency of Time by prominent Cuban novelist Leonardo Padura.
Black Opal Books
Print/Kindle
£7.60
CFL Rating: 5 Stars