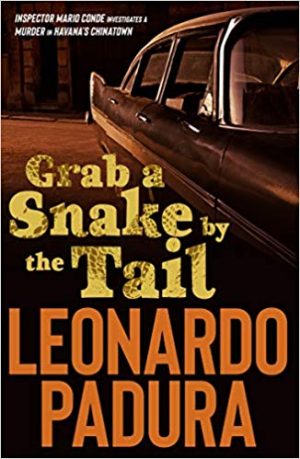 Written by Leonardo Padura, translated by Peter Bush — For decades, glimpses into Cuban life were hard to come by, and for Americans will be harder to come by again with renewed travel restrictions. English-language crime fiction about contemporary Cuba also has been sparse, despite reader curiosity about a tropical culture with such a heady mix of Caribbean, Spanish, African, and Indian influences.
Leonardo Padura, whom the book jacket calls "Cuba's most celebrated living author," is the author of the Havana Quartet, crime novels that in their English versions each have a colour in the title: Havana Gold, Havana Blue, Havana Red and Havana Black. Spanish-language television films were created from them, and they appeared on Netflix with English subtitles as Four Seasons in Havana. This police procedural follows the protagonist of those popular earlier works, police inspector Mario Conde, as he reminisces about a murder investigation from 30 years ago in Havana's Barrio Chino (Chinatown).
Cuba's significant Chinese community immigrated to the island under contracts that amounted to slave-labour, and which led to the atmosphere of loneliness, contempt, and uprooting that forms the backdrop to the narrative and sets the stage for murder. Even in a culture where diverse racial and ethnic identities are a commonplace, the dirty, poverty-ridden Barrio Chino is considered mysterious and alien, and its people are called chinos.
Conde is persuaded to look into the murder by a beautiful African-Chinese police lieutenant Patricia Chion, about whom Conde has impure thoughts. Patricia tells him to engage her father, Juan, as his guide through the barrio's labyrinthine streets and cultural ways. That's because, as Condo says, "There were complications, as there almost always are in situations involving a chino." That line reminds me of nothing more than the last line of Roman Polanski's movie Chinatown, "Forget it, Jake. It's Chinatown."
Patricia explains that the dead man, Pedro Cuang, was a friend of her godfather and an acquaintance of her father, even though her father denies knowing him. That would be one of the complications.
Conde visits the dead man's dingy apartment where the corpse has yet to be removed. He and his sergeant Manuel Palacios see the 73-year-old has been hanged, with a couple of peculiar flourishes: a severed index finger and a circle with two crossed arrows inside carved on his chest. Cuang was a retired dry cleaner, no family, living alone on a pension in that one-room apartment.
Crime was rampant in the Barrio Chino, but what Cuang's link to it may have been is completely murky. As is the meaning of the strange symbols. In Havana, there are lots of possibilities: a Congolese practice called nganga, Yoruba santaria, voodoo, or some heretofore unknown Chinese witchcraft.
Investigating these possibilities and their practitioners gives the author Padura an excuse to delve into them a bit: "When Conde spotted a certificate from the Great Consistory of Grade 33 of the Cuban Masons granted to [his interviewee] on a wall next to a Catholic altar watched over by a crucifix and the Virgen de Regla, a black-faced Cuban saint, he realised he had found the man he needed," the man who knew everything about all of it. While these diversions into cultural anthropology are interesting, they aren't distractions from the main thrust of the story. It needs them to move forward.
Grab a Snake by the Tail is short book that employs a somewhat literary style, appropriate for a cop who wants to be a writer. The translation seems good – you aren't frequently reminded of it, at least. The characters, especially Condo, his aide Manuel and his unofficial deputy, Juan Chion, are interesting and there's lively interplay among them. There's some sex. You never have the sense detective Condo is in any serious, thriller-style danger, though. It's more that you're following him around a fascinating town trying to stay out of the complications – criminal, female and cultural.
Leonardo Padura is one of our 10 Latin American crime fiction authors to try.
Bitter Lemon Press
Print/Kindle/iBook
£5.01
CFL Rating: 4 Stars