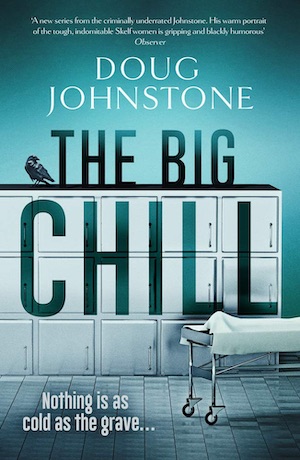 We first met the Edinburgh-based Skelf family at the start of this year, in the highly memorable and original A Dark Matter. Now they're back, and the dramas of that series opener are still reverberating.
Matriarch Dorothy misses her late husband terribly, and as she desperately tries to keep her family and their twin funeral director and private detective businesses together she's really feeling the strain. Those stress levels shoot skywards when she's almost killed by the driver of a stolen car, careening through the gravestones at a cemetery where she's about to officiate at a ceremony.
Luckily Dorothy is OK after her ordeal but the same can't be said for the young man behind the wheel. He is dead, and there's little clue as to his identity except that he's scruffy looking and has a one eyed dog in the back seat. Dorothy, never one to leave a waif and stray by the wayside, takes the canine, newly named Einstein, into the family home.
Daughter Jenny is struggling too. After all, her ex-husband was at the centre of all the drama that happened in book one. Craig is now in prison awaiting trial, but he still delights in pulling the strings and watching his family dance to his tune. Which leads Jenny to make an ill-considered prison visit that doesn't go at all well… Meanwhile, Jenny's daughter Hannah is battling her own demons. She's seeing a therapist and vainly trying to make sense of her life, the universe and everything. Her partner Indy offers support – but is Hannah ready to accept it?
So this is a book containing plenty of personal trauma and truth-seeking, but alongside all the introspection, Doug Johnstone interweaves a number of interesting threads. First there's the young man in the stolen car. Dorothy is obsessed with discovering his identity and she sets her daughter and granddaughter a'sleuthing too, in the hope of finding his family and unearthing his story.
Jenny has plenty of her plate with ex-husband Craig and his shenanigans – and believe me, things are about to get MUCH worse. She's in a burgeoning new relationship with Liam, who she met in A Dark Matter in typically quirky circumstances, and her life is in turmoil. So working for her mother on her wild goose chases isn't exactly floating Jenny's boat – but what alternative does she have? Add a missing teenager and a university professor who dies in an apparent suicide and there's plenty for Dorothy, Hannah and Jenny to get their teeth into.
It's great to meet these characters again – they're almost like old pals – but beneath it all there's a nagging feeling that something is missing. I wanted to like The Big Chill more, but it somehow didn't have the coherence of A Dark Matter. For example – Hannah is a university student, studying physics and there are several passages which get so technical you'll wonder where they're going. I just skipped on past, although the Big Chill of the title references how physicists say the world will end.
There are moments of lightness but less of the dark humour that worked so well in the first in this series. The plethora of storylines serves to confuse and befuddle. I had to skip back and forth, checking who was doing what and why. There is so much to get your teeth into that it borders on the overwhelming.
There's also a humungous loose end, but that hopefully will be tied up in book three – because there will be a book three, won't there, Mr Johnstone? Pretty please?
Have a look at TF Muir's look at Tartan Noir. If you have a hankering for quirky crime fiction, try Ash Mountain by Helen FitzGerald.
Orenda Books
Print/Kindle/iBook
£3.79
CFL Rating: 3 Stars