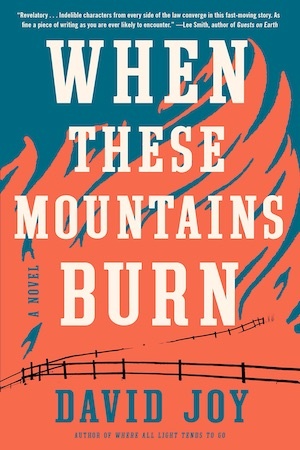 When These Mountains Burn is a rural noir crime novel set in the Appalachian Mountain communities that have been forgotten and left behind by urban America. The area has been ravaged by heroin, synthetic opioids and crystal meth. It's a brutal, pitiless story, told in the third person, yet full of tenderness and beautiful, lyrical writing, and is my personal reading highlight of the year so far.
It has a large cast – mostly junkies, criminals or those simply disenfranchised by a society that stopped caring about them a long time ago, if it ever did. There are few amongst them who could be called innocents, though perhaps one of them is Raymond Mathis. He is a giant, a widower who lives with his dog, Tommy Two-Ton, and is retired from the Forestry Service. Ray is uncle to a local deputy and father to a 41-year-old son, Ricky. Ricky has been an addict his whole adult life, and Ray is so used to being robbed by him that he no longer bothers to lock the house up. It's just easier for them both if Ricky doesn't have to jimmy a window or break a lock. Ray is a man out of time, who can't fathom why the war on drugs can't be won, and is dismayed that the values and customs of the mountain communities are being lost.
Denny Rattler became a heroin addict after an industrial accident a decade ago. He fell from a roof, developed a taste for the painkillers the doctors prescribed and now burgles houses, trading whatever he can steal with his dealer on the reservation to pay for his habit. When he looks back on how low he has fallen, he can barely believe it, and yet what he once thought unimaginable is now routine. Despite this, Denny considers himself a cut above the other addicts, and he has a cunning intelligence that mostly keeps him away from the eyes of the law. However, Ricky's fatal overdose after sharing a hit with Denny will be the crucial spark which sets him off on a collision course with both Raymond and the DEA.
Agent Ron Holland works for the DEA. He's come up from Atlanta after an undercover operative in his team, Rodriguez, managed to get a street-level dealer. The trip turns into something of a bust, as the only information the dealer has is that the heroin is coming off the Cherokee reservation. Rodriguez continues to work the case, and the author gives us an illuminating view of undercover work, showing Rodriguez getting himself arrested on a drunk charge, and then working the cells for a connection to the local dealers. As he works his case, the tumblers fall in to place, and these four men's lives intersect in a thrilling finale.
David Joy has written a timely, poignant masterpiece. When These Mountains Burn is the kind of book that readers will return to again and again. There is so much to discover in his writing full as it is of beautifully constructed sentences and insightful characterisation. His debut, Where All Lights Tend to Go, was nominated for an Edgar Award. Who's to say When These Mountains Burn won't go one better.
For more rural noir, check out our introduction to Grit Lit.
GP Putnam's Sons
Print/Kindle
£6.93
CFL Rating: 5 Stars