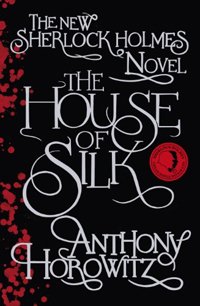 Written by Anthony Horowitz – Taking up where that crime fiction genius Arthur Conan Doyle left off, Anthony Horowitz sets his Holmes novel, out now as a paperaback, one year after the great detective is found dead at his home. Dr John Watson, Sherlock Holmes' companion and biographer, narrates what he believes is one of the most sensational adventures yet. However he hasn't been able to tell it until now, for reasons which become clear later on. Watson explains that the client in The Flat Cap Case and The House of Silk  are inextricably tangled up, and it has always been his desire to set the details down and to complete the Holmes canon.
It's November 1890 and Watson returns to Baker Street to take up his old lodgings for a short while. Watson's wife is away and the doctor wants to watch over Holmes to ensure he's fully restored to health after deliberately starving himself for three days and three nights during a previous case. The doorbell soon goes and Mrs Hudson ushers in a man who is introduced as Mr Carstairs, who needs Holmes' help. He is being followed by a man in a flat cap, a man he believes to be Keelan O'Donaghue, the sole survivor of an American gang seeking revenge for the murder of his twin brother. Mr Carstairs then proceeds to tell the story of how he found himself to be in America a year ago, his involvement with The Flat Cap Gang, and why he believes he is being followed.
Sherlock Holmes says he is unable to help and that he does not believe that the mysterious man in the flat cap intends Carstiars any harm. But is he wrong? The next day a telegram arrives informing them that Carstairs had been robbed. The man believed to be Keelan O'Donaghue broke into his house and took £50 and jewellery from the safe. Holmes calls for the Baker Street Irregulars, a gang of street Arabs, and describes the American man in the flat cap to them and the necklace stolen from Mr Carstairs. He instructs the boys to visit every pawnbroker in the district looking for the loot.
In a matter of hours the boys have found the man and Holmes, Watson and Carstairs head to the hotel where he's thought to be staying. Ross of the Irregulars has kept guard to ensure the thief hasn't left but it turns out the man has been murdered. Ross must have seen the murderer, but he too disappears and turns up dead – tortured. This sends Holmes in pursuit of the killer and soon he stumbles across The House of Silk, a mysterious conspiracy that threatens to tear apart the fabric of society itself…
Horowitz claims to have set 10 rules for himself when writing this novel including no over the top action, no women, no implication of a gay relationship between Holmes and Watson, no appearances by famous people, no drugs, do the research, use the right language, not too many murders, include all the best-known characters – but try and do so in a way that will surprise the reader. Finally, he swore never to wear a deerstalker or smoke a pipe while publicising The House of Silk.
It seems a great deal of delineation, but Horowitz does stick to his 10 rules. More importantly, he also stays true to the spirit of the original Conan Doyle books. Horowitz accurately re-creates the relationship between Holmes and Watson. This can be seen especially well when Watson describes how he first hears the news of Holmes' death. He realises that he's lost not just his closest companion and friend but, in many ways, the very reason for his existence. The House of Silk is substantially longer than the traditional Conan Doyle novels, which are known for their short and to-the-point nature. However in no way does this book lag or over-describe. Horowitz keeps the reader gripped throughout.
Orion
Print/Kindle/iBook
£4.99
CFL Rating: 4 Stars