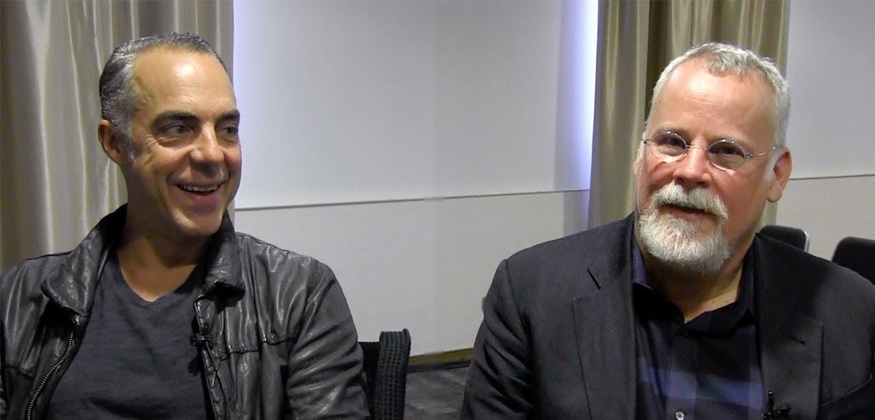 Where to begin in a guide to Michael Connelly's most popular character, LAPD detective Harry Bosch? Why, at the beginning of course! It was way back in 1992 that Hieronymus 'Harry' Bosch first made his appearance in print and he's been going strong ever since. The character has a huge following of avid readers, but has also picked up a raft of new admirers through Amazon Prime's excellent onscreen adaptation. Based around some of the books you'll find below, the show stars Titus Welliver (left) who is a superb choice in the title role and has also narrated several of the more recent releases in their audiobook form.
Bosch is a man on a singular mission – to get justice for those who've been wronged. His motto is 'everybody counts or nobody counts' and he pursues each case as if his very life depended upon it. Trouble is, Harry's way of doing things doesn't always sit easily with the powers that be and throughout the novels his relationship with the LAPD gets a little truculent, to say the least. Although he's married to the job, family also means a great deal to Harry, and his daughter Maddie is precious to him – though he doesn't often show it. In short, this is a complicated guy who, in the hands of a master storyteller like Michael Connelly (right), comes to life with each rapid turn of the page.
Connelly is a former journalist who spent the majority of his reporting career on the crime beat, latterly in LA, so he knows exactly what he's writing about. That air of authenticity adds an extra frisson to his stories and the Los Angeles settings are vividly depicted too. As well as writing the Bosch books he has created Mickey Haller and Renee Ballard, who have their own series but sometimes cross over into the Bosch novels. He's very hands-on with the Bosch TV series too, ensuring that the characters you see on screen are as close to the originals as possible. Here's our guide to the Harry Bosch books. Feel free to add your comments below…
The Black Echo (1992)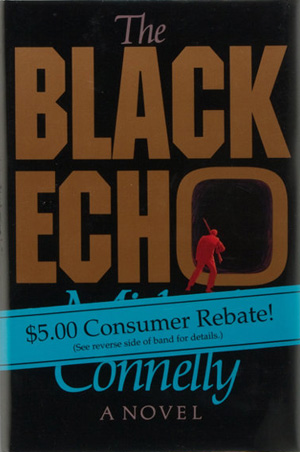 Let's make the acquaintance of Hieronymus 'Harry' Bosch, son of a prostitute, whose early life was spent in children's homes and foster care. He also served as a 'tunnel rat' in Vietnam, and this salient fact is a vital ingredient in his crime fiction debut – The Black Echo is a term coined by the tunnellers to describe the fear of going on a mission in the Viet Cong's infamous Cu Chi Tunnels. But we're in Los Angeles and when the body of a former army comrade is found in a drainage pipe off Mulholland Drive, it looks like a simple drug overdose. Harry isn't so sure and we get our first glimpse at a police detective who relies on his gut and won't stop until he doggedly gets to the truth. This book won the Edgar Award for best debut in 1992 and we reviewed it in 2012, on its 20th anniversary.
Buy now on Amazon
The Black Ice (1993)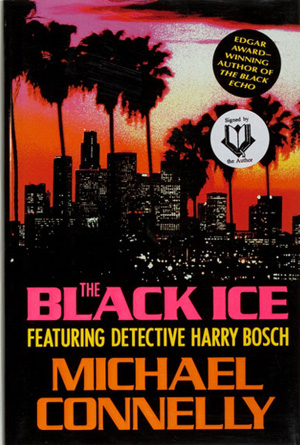 A mere word changed for the title of the second in the Bosch series, which also picked up an award – this time the 1995 Falcon Award, presented by the Maltese Falcon Society in Japan in Japan. Black Ice is a drug which is causing the police all kinds of problems in LA and beyond and they're under pressure to get results. When narcotics officer Cal Moore is found dead in a motel room, an apparent suicide, Bosch puts all the pieces together and realises that something just doesn't fit. His investigation is about to put him right in the firing line…
Buy now on Amazon
The Concrete Blonde (1994)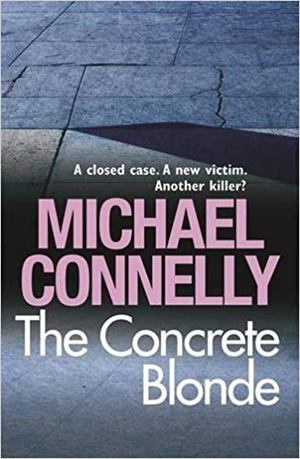 A serial killer dubbed The Dollmaker is terrorising Los Angeles – until Harry Bosch shoots him dead. End of story? Not quite. The man's widow opens a case for unlawful killing of an innocent man – and then another victim is discovered, the corpse bearing all of the Dollmaker's grisly hallmarks. It's up to Harry to catch the real killer before he strikes again in a novel that neatly mixes courtroom drama with police procedural – a combination that Connelly uses again to great effect in later Bosch books.
Buy now on Amazon
The Last Coyote (1995)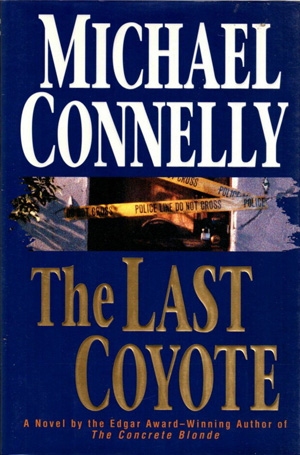 A great big chunk of Bosch's back story is at the pumping heart of this compelling tale. Harry is pretty close to rock bottom, suspended for attacking a superior officer, drinking heavily and counting the cost of earthquake damage on his home. He's even seeing a psychiatrist, and it's at one of these sessions that he opens up about his mother, a prostitute who was murdered when he was a child. This perhaps echoes the real life murder of Michael Connelly's fellow LA crime author James Ellroy's mother. No-one was ever caught for the crime, so Bosch decides to investigate. Thirty years may have passed, but this case is about to have huge repercussions in the present day.
Buy now on Amazon
Trunk Music (1997)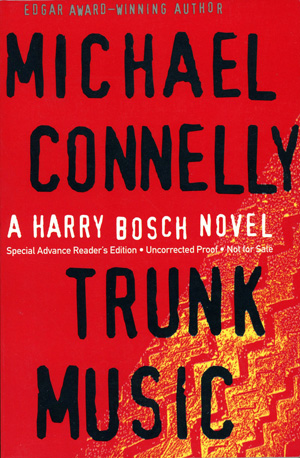 Bosch is back in harness and dealing with the murder of a Hollywood producer whose body was found in the boot of his car. It has all the hallmarks of a mafia hit, also known as 'trunk music', and although the LAPD organised crime unit don't seem too bothered by the case or the victim, it piques Bosch's interest. Work and private life entangle to deadly effect as Harry follows the money trail to the producer's office and then to Las Vegas where things suddenly take on a quite different complexion and he's slap bang in the firing line.
Buy now on Amazon
Angels Flight (1999)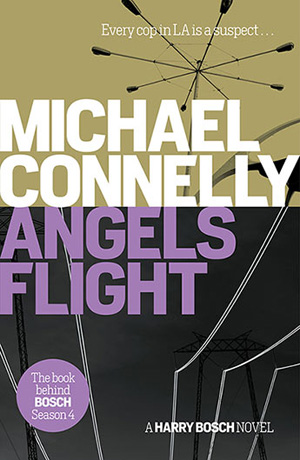 The loyalties of many cops are torn when the body of high profile black lawyer Howard Elias is found inside one of the cars on Angels Flight, a cable railway that goes up a small hill in downtown Los Angeles. Elias specialised in cases involving police brutality, racism and corruption and his work had made him mighty unpopular with the men and women of the LAPD. The death occurs on the eve of a high profile trial and in the aftermath of the Rodney King killing by police and the riots that consumed the city in its aftermath. Never one for diplomacy, can Harry Bosch find the killer and keep his colleagues on side in Angels Flight, one of the best novels in the series?
Buy now on Amazon
A Darkness More Than Night (2001)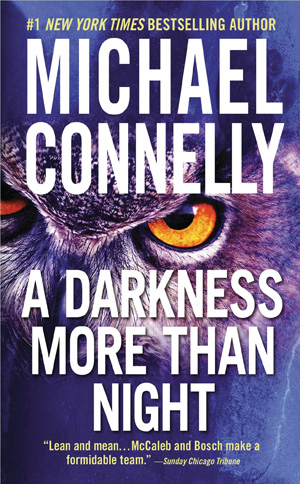 The first book where Michael Connelly unites characters from different series, A Darkness More Than Light has the worlds of Bosch and Blood Work's former FBI agent Terry McCaleb colliding in dramatic fashion. Bosch is both arresting officer and star witness in a case that's been grabbing headlines – a movie director is charged with murdering an actress during sex, then staging her death to make it look like suicide. Meanwhile, McCaleb is enjoying retirement in Catalina Island until an ex-colleague asks him to look at a murder book. What he sees disturbs him, and is about to set Bosch and McCaleb on a collision course.
Buy now on Amazon
City of Bones (2002)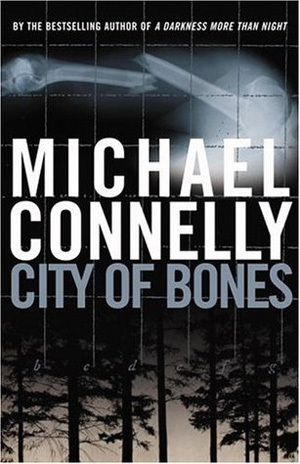 A dog finds a bone in the Hollywood Hills and it's the start of an investigation destined to come far too close to home for Bosch. The discovery stirs up memories of his own childhood as an orphan in the city and he sets to with a vengeance, digging through police reports and hospital records, tracking down street kids and runaways from the 1970s. This case is about to have explosive consequences, and Connelly's tantalising cliffhanger of an ending had everyone baying for the next episode.
Buy now on Amazon
Lost Light (2003)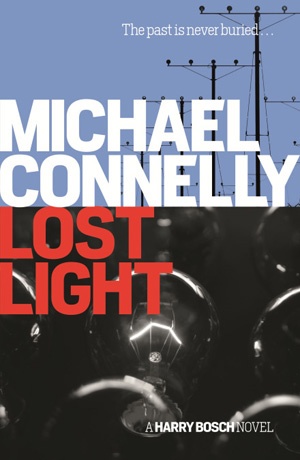 Falcon Award number two was given to this book, which sees Harry out of the force and running under his own steam. When Bosch resigned he took a leaving present along with him – a file on the case of a film production assistant murdered four years earlier during a $2 million robbery on a movie set. Bosch isn't happy with the way things are being handled in the post 9/11 force and he's determined to bring the killer to justice. Something that's about to put him at odds with former LAPD colleagues and the FBI.
Buy now on Amazon
The Narrows (2004) (sequel to The Poet)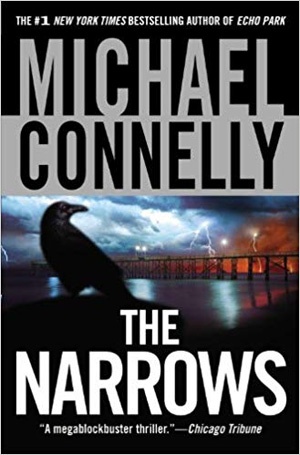 Another of Connelly's cocktail novels sees Bosch mixed with a liberal splash of FBI agent Rachel Walling of The Poet fame, plus a Terry McCaleb chaser. Years earlier, twisted killer The Poet escaped from Walling's clutches and now he's back. Meanwhile, Bosch is outside the LAPD when he gets a call from the widow of an old colleague, a man who was deeply involved in The Poet investigation. Soon he and Walling and working together in the hope of finally putting to an end the reign of terror created by the most ruthless and ingenious killer Los Angeles has ever seen.
Buy now on Amazon
The Closers (2005)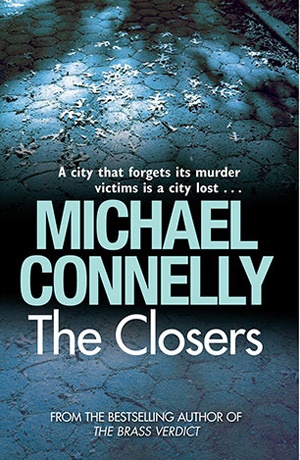 Bosch is back on the force, and in The Closers we see him working in a department that's destined to mean a great deal over the next few books or so. He's paired up with his former partner Kiz Rider and assigned to the Open-Unsolved Unit, working on the thousands of cold cases that remain in the LAPD's files. Times have moved on, and so has the technology that can be used to catch a criminal. A DNA match from a 1988 murder case is about to put Harry into the firing line once again. Meanwhile, his arch-nemesis Deputy Chief Irving is watching from the wings, hoping against hope that Bosch makes a mistake…
Buy now on Amazon
Echo Park (2006)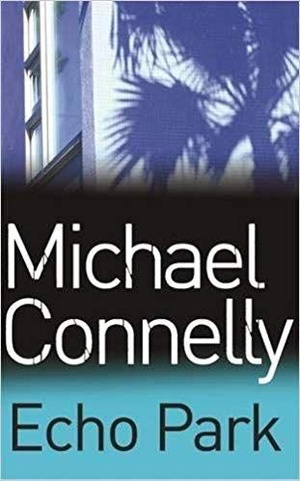 A 13-year-old open case comes back to haunt Bosch when a man accused of two brutal murders confesses to killing Marie Gesto – the case that has played on Harry's mind since it went unsolved in 1993. Bosch is assigned to take Raynard Waits' confession and to make sure the killer is not lying. But to do this he must get close to the man he has sought for more than a decade and the more he learns the more he becomes convinced that he and his partner missed a vital clue back in 1993. Nine people have died in the intervening years, how can a cop live with that knowledge? It's a dilemma destined to take Harry to the very edge.
Red now on Amazon
The Overlook (2007)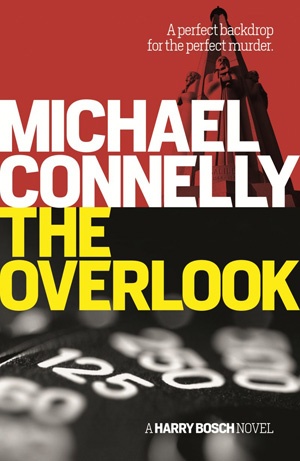 Bosch is back in Homicide and about to tackle a case that could threaten national security. When a doctor with access to a dangerous radioactive substance is found murdered on the overlook above the Mulholland Dam, it soon becomes clear that a quantity of caesium is missing. Could the death be part of a terrorist plot to poison a major US city? As he tries to get to the bottom of it all, Bosch finds himself up against not only the culprits but also the Department of Homeland Security – in the shape of Rachel Walling, who we last met in The Narrows.
Buy now on Amazon
Nine Dragons (2009)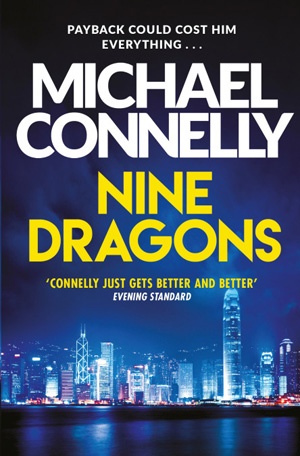 Say hello to Bosch's half brother Mickey Haller, the Lincoln Lawyer who has a book series all his own and who has a small but vital part to play in a plot where family is everything. The Chinese owner of a South LA liquor story is killed in what looks at first like a robbery gone wrong, but Bosch suspects the death may be Triad related. His investigation has to take a back seat when news comes from Hong Kong that his young daughter Maddie has been kidnapped. Could the two cases be related? Bosch flies to Hong Kong to find out, and to rescue his daughter. It's what he gets up to while he's there that will bring Haller into the game.
Buy now on Amazon.

The Drop (2011)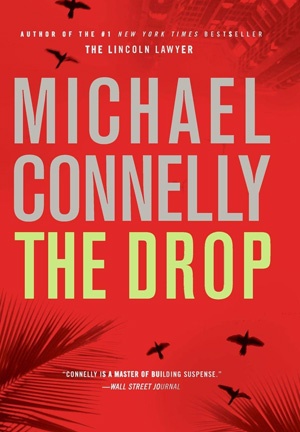 Bosch is on the clock. He has just three years until he must retire from the LAPD and he's determined to use them well. So when two cases drop into his lap in one day he sets straight to work. The first is a puzzle – the DNA from a 21-year-old rape and murder case matches a 29-year-old man convicted of rape. Could he have committed the crime when he was eight or has there been a major breakdown in the chain of evidence at the regional crime lab? Then Bosch and his partner attend the Chateau Marmont to find Councilman Irving's son jumped or was pushed from a window. Irving is adamant that Bosch investigate the case. But is he going to like what might be uncovered?
Buy now on Amazon
The Black Box (2012)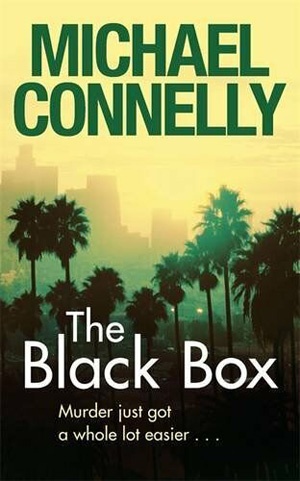 A teenaged Maddie is now living with her father in LA, adding a new dimension to the series and, maybe, mellowing Bosch a teeny weeny bit? He's back in his old ways though when a cold case from 20 years ago gets a new lease of life, thanks to advances in ballistics technology. Bosch is determined to finally solve the killing of Swedish journalist Anneke Jespersen at the height of the LA riots, but can he find the 'black box', that one piece of vital evidence that will finally pull the case together? His relentless search for the truth is interspersed with some well drawn moments of father and daughter time, including a trip to the gun range! Read our review here.
Buy now on Amazon
The Burning Room (2014)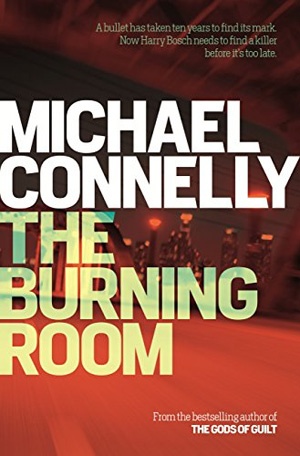 A cold case with a fresh body? Sounds unlikely, but that's just what Harry Bosch is up against here. A man finally succumbs to a bullet wound inflicted 10 years ago and Bosch and his new partner, rookie detective Lucia Soto, are tasked with finding the killer. It's an uneasy partnership at first, but as the pair gradually find some middle ground their investigation leads them to another even older case in which several children perished in a fire. What seemed a fairly straightforward job suddenly has huge implications. You can read our review of The Burning Room here.
Buy now on Amazon
The Crossing (2015)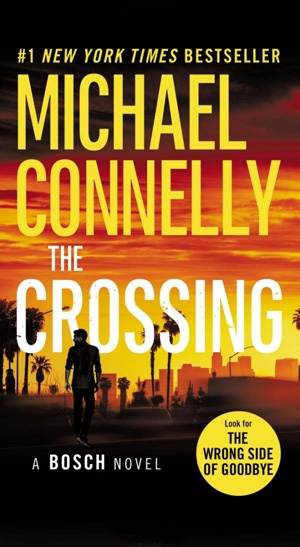 The first of a trio of Bosch books featuring Mickey Haller sees Harry at something of a loose end after leaving the LAPD. Half-brother Haller has a solution – cross to the other side and help him with his defence cases. It's a tough ask for a man who's always been on the side of the innocent, but Haller is convinced that his client, a gang member accused of killing a well-loved public official, didn't commit the crime. Without the LAPD on his side, Bosch has to think on his feet – something he's been doing for years, after all, although he does get more than a little help from an old partner too. Here's our review of The Crossing.
Buy now on Amazon
The Wrong Side Of Goodbye (2016)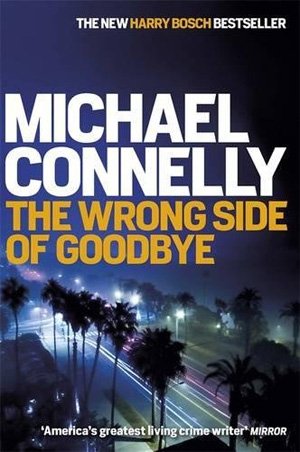 Here's a Bosch rarity – the guy has a private detective's badge! But you can't keep this man out of police business so he's also a part-time volunteer with the San Fernando force, where he's soon in the thick of a case involving a serial rapist. Back in the paid world, Bosch is hired by an elderly billionaire who wants to find out what happened to the young girl he loved and lost many, many years ago. She was pregnant and she disappeared. Can Bosch find her and the child? With a huge fortune at stake, this case is about to stretch Bosch's skills to the limit. Cue the arrival of half-brother Mickey Haller. Read our review of The Wrong Side of Goodbye here.
Buy now on Amazon
Two Kinds of Truth (2017)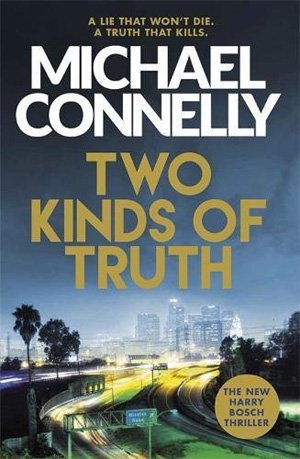 Bosch is working cold cases at San Fernando PD when suddenly he's thrust back into his former life at LAPD. A long-imprisoned killer says he was framed and can prove it. As Harry was the arresting officer, he's in the spotlight. Having left the force on bad terms and with no one to turn to, he calls upon Mickey Haller to be his wingman and the pair begin to sort out the truth from the lies. Meanwhile, a double murder on his San Fernando patch leads to a shady gang dealing in prescription opioids – and in a tour-de-force move by Michael Connelly, Harry goes undercover in the hope of catching them out. Read our review here.
Buy now on Amazon
Dark Sacred Night (2018)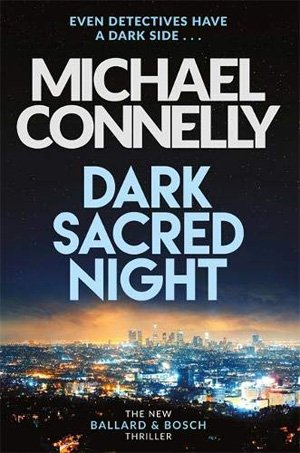 2017 saw the introduction of a new Michael Connelly character in the shape of LAPD detective Renée Ballard in The Late Show. A year later and she and Bosch form an uneasy alliance in Dark Sacred Night. They get together in pursuit of a cold case – 15-year-old runaway Daisy Clayton's body was left in a dumpster like so much trash. We met her mother in Two Kinds of Truth and Bosch is determined to keep his promise to Elizabeth and bring the killer to justice. Can this pair find a way to work together and do just that, while still doing their regular jobs too? You can read our review here.
Buy now on Amazon
The Night Fire (2019)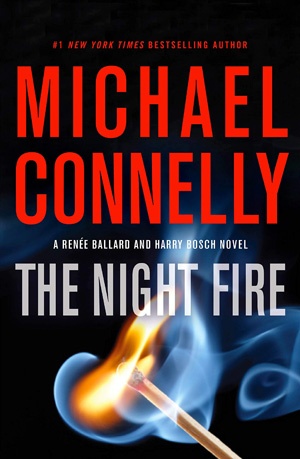 The Night Fire sees an ageing Harry Bosch teaming up with the LAPD's Renée Ballard once again. The detective who mentored a young Bosch has died and leaves him the murder book of an unsolved case, which Harry receives from the grieving widow. Bosch and Ballard work the case together and make some disturbing discoveries in the process. This compelling partnership is really beginning to bed in now, and the ensuing tale really pulls you in. Oh, and there's an appearance from Bosch's half brother, The Lincoln Lawyer, Mickey Haller, too! You can read our review here.
Buy now on Amazon
The Dark Hours (2021)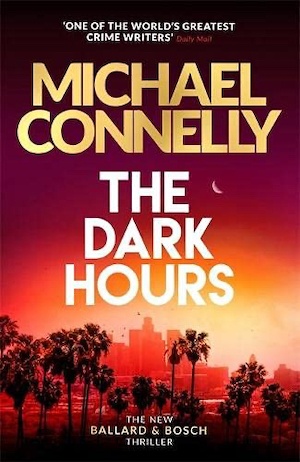 The dark hours of the pandemic feature in this Bosch and Ballard collaboration, alongside such contemporary issues as the death of George Floyd, electric cars and lockdown hair! There's also another super duper crime story which opens as 2020 closes and Los Angelenos welcome in 2021 with a barrage of shots fired into the air. In the midst of the hail of bullets a man dies, and soon Ballard finds links to a cold case where the investigating officer was none other than Harry Bosch. Time for the pair to get in harness again. You can read our full review of The Dark Hours here.
Buy now on Amazon or Bookshop.org.
Desert Star (Coming Nov 2022)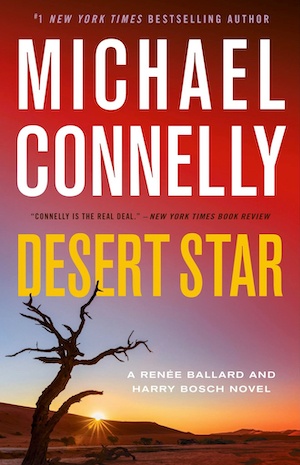 We were left up in the air at the end of The Dark Hours – had Renée Ballard walked away from the LAPD for the last time? A year has passed, and Ballard is tempted back by an offer she can't refuse. We find her heading the cold case unit at the elite Robbery-Homicide Division, with a familiar volunteer investigator as a part of her team. It's Harry Bosch, and he's determined to crack an unsolved case that's haunted him for years. Time for the dream team to reconvene. On sale from 8 November.
Pre-order now on Amazon
Other novels
You can't keep a good man down. Harry Bosch also makes an appearance in the following novels: The Brass Verdict (2008) and The Reversal (2010), and plays brief parts in The Fifth Witness (2011) and The Gods of Guilt (2013).