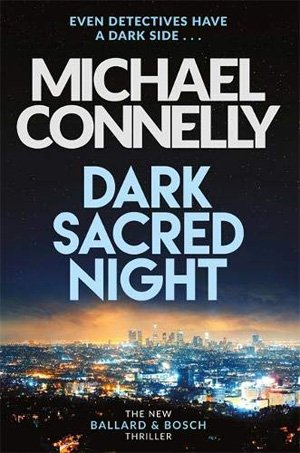 Written by Michael Connelly — It's the age of the BOGOF – buy one, get one free – so I suppose it's about time the concept arrived in crime fiction land. Early to jump on the bandwagon is Michael Connelly, who had already dipped a toe in the water with books featuring both Harry Bosch and his half-brother Mickey Haller. Now, along comes Dark Sacred Night, where Bosch and relative newbie Renée Ballard share equal billing.
We met Renée just last year in The Late Show, and readers worldwide fell in love with the quirky female LAPD detective who works permanent nights after being sidelined when she made a sexual harassment claim against her boss in the homicide division. Renee is prone to go off the grid, she's intuitive and smart and she doesn't suffer fools gladly. Sound like anyone else we know and love?
The first meeting between Ballard and Bosch is hardly earth shattering. She is writing reports in a near-deserted detective bureau office in Hollywood Division when her concentration is broken by the appearance of an older man who is shiftily checking out the contents of nearby filing cabinets. That man is Hieronymus 'Harry' Bosch and the pair are introduced. It's only later that Ballard realises Bosch had picked the lock on the drawers and was rifling through them without permission.
She returns the favour by appearing at Bosch's place of work, an old jailhouse in San Fernando, where he is a part-time reserve officer, mainly dealing with cold cases. Ballard too has picked the lock – these two are such kindred spirits – and she has a proposal for Bosch. Her interest was piqued by his illegal foray into the LAPD files, which was in pursuit of information on a cold case he is currently investigating. Ballard wants in… and a new, if slightly shaky, partnership is born!
The case in question involves teenage runaway Daisy Clayton, who turned one trick too many and ended up dead, her bleached body found in an alleyway where she touted for business. We met Daisy's heartbroken mother, Elizabeth, in Two Kinds of Truth and she makes a reappearance in Dark Sacred Night too. Ballard wants to meet Elizabeth and learn a little about her dead daughter – not a problem, as the woman is currently sharing Bosch's home, and occasionally his bed. Elizabeth's story is just one of many compelling threads which capture the attention and never let up.
While Ballard picks up the detritus of cases which occur in the wee small hours, Bosch is called out of his cold case cell to work a 14-year-old murder which has new impetus. The victim was a gangland kingpin known as Uncle Murda and as Bosch and his San Fernando PD colleagues take the first steps to solving the case, things begin to go badly wrong. Bosch is suddenly on the outside again, with plenty of time on his hands to work the Daisy Clayton murder.
There are oodles of crime fiction series and in some the main character never seems to age. It's to Michael Connelly's credit that he is letting Harry Bosch grow old disgracefully. Bosch has creaking joints and a chequered history but his detecting skills are as sharp as they ever were. In Renée Ballard, we have a youthful sidekick who is a great fit for this mighty unusual partnership. This is a cleverly constructed book that never lets up on pace and drama. The story jumps from one viewpoint to the other, giving ample opportunity for cliff hangers. That jerkiness is both frustrating and addictive – you just have to read on for another chapter or two to find out what's just happened.
There have been some fine crime fighting duos – Batman and Robin, Starsky and Hutch, Rizzoli and Isles, to name but a few. Time to add Bosch and Ballard to the list, because at the end of Dark Sacred Night there's a huge hint that this pair are in it for the long haul! I wonder if Mickey Haller could make it a hat trick?
For more LA-based crime fiction, try Broken Windows by Paul D Marks, or Chris Carter's Gallery of the Dead. Or head south a bit and step back to the 80s with Tapping the Source by Kem Nunn.
Orion
Print/Kindle/iBook
£10
CFL Rating: 5 Stars