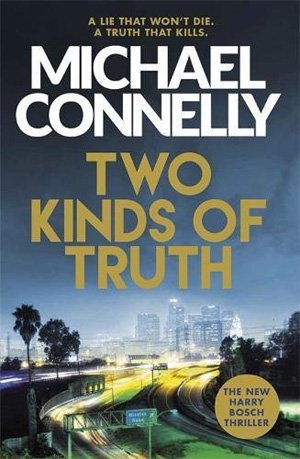 Written by Michael Connelly — Bestselling US crime author Michael Connelly might have started a new series earlier in 2017 with The Late Show, featuring Renée Ballard, but he hasn't forgotten fans of his mainstay LA detective Harry Bosch. With Two Kinds of Truth, Connelly continues his reign as king of contemporary detective fiction, and with a hit series on Amazon Video, Bosch remains the author's driving force.
Having left the LAPD on bad terms after being forced into retirement, Harry is now working part time at with the San Fernando police department, concentrating on cold cases. He's been there for two years now and solved plenty of cases, but one keeps coming back to haunt him – 25 years ago, a young mother vanished, leaving behind her baby, sleeping soundly in her crib. No one has seen Esme Tavares since.
Bosch is reacquainting himself with Esme's case when his concentration is shattered by a flurry of visitors, led by his old partner Lucia Soto. The other members of the posse are Bob Tapscott, Lucy's current partner, and Deputy DA Alex Kennedy. What they're about to tell Bosch sends him reeling. An cast-iron murder conviction he handled nearly 30 years ago left the perpetrator on death row. Now new forensic evidence casts doubt on the investigation and Preston Borders, a man Harry knows to be guilty, may be set free.
There are rumblings that Harry and his then partner didn't do things by the book, an accusation that rankles with our hero. And when the case makes front page headlines, Bosch's character is besmirched for all to see. He's not a happy bunny and calls upon the services of 'Lincoln Lawyer' Mickey Haller, who just happens to be Harry's half-brother. They make a formidable double act, but have they finally reached the limits of their skills?
So, one great storyline is ready to rock, but this is Michael Connelly and he never short-changes his readers so prepare for another couple of crackers to help the pages fly by. Bosch has to put his personal worries aside when there's a double murder on his San Fernando patch. He's keen to let Detective Bella Lourdes take the lead on a case which at first looks like a robbery gone wrong at a small family-run pharmacy. But when investigations uncover links to a shady gang dealing in prescription drugs, things take an unexpected turn and Bosch is called upon to go undercover. His experiences on the wrong side of the law make for some of the most entertaining scenes in a book that brims with intrigue and surprise, wrong-footing us at every end and turn.
Bosch may not be a big player in LAPD homicide any longer, but that doesn't mean he's about to rest on his laurels. He may be getting on, but that certainly doesn't mean he's giving up. It's great to be able to meet up with familiar faces again but be prepared for an unexpected arrival or two as this always complex but never dull narrative runs its course.
Two Kinds of Truth is in three parts, and I found myself stopping after each one to savour what had gone before and ponder on what might follow. This is a book you want to read ravenously, but also to savour and stretch out for as long as possible. It left me with a feeling of regret that it had ended – a sure sign of a bloody good read.
Oh, and that title? It's from a quote by none other than Raymond Chandler, which begins: "There are two kinds of truth: the truth that lights the way and the truth that warms the heart. The first of these is science, and the second is art." Michael Connelly is an artist of words, and this book is among his best.
For more recent Los Angeles crime fiction try Lola by Melissa Scrivner Love and Dodgers by Bill Beverley. If you are new to Bosch, the series begins with The Black Echo.
Little, Brown
Print/Kindle/iBook
£10
CFL Rating: 5 Stars