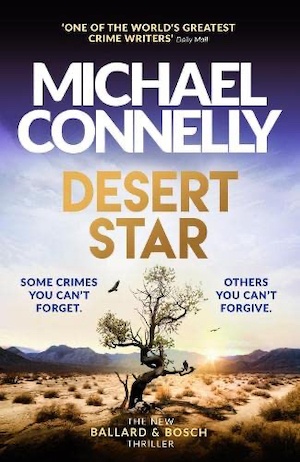 A desert star is a tiny white flower found, unsurprisingly enough, in the inhospitable desert sands. Resilient and beautiful, they're "a sign of god in this fucked up world", according to a friend of former LAPD detective Hieronymous 'Harry' Bosch.
The flowers of the book's title bloom near to a makeshift memorial in the Mojave Desert, a place that remembers the Gallagher family – mother, father and two young chldren, whose bodies were uncovered here almost 20 years ago. It's a case that was never solved; a case that has haunted Bosch ever since. There's no sign of god here, it appears.
That case is perfect bait, then, for Renee Ballard, who has been given her pick of jobs by the LAPD in the aftermath of what happened in The Dark Hours. She's plumped for rebooting the department's Open-Unsolved Unit, reworking cold cases – and she wants Harry on board as a volunteer team member. Bosch has been here before, but Ballard spins it as his chance to finally put the Gallagher Family case to rest, to find Finbar McShane, the suspect who disappeared into the wind after they vanished.
But the lure comes with a price. Ballard's new unit has been revived thanks to the backing of local councilman Jake Pearlman, who has an agenda of his own. Several years ago his sister, Sarah, was murdered and the perp was never caught. It's the case Renee and her team have to solve, or the unit will be mothballed once more. Hmm, politics. Harry Bosch's least favourite subject. But he agrees to set his prejudices aside and join the team.
The man we meet here is not the Bosch of The Black Echo, the book which introduced the single-minded detective with a heart and no time for authority, way back in January 1992. In the interim, Michael Connelly has let his character age as the decades have passed – much like the many readers who have followed Bosch's journey from the off.
These days Harry is definitely feeling his years and as the book opens he is staring at a line of pills on his kitchen table. Gone are the days of athletic heroics… although there are times in Desert Star when he forgets just how old he is! The body may be creaking, but Bosch's mind is as sharp as ever and he is soon coming up with insights and ideas that move both cases along a little.
Which should be good news for Ballard… except, as ever, Bosch is loath to play nice with his team mates. These include civilian volunteer Colleen Hatteras, a specialist in investigative genetic genealogy who reveals she is an 'empathist'. Bosch's alarm bells ring – he has no time for psychics of any shape or form and he gives her a wide berth.
It's a minor diversion in the broad sweep of the story, which Connelly pieces together like an intricate mosaic – you may see some tantalising vignettes along the way, but the big picture is going to take much, much longer to be viewed in its entirety. Connelly hooks the reader early on and then plays with us like a fish on a line. His trademark dialogue moves things along nicely as the duet of cold cases unroll in fits and starts, while the settings in both California and Florida are sharply realistic.
So, another great Bosch and Ballard book – but Desert Star has something else; because undercutting everything is a sense of a clock ticking, sand slipping through an hourglass. Unstoppable and inexorable. As the chapters flew by, I had a growing sense of panic and impending doom, wanting to turn the page but NOT wanting to to turn the page. Connelly has conjured up a book that relentlessly plays with the emotions. Can I say it's his best Bosch and Ballard yet? It appears I just did, so roger that!
New to this series? Make a beeline for our guide to Michael Connelly's Harry Bosch (and Renee Ballard) books.
Orion
Print/Kindle/iBook
£11.00
CFL Rating: 5 Stars