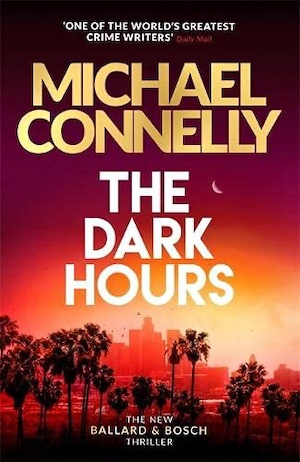 Here at Crime Fiction Lover we love a clever book title, and this one is a case in point. At first glance it seems all too obvious – after all, the main protagonist, LAPD Detective Renee Ballard, is on permanent night duty, working the graveyard shift in Hollywood Division.
But this book is set very much in the here and now, and what dark hours we have all been living through recently! Alongside a cracking good crime yarn, former journalist Michael Connelly can't resist some astute moments of social commentary. The pandemic, masks and the wearing of them, defunding the police, George Floyd, electric cars, lockdown hair, vaccinations, even the storming of the Capitol building in January of this year all find a place within the pages of The Dark Hours.
As the story begins, Renee Ballard is on high alert. We're approaching midnight on 31 December, 2020, and across the city Los Angelenos are getting ready to say goodbye to a year everyone wants to forget, and to welcome in the new – many of them marking the occasion by shooting their weapons into the air.
Ballard and Detective Lisa Moore of the Hollywood Division Sexual Assault Unit are sheltering under the Cahuenga overpass until the rain of lead ceases. It's all hands on deck on New Year's Eve and it's patently obvious that Moore wants to be somewhere else, but notwithstanding the gunfire the two cops are on the lookout for a pair of serial rapists they've dubbed the Midnight Men, whose MO includes them striking on holiday weekends – and just after midnight, as their nickname suggests.
Since departmental cutbacks disbanded the Sex Crimes Unit, and calls to defund the police damaged morale in the ranks, many officers are just marking time and keeping their heads down – Moore among them. But as anyone familiar with this series knows, Ballard is like a dog with a bone and she isn't about to let the case slide on her watch.
However, when the radio squawks and they're called into action, Ballard and Moore are sent off in an unexpected direction. As the guns were discharged into the sky over at Gower Gulch, it appears that one of the stray bullets hit someone at an impromptu yard party in a car repair shop. The shop owner is rushed to hospital, where he later dies, and as Ballard takes a look at Javier Raffa's body, she realises that this was no accident. Things ratchet up further when the bullet that shot him is linked to an unsolved cold case from 10 years ago – a case in which Harry Bosch was investigating officer.
Bam! Suddenly our favourite detectives are back in harness together, the tentative partnership that began in 2018 in Dark Sacred Night moving to a firmer footing, with Ballard taking the lead while Harry – now a private detective – goes off and does his own thing. They make a formidable, if slightly off-kilter, team. Both have street smarts and good old fashioned gut instinct, but while Bosch is supposed to stay unobtrusively in the background, he can't resist sticking his oar in. Soon he's involved in the Midnight Men case too. Teamwork makes the dream work, right?
It's a masterstroke on Michael Connelly's part to bring together two such fascinating characters and make such a success of it. Both are damaged by their pasts but stoically carry on regardless. And in The Dark Hours, both are coming to terms with change. Ballard has finally bitten the bullet and moved into a permanent home, while Bosch is getting old, and not happy about how the ravages of time are affecting him – reminding me so much of Ian Rankin's more recent Rebus books. By the time this one is over, both will be faced with decisions that could change their lives.
As usual, Los Angeles is an extra character here and this time we're directed away from the glitzy tourist areas to uncover the city's beating, battered heart. In these strange times, some of us have steered away from novels that depict what has been happening in the past year or so. A fearless Connelly jumps straight in, pulling us along in the undertow and somehow the experience is both pleasurable and painful in equal measure. The Dark Hours is a book of our times – I urge you to read it.
Not up to speed about Harry? Read our Bosch primer here. Los Angeles also features in Claire McGowan's latest standalone, I Know You.
Orion
Print/Kindle/iBook
£9.99
CFL Rating: 5 Stars
Support independent bookshops by purchasing from Bookshop.org.