Well, it's been quite a year, hasn't it? Who knew what 2020 had in store for us all as we sang Auld Lang Syne at the stroke of midnight? But if lockdown has taught us one thing, it's that reading rocks – and there's been a pleasing surge in sales of crime fiction, to boot.
Independent publishers like Bloodhound Books has stepped up to the plate, supplying crime fiction lovers with some stellar reading material over the past months for e-readers and in print. They've crunched the numbers – and today we reveal their top bestsellers of the year.
Deep Dark Secrets by Keri Beevis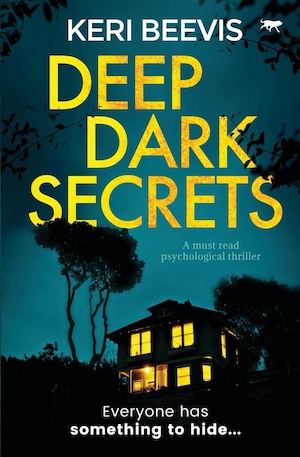 If crime fiction is on the up, then the most popular genre within it must surely be the psychological thriller. Keri Beevis has firmly established herself as a creator of darkly disturbing tales, and here's a fine example. Back in her teenage years, Nell cried off a babysitting gig and her friend Lizzie stepped in. But the night ended in tragedy, because Lizzie was murdered – and since then, Nell has had to learn to live with the guilt. Now she is back in her old home town and trying to rebuild her life after an abusive relationship. But someone out there wants to make Nell's life hell…
Buy now on Amazon
The Three Women by Valerie Keogh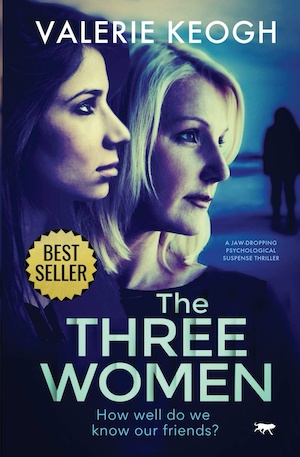 She is also known for her Dublin Murder Mysteries, but Valerie Keogh can also turn her hand to a gripping psychological standalone – and The Three Women ticks all those boxes. They were friends at university, and the bonds created then have lasted for Beth, Megan and Joanne. The women are now in their 40s, successful and outwardly happy, however something happened back then and today the past still haunts all three of them. It turns out they vowed to keep it a secret – but now Megan wants to come clean to her fiancé… And someone is just as determined to ensure that she doesn't.
Buy now on Amazon
The Perfect Life by Valerie Keogh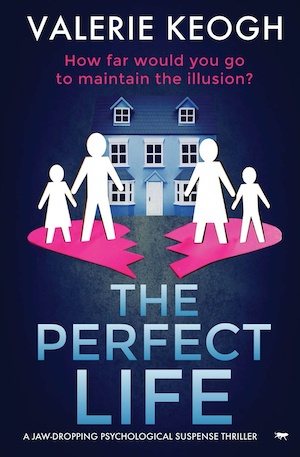 Domestic noir is an ever-expanding crime fiction sub-genre, and Valerie Keogh's The Perfect Life fits right in. Molly Chatwell has it all – a brilliant job, wonderful husband, two great kids and a lovely home. But when her two children fly the nest, she realises something is missing. Time to break away from it all, for some space to ponder and regroup? Hubby refuses to go, so she heads off alone – and what happens during her attempt at rest and relaxation is about to bring Molly's world tumbling down. It involves the police, and a body… Need we say more?
Buy now on Amazon
Dying to Tell by Keri Beevis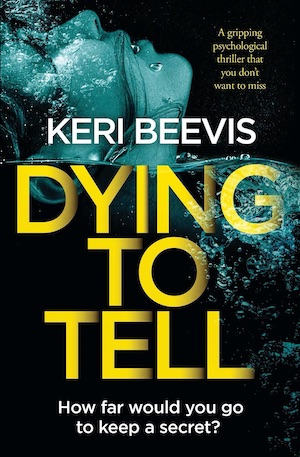 How do you cope when there's an horrific car crash and you're the only one to survive? That's what's happened to Lila Amberson, and as she finally leaves hospital she's intent on rebuilding her life. Lila has only hazy memories of what went on that fateful night, and when strange things start happening she realises she needs to know more. Jack Foley blames Lila for the death of his sister Stephanie in the crash – can the pair form an unlikely partnership and come up with the answers? Expect plenty of twists and turns from this accomplished author.
Buy now on Amazon
The First Husband by McGarvey Black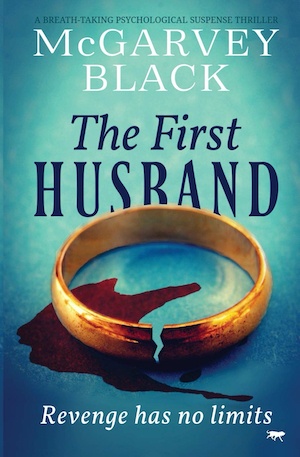 Ah, holiday romances – they seldom end well, do they? But Trina Holmgard's experiences? Well, they read like crime fiction! Trina's on vacation in India when she falls for the charming but penniless Sam. Their whirlwind romance ends in marriage, and Trina goes back to New York to pave the way for Sam joining her. Then she gets cold feet – was Sam only after her money? Trina cuts all lines of communication and goes off and marries again. But hell hath no fury like a long-distance lover scorned, as Trina's about to find out…
Buy now on Amazon
4 Riverside Close by Diana Wilkinson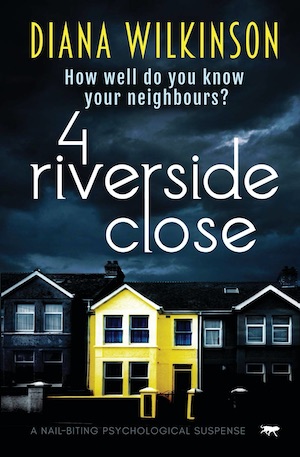 A neat and tidy little cul-de-sac in a quiet part of North London is the setting for this entertaining slice of domestic noir. There are just six houses in Riverside Close, but behind every front door there is drama, whether it be domestic abuse, infidelity or fraud and blackmail. The newbies to the street are about to set the cat among the pigeons, big style – but with a little old lady watching everything from her front window and taking notes, their shenanigans are not about to go unnoticed. Plenty to keep the reader intrigued then, and in the hands of Diana Wilkinson the characters are really brought to life. Read our review here.
Buy now on Amazon
Apartment 6 by Stuart James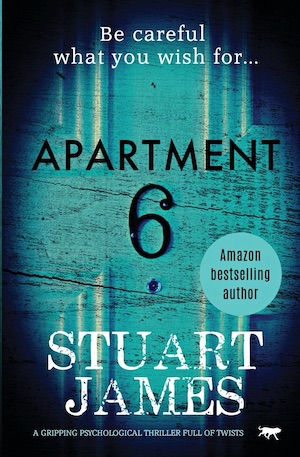 A cycle of domestic abuse is at the heart of this psychological thriller. Meagan was just five when her mother was beaten and murdered. Now Meagan is an adult, trapped in an abusive relationship of her own. There is no escape – that is, until Meagan meets Oliver. He seems a decent kind of guy, and he's on the rebound after a relationship collapsed. Could he be the answer to Meagan's prayers? She confesses all to Oliver, who willingly steps into the knight in shining armour role. But has he bitten off more than he can chew?
Buy now on Amazon
Mr Nice by John Nicholl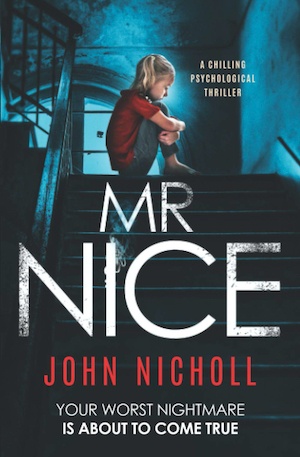 A young girl goes missing and her estranged father is the obvious prime suspect in this psychological thriller from the creator of the DI Gravel and Dr David Galbraith series. But did he really take Lottie? As DI Laura Kesey begins her investigation, she begins to realise that things are not as cut and dried as they at first appeared. The deeper she digs, the more disturbing the case becomes. Could the disappearance be down to someone else entirely? The clock is ticking and a child's life is at stake…
Buy now on Amazon
The Perfect Marriage by Jeneva Rose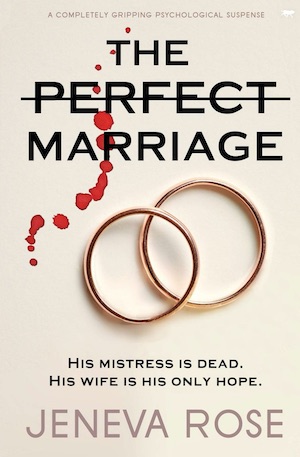 A title like that really gives the game away, doesn't it? Because the union of American defence attorney Sarah Morgan and her husband Adam, a struggling writer, is anything but blissful. While Sarah's career flies, Adam's flounders – and he staves off writer's block by having a passionate affair at the couple's secluded lake house. But when his mistress is found murdered there, Adam is put firmly in the frame. Reeling from the revelations, Sarah has a tricky decision to make. Can she stand up in court and defend her cheating husband?
Buy now on Amazon
Liars by Anita Waller & Patricia Dixon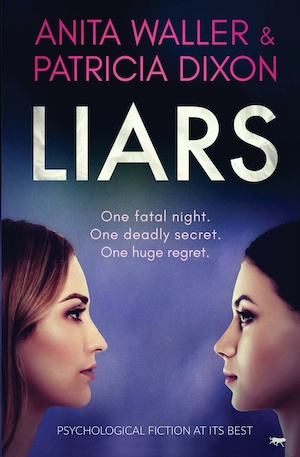 This psychological thriller is a collaboration between bestselling authors Anita Waller and Patricia Dixon, and fittingly enough, it focuses on two women. Wendy and Nell have been best friends since childhood, and when life sends them in different directions they keep in touch by letter. Those missives are upbeat and full of newsy snippets, but both women are hiding the truth that homesickness, violence, loneliness and murder form the backdrop of their lives. The return of a face from their past is set to throw the pair together once more. Is it time for the truth to come out at last?
Buy now on Amazon
Bloodhound Books has been a longtime supporter of Crime Fiction Lover, placing advertising with us and sponsoring special events on the site. We thank the company for its support.