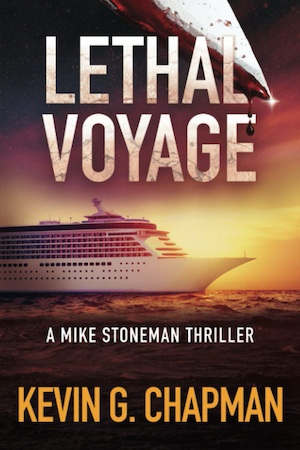 Let's put my cards on the table from the off – I've never really fancied a cruise, though lots of my friends swear by this form of vacation. I don't like the idea of being stuck in the middle of the ocean with a bunch of people I don't know. Well, anything could happen, couldn't it?
Maybe NYPD detectives Mike Stoneman and Jason Dickson should have heeded my warning, because once they set sail on the luxurious Colossus of the Ocean with their girlfriends Michelle McNeil and Rachel Robinson, things begin to go awry.
Mike and Jason are on leave for a good reason. After a recent case they were running undercover went badly wrong and made headlines, it was suggested by the police commissioner that they become 'unavailable for comment' for a while. So a life on the ocean wave it is!
It's a chance for the pair to kick back and enjoy their luxurious surroundings and the company of their female partners – and Mike and Jason throw themselves into it with gusto. But there's a killer lurking on board, and soon the detectives, and Michelle, who just happens to be a medical examiner, are at the heart of the investigation – much to the annoyance of the on-board head of security, a former FBI data analyst.
Karl Keller is used to running a smooth operation, but with two detectives on board and the head of security for the cruise company (who is also a former NYPD cop and was Mike's mentor), he is feeling the pressure when a passenger falls to her death.
Keller is quick to label the demise a suicide, but Mike and his party had met Shirley Bloom and her husband Max, a Broadway talent agent, and witnessed the couple's prickly relationship. That puts Max firmly in the frame for murder – but with Keller toeing the company line, Mike and Jason are going to have to work hard to convince him. So much for a leisurely break! As the death toll begins to mount, even company man Keller can't deny that he needs the help of a couple of hard-bitten New York detectives.
This is the third book in the Mike Stoneman series and the first time I'd encountered this character – but don't worry, because Lethal Voyage stands perfectly well on its own merits. It's an entertaining read and author Chapman meticulously paints a vivid picture of life on board a luxury cruise ship, even down to the towel animals places on the turned down beds of the passengers each night! If it wasn't for the pall of death hanging over the Colossus of the Ocean, I might actually be temped aboard.
There's an easy companionship between Mike and Jason, obviously developed over years of working together, but by throwing Michelle and Rachel into the mix, Kevin G Chapman adds an extra dimension to the narrative. Michelle, Mike's girlfriend, is looking forward to them spending quality time together, but when that all disappears like a sea mist, she is professional and intuitive. Rachel? Well, she's another matter. She dreamed of becoming an entertainer until a knee injury ruined plans of a dancing career, but she is on holiday and determined to milk every minute of it. The luxury and glamour of life on board is conveyed beautifully in the scenes which feature Rachel, who enthusiastically throws herself into every scrap of entertainment on offer.
Bermuda is reached and there are a few scenes there, but it's a little throwaway – only to be expected, I suppose, when there's a stone-cold killer on board the ship, but a tad more local colour would have been nice. That said, Lethal Voyage is a great escapist read. And as the wind howls outside and rain batters the window, that's just what's needed right now!
We've previously reviewed Deadly Enterprise by the same author. Also see The Woman in Cabin 10 for cruise ship shenanigans.
Kindle Direct
Print/Kindle
£2.30
CFL Rating: 4 Stars