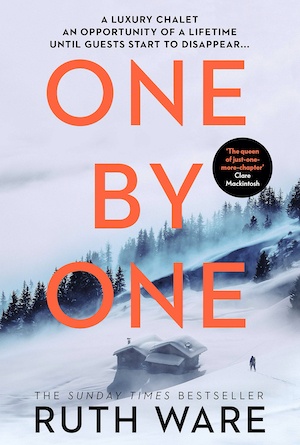 Ruth Ware has written mysteries and thrillers involving dysfunctional families, toxic friendships and twisted romance. With One by One she wanted to explore a different sort of relationship – that between work colleagues – and how this type of relationship might come under strain when there's a murderer in the company.
As with her previous novels we have a female protagonist caught in a situation where a group of people are locked down, so to speak, in a location and, effectively, no-one can come and go. Here the dangerous setting is the French Alps and our protagonist is Erin. She and her colleague Danny, a chef, are trapped in a mountain cabin by an avalanche. With them are the staff of Snoop, the tech company behind a music sharing app who are staying at the St Antoine luxury resort for a corporate retreat.
Right from the start it is clear that there is a jarring divide between two groups within the company – those who want to sell Snoop to a larger corporate and those who don't. Emotions are running high, but do mergers and acquisitions provide enough motive for murder? Well, they just might…
Ware switches perspective between Liz, a former employee of Snoop, who for reasons initially unknown was invited to the retreat with her ex-colleagues and Erin, who is in charge of hosting the party at the resort. Joining them are an extensive cast of characters, each with ulterior motives and each seemingly more conniving than the next. First there is the CEO and co-founder, Topher St Clair-Bridges, a trust fund kid who desperately wants to keep his hold on the company. Opposing him is Eva van den Berg, the other co-founder who happens to be Topher's ex-girlfriend, and who wants to sell the company. Rik, Elliot, Miranda, Tiger-Blue and Carl make up some of the colourful group, reflecting the stereotypes you'd expect to find within a young and trendy tech company – a spiritualist, a health-fanatic, a geeky tech guy, a straight-talking lawyer and, of course, an outsider who doesn't fit in with the rest of the cool kids.
On the first day the group goes out on a challenging ski expedition, despite the impending avalanche, and that's when the retreat claims its first victim. Was it the weather, or perhaps a murderer? Seeing as she disappeared into thin air, no-one really knows how she met her supposed death. When the avalanche envelops the cabin shortly after, trapping the group inside, they realise that the odds of her surviving outside are slim to none. When employee after employee is mysteriously killed off it becomes clear that someone is cutting down on staff for their own benefit.
One by One follows a similar pattern to And Then There Were None, but doesn't quite meet the Agatha Christie standard. Even though it has a strong sense of place and all the right elements it lacks the ominous atmosphere we generally associate with this type of crime thriller. You may find that the killer turns out to be just who you thought it was, and see this coming far too early in the novel.
Adding the name of each character, their Snoop music profile and what they are listening to at the beginning of each section is an interesting concept which adds some context, however after a few pages it becomes distracting and largely redundant.
One by One's strengths lie in two areas – its sense of place and its main protagonist, Erin. Throughout we are teased with hints of Erin's past and this is what keeps the narrative going. There are ample secondary characters to create interest – too many, perhaps – but it all feels just a smidgen superficial and sadly, predictable. Towards the end it is indeed Erin's character, her observations and her backstory which help One by One stand out from the wide range of competing crime fiction novels.
This is the perfect read if you crave something light, thrilling and entertaining to keep you distracted over a weekend or the holidays.
Also see our reviews of The Death of Mrs Westaway, The Lying Game and The Woman in Cabin 10 by Ruth Ware.
Penguin
Kindle/Print/iBook
£7.99
CFL Rating: 3 Stars