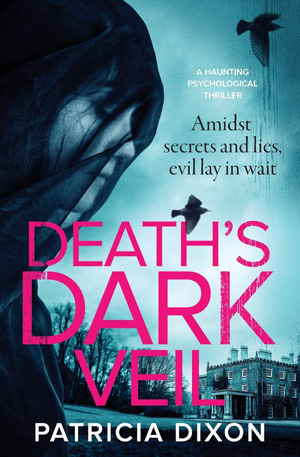 Written by Patricia Dixon — Not all crime novels grab you by the throat immediately. Some are a slow burn, and that description certainly applies to this book. I'm at a loss to describe the crime sub-genre Death's Dark Veil fits into best. It has cosy moments, certainly veers towards the romantic at times and is jam-packed with secrets – the must-have ingredient for crime writers this year.
Ivy and Georgie are two very different women, but their lives are both built on lies. Both strive to escape their pasts, but we all know that's never going to work, don't we? Georgie is the more glamorous of the two, a would-be actress who excels at creating an image of something she's not. Her skills as a performer are going to stand her in good stead as this story unfolds.
Ivy is more 'ordinary', a stolid soul who comes into her own when life throws her a curveball or two. Rather than bending under the strain, she picks herself up, dusts herself off, changes her name and starts all over again. These women are destined to meet – and when they do, all hell is going to break loose…
At the centre of everything is Tenley House, a dark, dismal and decidedly run-down old property in rural Hampshire. It has seen its share of drama over the centuries and in the 1950s it becomes the responsibility of Kenneth Appleton-Tenley. Kenneth isn't too happy about this, particularly as his domineering mother is still lording it over the place and clearly has no intentions of leaving.
Kenneth is gay and in the closet in a decade when homosexuality was still a crime, but in time he sees his only way forward is to marry. Cue the arrival of Daphne, and when the pair can't conceive an heir they adopt baby Vanessa, much to the disgust of Kenneth's mother. She treats the child like a cuckoo in the nest and does not have a good word to say about her. Trouble is brewing, and after a freak accident at Tenley leaves one of the inhabitants dead, things begin to go decidedly awry.
It's best to take everything with a pinch of salt in a book that loves to bamboozle. Things begin at tortuously slow pace before they click into gear beyond the halfway mark, though even then the narrative moves sedately rather than in a fast and furious manner. There's something very genteel about Death's Dark Veil, which can come as a bit of a shock as time moves on and we suddenly find ourselves in the 1960s, 70s and 80s. The era is nicely signposted by references to the new items and music of each decade. The action barely ventures outside the four walls of Tenley and perhaps that's why the passage of time seems merely incidental. The stilted dialogue also serves to make this book feel like it's set in an earlier period, somehow.
If you enjoy a book that's all about people rather than a twisting plot line then it may well appeal. The star of this particular show is Tenley House– and it's certainly not a place I'd like to stay in!
For another country house mystery try Francis Duncan's Murder for Christmas, and for dysfunctional families see Brian Gruley's Bleak Harbor.
Bloodhound Books
Print/Kindle
£1.99
CFL Rating: 3 Stars