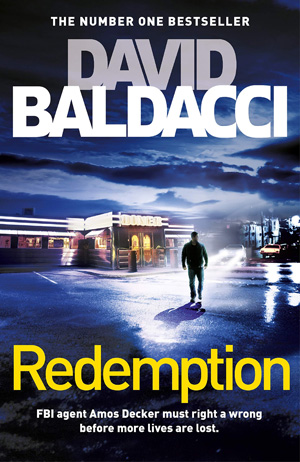 Written by David Baldacci — He's sold over 130 million books, yet to date David Baldacci has been off this reviewer's radar. Time to change that, but is it wise to start the acquaintance by jumping in at book five of an established series?
Thankfully, the answer to that is a firm yes. Newcomers to the work of Baldacci, and to his character, Amos Decker, won't feel at all left out by reading Redemption as a standalone. Decker, a former cop, now works as a consultant to the FBI. His police career began in his home town of Burlington, Ohio, and that's where this book opens as he makes a pilgrimage to visit the graves of his wife and daughter on what would have been Molly's 14th birthday.
Decker is haunted by what happened just over four years ago, when wife Cassie, Molly and his brother-in-law, Johnny, were murdered in the family home. Their bodies were found by Decker who had left work late, only to arrive home to a scene of carnage. The image of what he discovered that night is burned deep into his memory, never to be forgotten.
The moment would be traumatic enough for anyone, but for Decker it's even worse. He suffers from hyperthymesia, otherwise known as perfect recall, something which has afflicted him since a freak American football accident damaged his brain as a teenager. The condition is both a blessing and a curse. That perfect recall can come in pretty handy in Decker's line of work, but the torture of reliving his family's murders over and over again is something that keeps Decker awake at night.
His private visit to the graveside is interrupted when a stranger approaches Decker who is shocked to realise they've met before. 13 years ago, Meryl Hawkins was put in prison for the rest of his life, found guilty of four murders in a quiet Burlington home, on the evidence of two rookie detectives – Decker and his partner Mary Lancaster. Now Hawkins has terminal cancer and has been let out of jail and he wants Decker to prove his innocence, once and for all.
Decker dismisses Hawkins as a phoney, but as he takes a fresh look at the case, his resolve beings to disintegrate. Trouble is, if Hawkins wasn't the killer, then who was? Then Hawkins himself is murdered and things ratchet up a notch or two. Someone out there doesn't want the truth to be told and they'll have no hesitation in killing again, and again, if it serves to stall any moves toward a new investigation. But Decker is a man with a conscience and he isn't about to stop until justice has been served.
I like Amos Decker. He's a big character in every respect, with a physique like Jack Reacher and something of Reacher's go-it-alone spirit too. He's also highly intelligent and intuitive, his perfect recall, coupled with synaesthesia which causes him to pair colours with unusual things like death and numbers, all adding to his uniqueness. He's a haunted man who at times seems in dire need of a hug, but he's also driven, and it's that determination which serves to pull this narrative along at frantic pace. Baldacci has a snappy style, no-nonsense which also keeps things moving nicely.
Where things fall down a bit is at the denouement, which seems a little far-fetched and takes the edge off a fast and furious, action packed reading experience. I really enjoyed the ride, but the ultimate destination left me feeling a little short-changed. It wasn't enough to put me off entirely though and I'm sure this won't be my last Amos Decker book.
Synaesthesia also features in Jonathan Lyon's chilling debut Carnivore. Another protagonist struggling with the loss of his child is Keith Nixon's DI Solomon Gray in Dig Two Graves.
Macmillan
Print/Kindle/iBook
£8.99
CFL Rating: 3 Stars