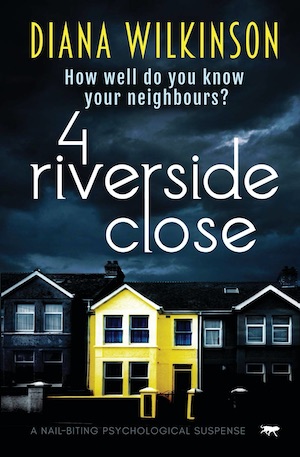 Riverside Close is a quiet, somewhat cliquey, cul de sac in North London. It's tucked away from the hustle and bustle and some of the properties on it even have a little river at the bottom of the garden. Plum London real estate, then – and look, one's for sale!
The one with the estate agent's board outside is number four, next door to Susan and Roger Harper, opposite Olive and Bob Thompson and just a few doors away from new arrivals Alexis and Adam Morley. In fact, there are only six houses in total in Riverside Close. Who could have imagined it to be such a den of intrigue?
Let's begin with Susan Harper. Stay-at-home wife of lawyer Roger and mother to two children, she has everything she could possibly want – designer clothes, gym membership, ample time to lunch with other like-minded ladies… so why is she so dissatisfied with her lot? Susan is bored, and it's that boredom which leads her to make a very big mistake.
On the face of it, Alexis and Adam have everything, too. They're newly moved in, young and in love. Adam is a surgeon, while Alexis is making the first moves to create a new career – as a private detective, no less. But all is not well in the Morley household either.
From her prime vantage point, pensioner Olive observes everything, jotting it down in a little notebook. It would be easy to dismiss her as a local busybody, but to do so would be a foolish error.
Diana Wilkinson has already created a neat little world for this story of hers, but there's another ingredient to add to the pot, in the form of Caroline and Jason Swinton. The recipe has just been spiced up a bit because this couple is behind Join Me, a new London-based app which, for a small joining fee, encourages like-minded people to meet up and enjoy the sights of the capital together. Sounds dodgy? Got it in one!
Susan falls for the tempting blurb and is soon scrolling through the photos and details of other members. She stops at Vince 666. He's handsome, works in finance in the City and enjoys gourmet food and trips to London Zoo. Soon, Susan and Vince are arranging a meeting – what could possibly go wrong? Plenty, as it happens – because Vince 666 is one of the multiple personalities employed by Jason Swinton to draw in lonely, bored women and fleece them for money. Soon Susan and 'Vince' are enjoying steamy afternoons in anonymous hotel rooms. And Susan is handing over cash for fictitious 'investments'…
On the face of it, we have four perfectly ordinary couples featuring in this book, but scratch beneath the surface and every one of them is a sham. Adam and Alexis? He's a control freak and a wife beater and she is quietly planning an escape route which is destined to land her in all kinds of trouble. Jason and Caroline may look like a golden couple, but there's something very sleazy about the way she enables her husband to meet up and have sex with other women, for financial gain. Even Olive and Bob have hidden depths and a vital part to play in this book.
4 Riverside Place is a tasty slice of domestic noir that wrong-foots the reader at every end and turn. Some of the characters are odious and distinctly unlikeable – Susan, Adam and Caroline are prime examples, but luckily we have the likes of Olive, Alexis and her sidekick Gary to even things up a little. This is a book that could easily have strayed into cliché – and at times it does hover close to the tipping point – but it is a satisfying and entertaining read overall and I'd love to meet Olive, Alexis and Gary again.
If domestic noir is your thing, you'll find five of the best featured here. There are more neighbourhood shenanigans in Fiona Cummins' aptly titled The Neighbour.
Bloodhound Books
Print/Kindle/iBook
£0.99
CFL Rating: 4 Stars