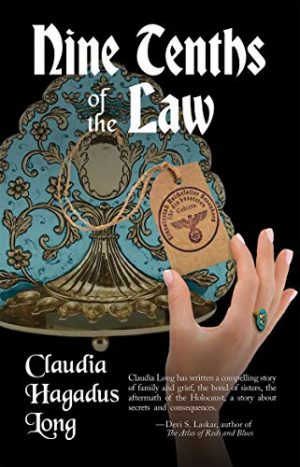 This literary crime thriller by Claudia Hagadus Long is part treasure hunt, part family story, part romance, part tragic history. Long weaves these elements together in a complicated plot through the strong voice of her story's sympathetic narrator, Zara Persil-Pendleton.
Zara and her husband Sam are Californians, on sabbatical in Manhattan for a few months. Zara loves New York for many reasons. She once lived there, and it brings her closer to her only sister, Lilliana – Lilly of the many husbands, currently unattached. Fashionable Lilly. Tall, long-legged, dark-haired, buxom Lilly. Whereas Zara is slightly younger, much shorter, blonde, and frumpy, or so she'd have you believe. Zara isn't working at the moment and Lilly's job is part-time so they spend a lot of time together. They sisters are nearing 60; that time is precious.
On one of their excursions, they stop in at the Jewish Studies Museum. Zara had visited it 30 years earlier with their Polish mother, Aurora, a Holocaust survivor. Aurora, whose will to survive was formidable, had many dark episodes in her past that she only sparingly shared with Zara. On display was a strikingly beautiful Hanukkiah (a menorah for Hanukkah) that is again part of the exhibit Zara and Lilly are viewing three decades later. Aurora told Zara the menorah was stolen from their family. As proof, she pointed to Zara's ring, which has the same turquoise enamel with the same embedded gold stars, centred with a seed pearl, just like those adorning the Hanukkiah.
However much she might have wanted the Hanukkiah returned to her, Aurora at that point was not even admitting she was Jewish, so deep were the scars she carried. As the novel progresses, we learn more about those scars. Zara has occasional visions, in which she sees and hears her mother's story as if she's revealing long-buried secrets. Author Long handles these passages believably and with a deft touch, because this isn't a story about the past, it's the present that Zara and Lilly navigate that preoccupies them. Too much retrospection might weigh the novel down, and yet, Aurora's experiences are vital because the sisters are unquestionably the inheritors of this brutal past.
When Lilly hears that their mother said the Hanukkiah belonged to their family, her reaction is completely different from Aurora's. She wants it back, and the treasure hunt is on. Lilly and Zara embark on a rather ill-conceived ploy to obtain it, which leads them into several tricky situations. At first these are awkward and funny, but gradually, they become possibly dangerous.
They learn that after the exhibit closed, the Hanukkiah and some other valuable pieces went missing. Worse, the exhibit curator left her job abruptly. Beyond that, the museum staff stonewall them. The problem of finding the curator soon becomes moot, because her body is found – topless in December, behind the toddler playground of a synagogue in Cranford, New Jersey. The police seem convinced the death was natural but that makes no sense to the sisters. From there on out, the possibility of real physical danger hovers over their quest.
Long writes in the present tense and in the first person, which gives an immediacy to the story that draws you in. First person can be tedious if the narrator's voice isn't engaging, but here, Zara, with all her on-point observations and clever asides keeps you amused and interested.
Everything isn't light-hearted, of course. Not only were their forebears affected by the Holocaust, Zara and Lilly carry that burden as well. They feel that whatever they suffer, it is nothing compared to what their mother went through, so they should bear it without complaint. Again, Long has struck a nice balance between describing Zara's inner conflicts and the action of the story. It never bogs down; instead, her interior journey lends considerable richness to the narrative.
The pleasures of big-city life are well described, as well as the warm joys of family. Lilly's preoccupation with finding her next beau is entertaining, and you feel for Zara as a Californian trying (unsuccessfully) to cope with the East Coast's winter weather. This being a story about a Jewish family, food has a starring role, even at one point making a major contribution to the plot. I think you'll find book provides a great deal of enjoyment at many levels.
If you like this, try The Interpreter by AJ Sidransky or The Godmother by Hannelore Cayre.
Kasva Press
Print/Kindle/iBook
£3.70
CFL Rating: 5 Stars