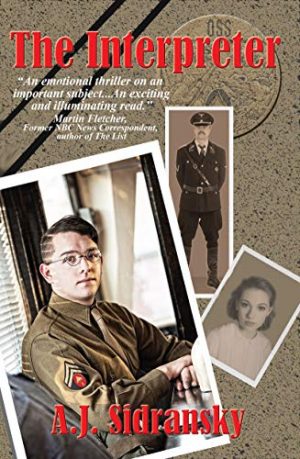 World War II and the excesses of the Nazi regime have provided endless inspiration for crime and thriller writers. While I've read my share of books set in that era, I rarely find one with a fresh and appealing story line that equals AJ Sidransky's in this new political thriller.  
The war in Europe is winding down when US Army Intelligence recruits Vienna-born GI Kurt Berlin to help in its interrogations of captured Germans – Nazis, Wehrmacht officers and members of the SS and Gestapo. At first Berlin isn't interested. Even the idea of speaking German again repulses him. Too much bad personal history there.
Berlin grew up in a Jewish family in Vienna. His family hung on as long as they could but finally escaped to Brussels in 1939 and eventually made their way to the United States. Not one step of their journey was easy or without intense danger.
The book describes the challenges faced by father Hertz, a veteran of World War I, and mother Berta. They face the stress of living In Vienna under the Nazi regime, a difficult decision in sending 17-year-old Kurt ahead to Brussels via the Kindertransport, and the interminable wait for the papers that will let them travel to the United States. Meanwhile in Brussels, a romance sprang up between teenage Kurt and the refugee Elsa Graz, but the German threat followed them into Belgium, dooming their acquaintances there and sending the family on a harrowing flight through occupied Europe.
The tension-filled chapters recounting the family's perils contrast well with the alternating chapters describing Kurt's later role, as an Army Intelligence interpreter and his life in post-war Brussels. But don't think those chapters will be tension-free. In fact, although the claustrophobic interview situation – involving Kurt, his two superior officers, and German interviewees – may lack physical dangers, the psychological and moral dangers are acute.
While Kurt was initially reluctant to accept this new assignment, the fact that it will return him to Brussels is an irresistible inducement. With a young man's obsession over first love, he's determined to try to find Elsa or at least what happened to her. 'Brussels held the answers to Kurt's most piercing questions, whether those answers were miraculous or disastrous.'
In Brussels, Kurt works for Captain Johan Rosenthaller, another Jew, whom he assumes shares his views about the Nazis, and Colonel Anderson McClain, who's preoccupied with the Communist threat. He wants Kurt to help him identify German officers who would be helpful in that cause, much as Americans scoured Germany for rocket scientists and engineers under Operation Paperclip. McClain senses a likely prospect for recruitment to his anti-Communist cause in arrogant, unrepentant Captain Joachim von Hauptmann – the kind of villain you love to hate.
Sidransky's choice of the title 'interpreter' rather than 'translator' is an interesting one, because what makes his novel so compelling is the unbearable position Kurt finds himself in. He is not a human version of Google translate: enter the German words and out they come in English. He cannot help but hear and feel the German's responses to the interrogators' questions through the filter of the tragedies he has seen and the losses he has experienced. While he faithfully renders the German's meaning, an even greater challenge is keeping his emotions in check when faced with von Hauptmann's casual anti-Semitism. Kurt's position is excruciating.
As the lengthy interrogation drags on, Kurt realises that von Hauptmann had a direct responsibility for his own family's experiences, the fate of the Belgians who protected them, and the disappearance of Elsa. As this awareness grows, so does his suspicion that von Hauptmann will never pay the price for these and his many other crimes. In fact, he sees McClain warming to the man – a prime recruit in his anti-Communist crusade. As Kurt approaches a possible breaking point, you pray he won't end up emulating the Nazis he reviles.
Sidransky has a few more turns of the screw up his sleeve in this well-plotted story. Interestingly, in a foreword, he notes that it draws on the experiences of some of his relatives in Europe a half-century ago. Perhaps that's why it crackles with realistic emotion.
Like this? Other recent books you may enjoy: Hitler's Secret by Rory Clements or Ungentlemanly Warfare by Howard Linskey.
Black Opal Books
Print/Kindle
£3.06
CFL Rating: 4 Stars