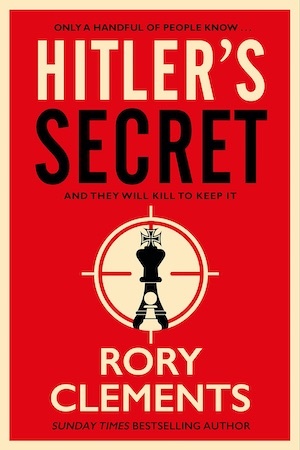 Written by Rory Clements — Cambridge professor Tom Wilde has more than an academic interest in espionage. He has risked his life over three previous thrillers to spy for and protect his adopted Britain and native United States of America, mainly from the evil Fascists at home and in Germany, in the lead up to World War II.
If you thought the stakes were high for Wilde in his last adventure Nemesis, set in 1939, Hitler's Secret takes us two years into the War and he is assigned his deadliest mission yet. He is asked by an American intelligence officer, with the backing of British security service regular Philip Eaton, to go behind enemy lines in Germany and smuggle out a package. Wilde now has a baby son Johnny with his partner Lydia to live for but as usual he is the convinced that he is the man to save Britain and its allies from the Nazi regime.
The package he must find is so incendiary that it is hoped the Third Reich will fall if it is smuggled to Britain. It's so secret that Hitler himself is unaware of its existence.
A handful of people do know of it however, including the Führer's brutal private secretary and head of the chancellery, Martin Bormann, who sends his ruthless assassin Otto Kalt to clear up this threat to the regime. He starts by murdering a priest.
Wilde disguises himself as Tomas Esser, an American industrialist with Nazi sympathies and German heritage. He arrives undercover in Berlin on the pretext of selling a fuel technology breakthrough that will give the Nazis a huge advantage. He makes contact with his friend Jim Vandenburg in the US embassy who teams him up with Sunny Somerfeld, the widow of a Luftwaffe pilot. Sunny will help him get the package out, but first they are on the run for their lives in the woods, and end up being offered hospitality by Luftwaffe chief Hermann Göring and hide in plain sight.
It's vital that Wilde escapes back to Britain with his precious cargo, but he becomes convinced that more will be at stake if he hands over the secret to the Allies' security forces, even though the secret may help them win the war. As Wilde knows well from experience, there are hostile forces at work at home too.
At the heart of the Tom Wilde adventures is the academic action man who spies for governments, but puts personal honour and belief in justice first when it comes to the crunch. There's always a mash up of fact and fiction and a huge cast of fictional friends and foes, playing their parts alongside famous and infamous faces from history. Plots and subplots come fast and furious as Wilde uses his brains and brawn and chases across countries like John Buchan's Richard Hannay on amphetamines.
The furious pace and level of intrigue are gripping, as always, although the violence, including several torture scenes has been racked up several notches. Those who like a dizzy ride, as Wilde does on his Rudge Special motorcycle, will love it. Clements' skill at creating characters means we care about their fate and understand the motivations behind both brutal and loyal acts. That's a skill that puts Clements at the top of his game and this series in the premier league of historical thrillers.
If you want to start at the beginning of this series, have a look at our review of Corpus.
Zaffre
Print/Kindle/iBook
£9.07
CFL Rating: 4 Stars