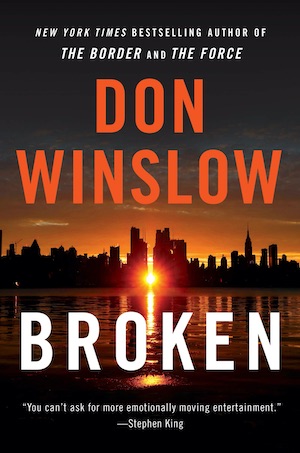 The lockdown for coronavirus won't last forever, but if it means you're taking a break from a busy lifestyle it's the perfect time to dive into some of Don Winslow's epic crime novels such as The Power of the Dog, The Cartel and The Border. On the other hand, if you're put off by 600-plus pagers, with Broken the author dials things right back. Here we have a book containing six novellas, each around 50- to 70-pages in extent, and it's a splendid chance to witness one of America's great crime authors flexing his literary muscles.
Broken is the title of the book, the title of the first story and a theme that winds and weaves its way through most of the content. Broken promises, broken bones, broken dreams, a broken system… It sounds bleak, but these stories will take you through a full gamut of emotions. Yes, there's fear, heartbreak, anger and disgust. But there's humour too, with laughter, hope and satisfying – if not happy – endings. In most cases, anyhow. The books are also a literary tour of the United States that takes in New Orleans, San Diego, Hawaii and borderland Texas. Yeehaw.
The cops-and-crims side of crime fiction is something Don Winslow has nailed. He throws us into the deep end with the opening story, Broken, about a hardass Irish-American cop called Jimmy McNabb. When McNabb decides to send a message to a new cartel man operating in New Orleans, it leads to the murder of his younger brother, Danny. Get ready for a wild and violent tale of revenge where McNabb and his team prove as tough and as ruthless as any police bulls you've met in James Ellroy's novels.
A different type of storytelling comes to the fore in Crime 101, The San Diego Zoo and Sunset. Here, a trio of San Diego characters – Detective Lou Lubesnick, Officer Christopher Shea and bail bondsman Duke Kasmajian – appear across three semi-related stories. These are clever tales, with a lot of Winslow's zingy humour, where the violence is dialled down and the smarts are dialled up, on both sides of the law. Lubesnick tracks down a diamond thief working the Pacific Coast Highway (the 101), Shea starts off apprehending an armed chimpanzee and ends up shooting for a job working for Lubesnick, while Kasmajian has a big problem when one of the city's most popular surfers breaks the conditions of his $300,000 bail. Every plot twist, every minor character, every one-liner – Winslow will enthral you in every possible way.
Switch to Hawaii, and the heroes of Savages and The Kings of Cool – Ben, Chon and O – are taking their weed empire to the islands. This unusual combo of a humanitarian, ex-Special Forces guy and their female confidante aren't really wanted on Hawaii even if their plans have a local sponsor, and business eventually turns into a minor war against Hawaiian organised crime, with plenty of surfing thrown in as Winslow gradually twists the action dial. Although it doesn't have a chimp, this is perhaps the most gonzo of the six novellas.
The final story, The Last Ride, is the most powerful and here Winslow ponies up a Western. Cal Strickland is a border patrol agent down in Texas. He voted Trump but he's haunted more and more by what he sees every day – kids in cages. The fact that the various agencies involved aren't doing much to reunite these Mexican, Honduran and Salvadoran children with their parents is also getting to him so he starts trying to find the mother of a six-year-old girl off his own bat. Well, you can imagine the attitudes – and eventually the weapons – that he comes up against. You'll be blown away as this one reaches its crescendo.
Broken is an outstanding collection of novellas – it's as simple as that.
Wm Morrow
Print/Kindle/iBook
£8.99
CFL Rating: 5 Stars