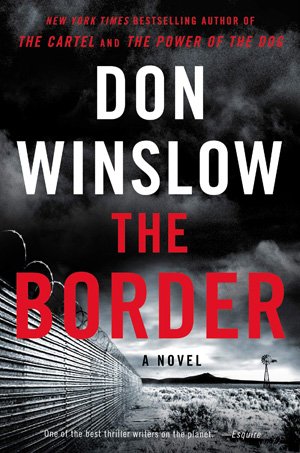 Written by Don Winslow — The Border is the final novel in Don Winslow's epic Power of the Dog trilogy. When we first met Art Keller in The Power of the Dog (2005) he was a DEA agent fresh back from the Vietnam conflict. He was working on Operation Condor, a collaborative mission between the Mexican and American governments to disrupt and dismantle the growing of heroin in Sinaloa, Mexico. Four decades have passed since then, and Keller has spent all of them fighting the endless and almost meaningless War on Drugs in the Americas. By 2017 is by far America's longest running war.
When The Border opens, Keller has reluctantly risen the ranks and is now head of the DEA. Heroin deaths in America have skyrocketed – part of the opioid crisis – and the cartels are largely culpable. Adan Barrera was the head of the Sinaloa Cartel. He was caught but escaped from jail, and now he is either dead or missing after a massive showdown between the cartels in the Guatemalan jungle. A new generation of bratty 20-something wannabe drug lords – Los Hijos, the children of cartel heads – are vying to become the new kingpin in Mexico. Simultaneously, Rafelo Caro, a man who has spent 20 years in jail for the death of Keller's once partner Ernie Hidalgo, is released from prison and he has big plans.
Keller's focus becomes disrupting and disarming the next wave of cartel action as they seek to put a new product, fentanyl-laced heroin, onto the streets. But his work is not clear cut. A Donald Trump clone, a real estate mogul turned reality star turned presidential candidate, named John Dennison intends to fire Keller and the rest of the CIA if he is elected. The character, using Trump's kind of language, talks about border security and the Mexico drug problem in a racist, tone deaf and xenophobic way. When he is elected president, Keller wonders if the cartels Dennison verbally attacks might have actually have provided him with the capital needed to win the presidency. But Keller's time is running out and he must figure this out before Dennison guts Keller's operation.
Winslow is a masterful stylist and the pages just fly by. The book is full of illuminating history, visceral action and deep, truthful emotion. The Border is also full of subplots. Winslow has a tremendous skill when it comes to creating supporting characters that boost the main threads of his narrative. We follow a New York City police officer as he goes undercover as a dirty cop in the NY drug world; a Staten Island heroin addict and her boyfriend as they dive deeper in their heroin use; and a 10-year-old Guatemalan boy as he makes his way north in an attempt to find his way to America. These storylines are the blood that pumps through the veins of this novel, with characters giving a complex book about an inhumane system an infusion of humanity.
The Power of the Dog series as a whole, one that Don Winslow has been working on for nearly 20 years, is astounding. A 2000-page crash course in Mexican-American history, a true account of the War on Drugs, and an epic in every sense of the word. The Border can be easily taken by itself, though. Winslow always provides context and a brief synopsis for ongoing storylines and threads.
Don Winslow, a cult favourite, is the author of over 18 novels and is not talked of nearly enough when people speak of the great American crime novelist. This 700-page doorstopper is the best this writer has produced and should solidify his status as one of the most important writers working today. Comparisons must be made to Puzzo's Godfather Trilogy, Ellroy's LA Quartet and even Cormac McCarthy's Border Trilogy. But Winslow is doing something even bigger and more monumental here and in that regard he is this generation's Steinbeck. Don't miss out on this book, nor the series. It is a masterpiece.
Read our 2015 interview with Don Winslow here, and also check out our review of The Cartel.
William Morrow
Print/Kindle/iBook
£12.99
CFL Rating: 5 Stars