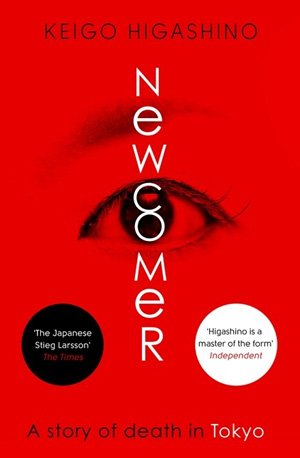 Translated by Giles Murray — The translations of The Devotion of Suspect X and Malice have put Japanese author Keigo Higashino on the map in English-speaking countries, at least among those who enjoy discovering crime books from other cultures around the world. In Malice, reviewed and recommended in 2014, we were introduced to the Tokyo detective Kyoichiro Kaga. That was the second book in Higashino's popular series, but the first to appear in English. Now the seventh book has arrived in translation. We're not sure what happened to books one, three, four, five and six, but we'll take it because Newcomer is such an intriguing read.
Kaga himself is the newcomer of the title. For some reason he's been posted to the Nihonbashi precinct of Tokyo and there's been a murder. Mineko Mitsui, a middle-aged woman living alone in her small apartment, has been strangled to death. She too is a newcomer. She hasn't lived in the area long and people don't know much about her. It's an aspect of the story that Higashino takes full advantage of and Kaga must scrutinise the neighbourhood and everyone the victim came into contact with before her death.
Mineko was recently divorced but the split seems to have been amicable and ex-husband Naohiro Kiyose has an alibi for the evening of the murder. Suspects and a motive are hard to identify so Kaga pads around the roads and side streets, visiting the shops, cafes and even the temple Mineko attended in her last week or two. Playing with the mystery novel form, instead of a linear, procedural investigation or one told from the standpoints of several characters, what Higashino gives us is a series of vignettes that spiral around the woman's sudden, violent death. Most of them contain little mysteries of their own, giving you a real feel not just for what life might be like in this part of the city but also the relationships between the people living there. What binds the community.
It begins in the rice cracker shop, where the tension between grandmother Satoko and granddaughter Naho, who wants to be a hairdresser, bubbles beneath the surface. What Kaga wants to find out about are the movements of the insurance salesman Shinichi Takura, who came into the shop and might have met with Mineko before her murder. In a traditional Japanese restaurant, Kaga is expressing a curious level of interest in the cakes that the apprentice chef Shuhei went out to buy, because very similar cakes – a gift of sorts – were in Mineko's apartment. One of them had even been loaded with wasabi, a strange ingredient in a sweet. In the china shop, Naoya Yanagisawa is caught up in the conflict between his new wife, Maki, and his mother, Suzue. But what have the scissors that Maki bought got to do with Kaga's case?
The detective himself is a revelation. He is composure personified, gently questioning people only remotely linked to his murder inquiry, understanding their lives and even helping them solve one or two of their own problems. He has the intelligence of Agatha Christie's Poirot, but the humanity of Karin Fossum's Sejer with the tenacity and curiosity of Columbo. His colleagues can't believe he goes around in a casual short sleeved shirt over a black T-shirt, but there's a reason for it. He's lovely to read.
As demure as Kaga seems, he can be forceful too, and is quite willing to corner whomever he's questioning. A character this strong could easily overpower the narrative, but Higashino's brilliance is in how he uses the other characters to tell the story. Kaga isn't there all the time. Each of the vignettes has its own lead personalities. The clockmaker's shop is a real treat, with the owner's dog playing a key role in discovering why Mineko went to a particular temple near the park.
It has become a cliché, but attention to detail is a characteristic of so many areas of Japanese creativity – martial arts, gardening, classical music, wood block printing, computer game design… We can add crime fiction to the list. Although there are no car chases, gunfights or explosions, when the violence happens it seems perfectly real, well weighted and resonates across everything you've learned about the victim and the other characters in the novel. New, inventive, different – we should be reading more Japanese crime fiction.
Explore more Japanese crime novels with our primer.
Little, Brown
Print/Kindle/iBook
£7.99
CFL Rating: 5 Stars