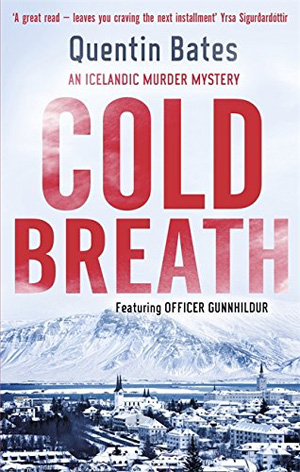 Written by Quentin Bates — A British maritime expert who lived in Iceland for many years, Quentin Bates began his Gunnhildur series with Frozen Out back in 2011. Now we're hitting the seventh novel, things are just as cold but there are some new challenges for Officer Gunnhildur Gisladottir of the Serious Crime Unit.
These begin with the arrival of Ali Osman, a controversial Middle-Eastern philanthropist with a high price on his head. He's ushered into Iceland under deep cover as the personal guest of Steinunn Strand, a high-ranking member of the interior ministry. It's not long before his arrival is leaked to the press… and his enemies.
That's where Gunna comes in. The devoted cop, who is as blue-collar as she is high-calibre, is given the job of protecting Osman by her beleaguered boss Ivar Laxdal. If it were up to Laxdal, though, Osman would be leaving Iceland ASAP. Gunna is wrenched away from regular police duty and her family to babysit Osman in the minister's own isolated cabin outside Reykjavik. With barely a change of clothes, she doesn't know how long she will stay with her charismatic charge, who may be a champion of refugees, an arms dealer, or both. All she really knows is that he has a very large price on his head. She must exercise absolute focus in her duty as bodyguard, armed with a renewed shooting licence and an uncomfortable Glock strapped under her arm.
More comes to light as we shift from the intimacy of the cabin to the desk of Skuli, a journalist who gets a tip off about Osman's background and his presence in Iceland. Apparently, Osman is meant to be meeting an American white supremacist. The more you learn about Osman through Skuli and his small cadre of networked journalists the less certain you are over what's real and what is fake news.
Then, in Reykjavik, two career criminals pick the wrong couple to rob. Their marks turn out to be contract killers and one of the thugs is killed while the other blames Rikki the Sponge for what happened. This is a nice touch from Bates, bringing in a side character from Lilja Sigurdardottir's recent book Trap, which he translated. Gunna's colleagues Eirikur and Helgi grill Thor until they eventually connect the dots with the murder of the journalist who tipped off Skuli as well as that of an American aide to the right winger Osman is meant to meet.
Gunna's resolve is tested when the assassins make their move on Osman. She almost loses her life as she returns fire and kills one of them. While her security colleagues admire her ability, boss Laxdal frets about the unidentified killer and a possible internal inquiry, all the while groaning at the trouble Osman is bringing to Iceland at the minister's behest.
With each new scene, Bates gives real-world insight into police, legal and journalistic procedure, government protocol and a fair amount of political theatre. Also you'll see the ordeal of a retired tourist couple coerced by the killers into smuggling arms. But most fascinating are the methodical calculations of an assassin called Ana. If you watched Killing Eve, think Villanelle, just less cheeky.
We get a lot of insight into Gunna too, whose soul searching empathy extends even to the family of the dead hitman. She longs to re-connect with her own family as well, while reflecting on her attraction to Osman. You will warm immediately to Bates' well-rendered characters, but it's Gunna who draws the emotion. Her no-nonsense attitude, compassion and unswerving sense of duty are inspiring. She gets involved in sensational situations that Bates manages to keep grounded in the real world without feeling gratuitous.
As the assassins close in on Osman, you learn a bit more about them, but you never truly plumb the depths of Osman himself. Some characters are less ambiguous but nonetheless real, like Valgeir, a hapless but likeable member of the security team who is the weak link that propels the story forward.
The final convergence of the plot lines at the airport will leave you on the edge of your seat, but Bates disrupts expectations of a neat, explosive finale with a more realistic one where everyone's fate is unresolved. Despite the author's measured and unhurried prose, Cold Breath is a page-turning, non-stop thrill with a captivating plot, procedural detail and vivid attention to the evocative Icelandic climate. You will also share in Bates' enthusiasm for Iceland's rugged shores and the joys of sailing.
Cold Breath will appeal to fans of the sombre detectives in Arnaldur Indridason's Erlendur and Jørn Lier Horst's William Wisting series. See our reviews of other books in the Officer Gunnhildur series.
Constable
Print/Kindle/iBook
£5.99
CFL Rating: 5 Stars